The Price Action Battle Station MT4 Chart Assistant
The Ultimate Tool for Price Action Traders
Candlestick Patterns Alerts | Breakout Event Detection | iPhone/Android Notifications | Built-in Price Action Tools | Quality Control Settings
The Best Candlestick Pattern Detection Tool for Price Action Traders
If you're a price action trader who uses candlestick signals, you're going to fall in love with the Battle Station.
It can detect all the commonly used patterns, flag them on your chart, and send you notifications when they form.
Don't miss any more price action trading opportunities, load the Battle Station onto your charts, and let it monitor the markets for you.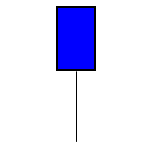 Rejection Candle
The candlestick reversal pattern I trade the most. Best used when it shows strong rejection of important technical factors in your analysis.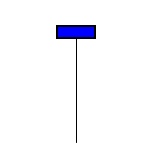 Pin Bar
A well known price action signal, communicates a potential reversal pending in the market. Commonly used with strong support and resistance analysis.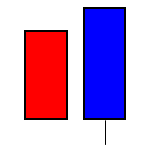 Outside Candle
A candle which trades completely outside the previous candle's range. Can signal a reversal or trend continuation. A very strong signal, depending on its context.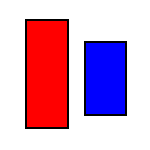 Inside Candle(s)
A very common candlestick pattern. Hard to trade without good quality control by the trader. The Battle Station has quality control algorithms built in for the inside candle.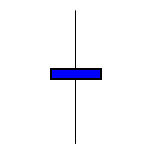 Indecision Doji
An awesome candlestick for building a breakout trade around. Best used at major decision points on your chart, where you expect a 'break or bounce'.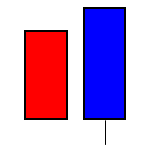 Breakout Traps & Reverse
A follow through move from the 'Asia session fakeout' - where we see a breakout attempt fail (usually in Asia), then trigger a breakout in the opposite direction in the money sessions.
Feature

Mark Detected Candlestick Patterns On Your Chart
Feature

Get Candlestick and Price Action Events & Breakout Alerts Straight to Your Smart Phone
No more missing trade opportunities if you're away from the computer :)
The best feature of the Price Action Battle Station is its ability to send pattern/breakout alerts to your Apple or Android device. This includes your iPhones, iPads, Galaxy phones and other Android phones and tablets.
The notification system will give you a better way to manage your time, and your life around your trading by removing the need to sit in front of the screen for hours waiting for your favorite price action pattern to form.
Load the Battle Station on the charts, let it do the hard work for you, and send you a notification to your device when it finds something.
Notifications contain pair and time frame information
Notifications outline the event, or candlestick pattern that was detected
Control what patterns and events you are alerted about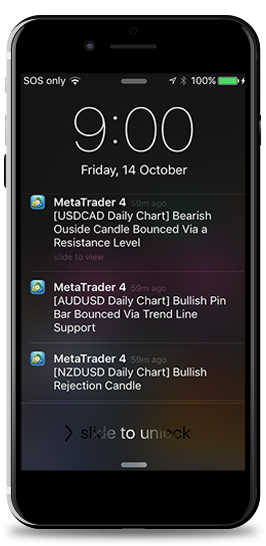 Feature

Quality Control Filters to Help Discard Low Quality Patterns & Breakout Signals

We do not want to be alerted to every single pattern that forms, otherwise the messages will become 'spam like'

The Battle Station has a few built-in quality control features, so you're only notified of the better quality signals.
Range Filter
The candle range filter will skip over candlestick patterns that are either too small, or too big to be a viable trade opportunity.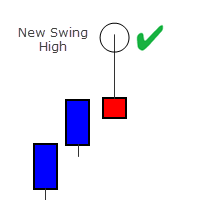 Swing High/Low Filter
Allow reversal candles to pass only if their high or low price create a new recent swing high or low on the chart. This helps avoid notifications about candles that formed in the middle of consolidation or turbulent price action.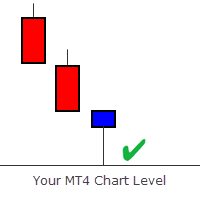 Chart Level Filter
Turn this filter on, and you will only be notified of reversal pattern that bounced off your horizontal 'support & resistance' levels, or your trend lines that you've drawn on your MT4 chart.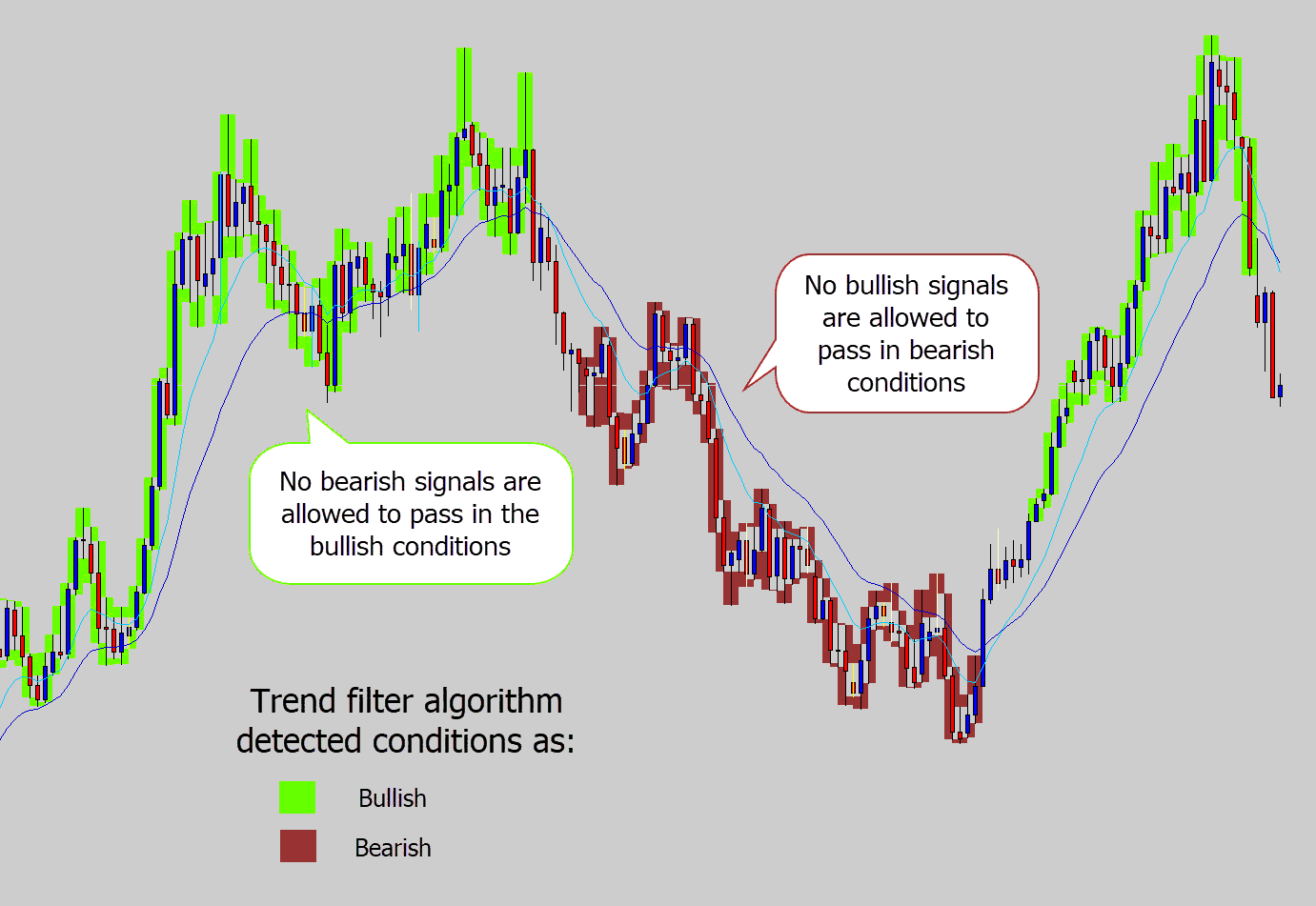 Trend Filter
A powerful trend filter has been added with newer versions. The trend filter will help eliminate noisy counter-trend signals, and focus on higher quality signals with momentum.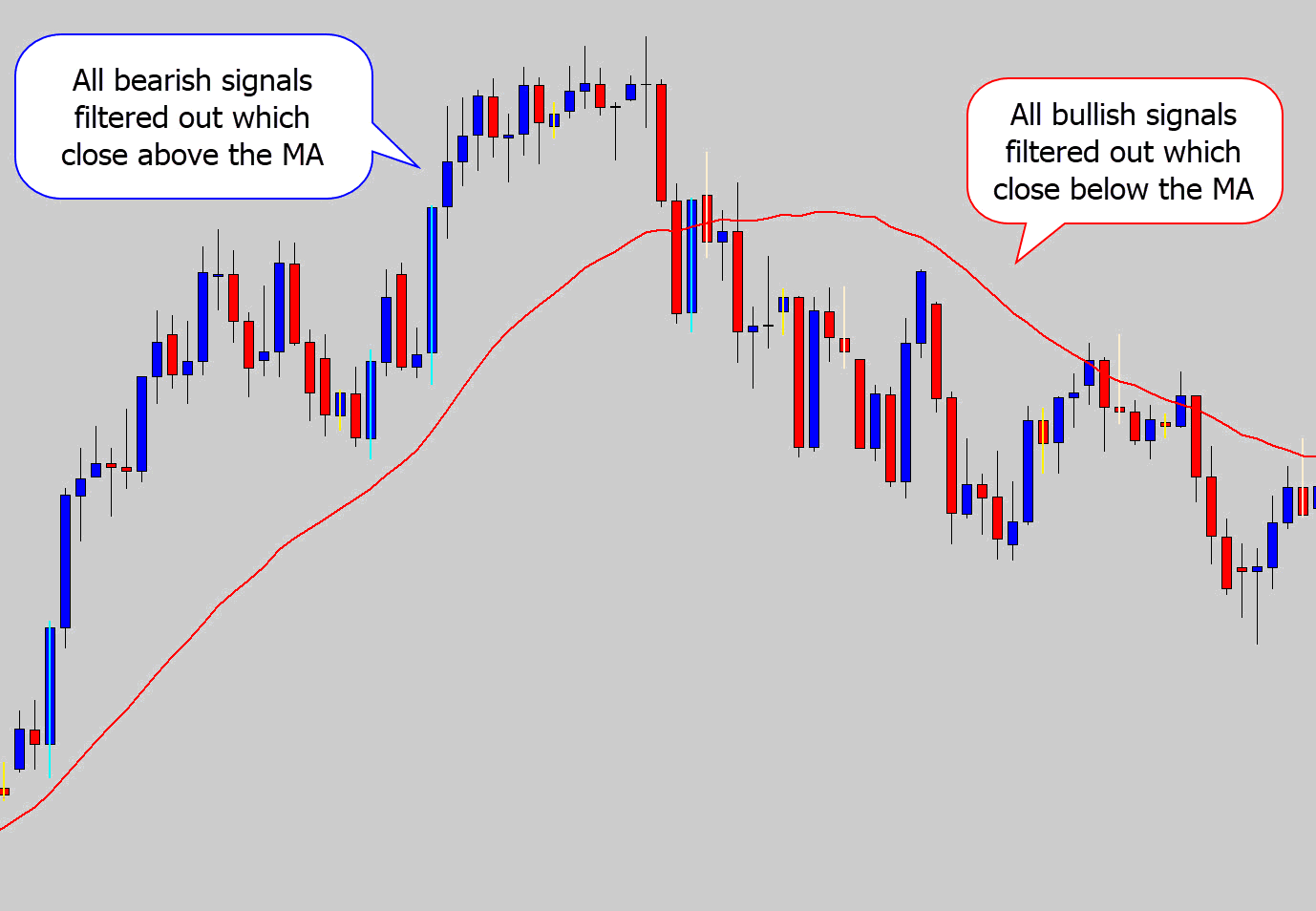 Moving Average Filter
Added by request, this moving average filter only allows bullish patterns above the MA, and bearish signals below the MA. You're free to adjust the MA period in the options!
Trend Filter In Action
Here is an example of the trend filter scrubbing out bad quality counter trend candlestick patterns...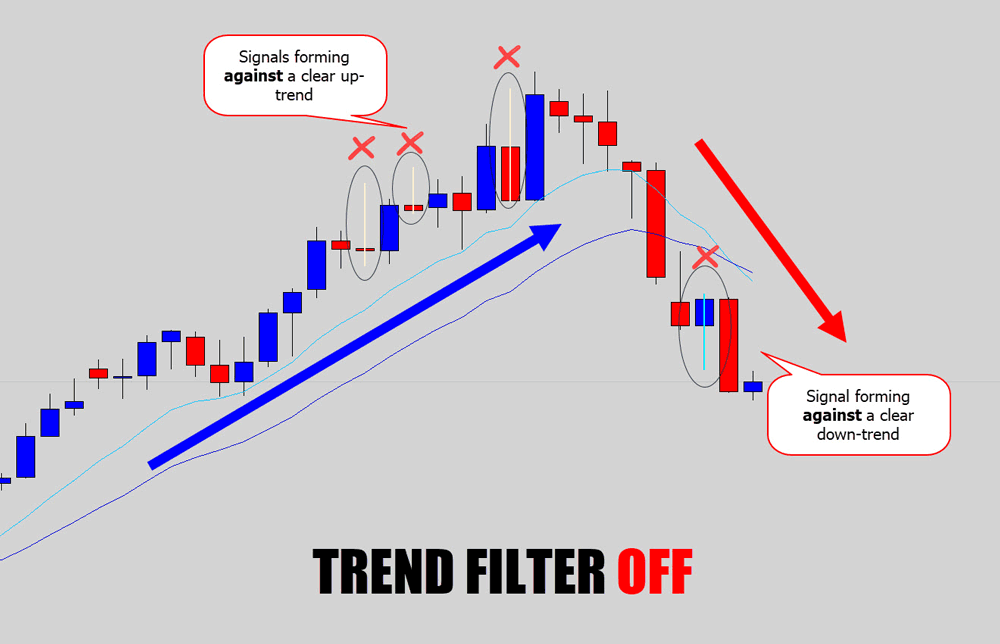 When the trend filter is turned on...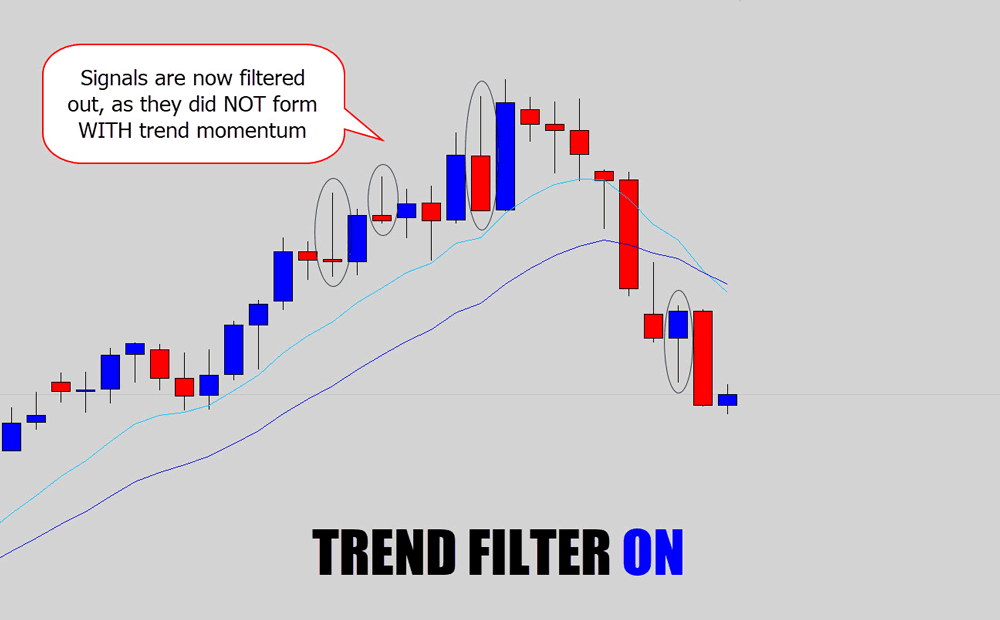 The trend filter also allows for candlestick signals to be passed in non-trending conditions, however - in non-trending conditions is raises the criteria, making it harder for a signal to pass when no trend exists.
There is an extra switch to only allow for trending signals to be passed through.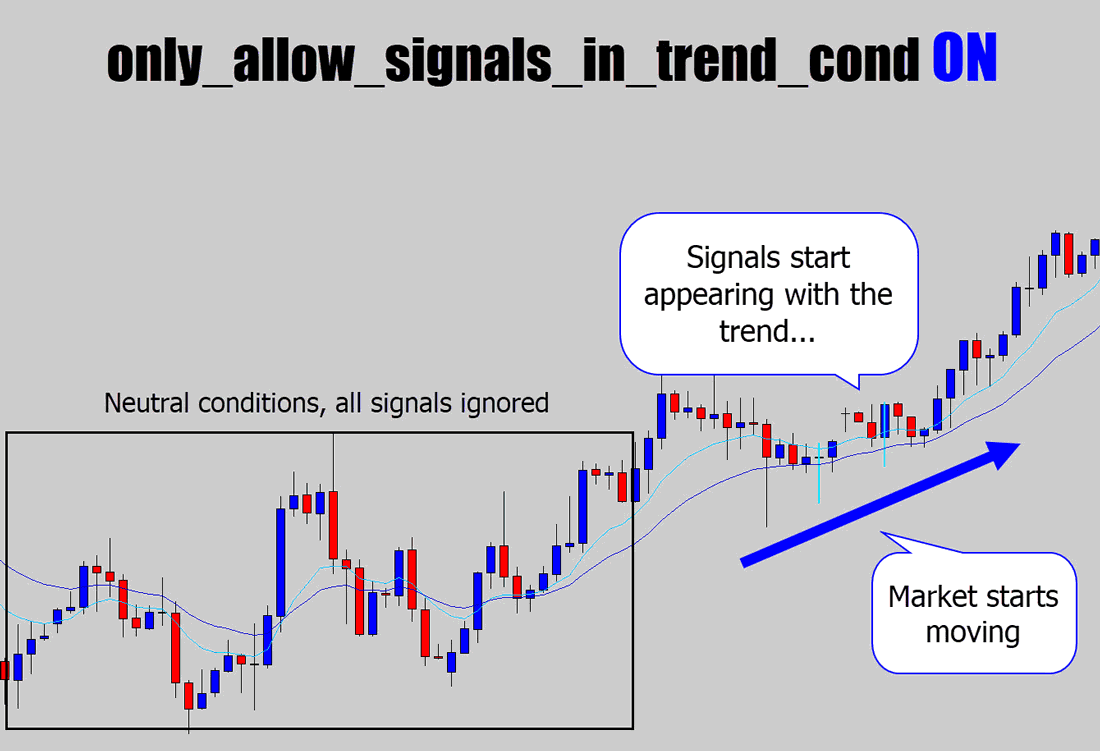 Feature

Works With Renko Candlesticks Too...

The Battle Station works seamlessly with Renko charts on MT4, offering Renko traders some very convenient notifications and pattern recognition when trading with Renko strategies.
Notifications contain pair and time frame information
Notifications outline the event, or candlestick pattern that was detected
Control what patterns and events you are alerted about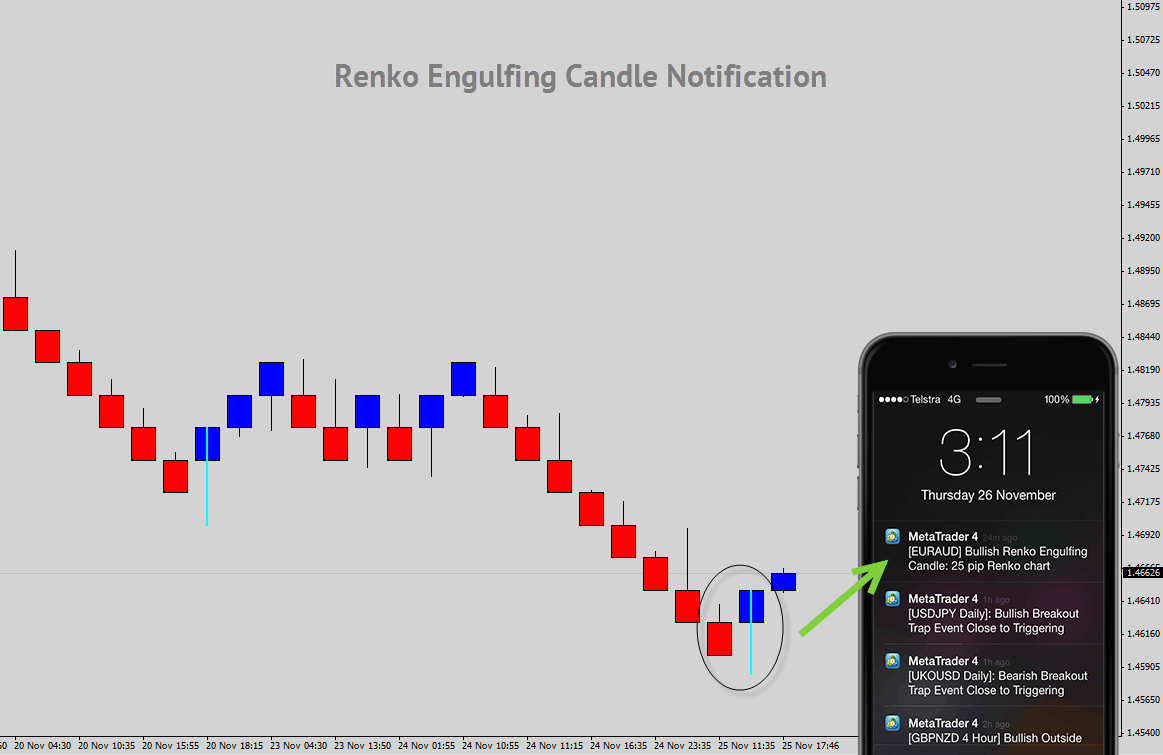 Range Engulfing Detection
The Renko Engulfing candlestick is a reversal setup that can kick off large moves on the chart.
They are often found at the top or bottom of big market moves.
The Battle Station can detect this pattern and send you notifications when they form.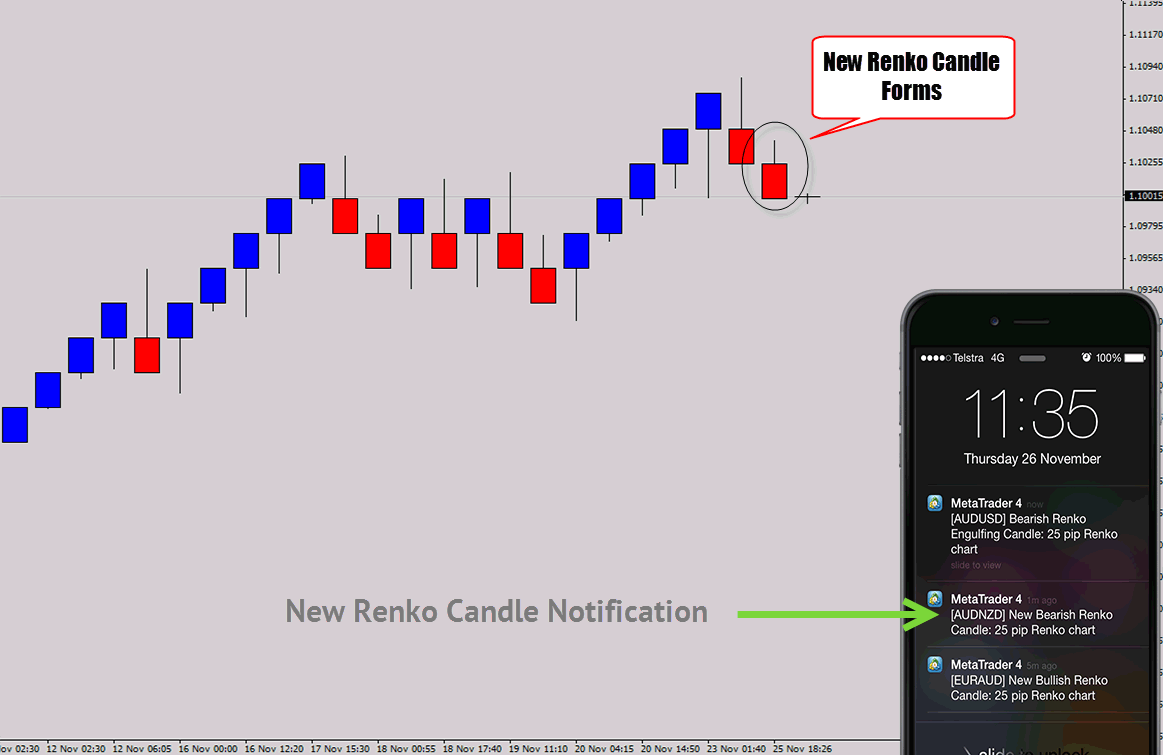 New Renko Candlestick Alerts
Because Renko is a non-time based chart – its difficult to know when a new Renko candle will form.
The Battle Station keeps you well informed by notifying you when a new MT4 Renko candle is generated, so you don't miss out on any trading opportunities.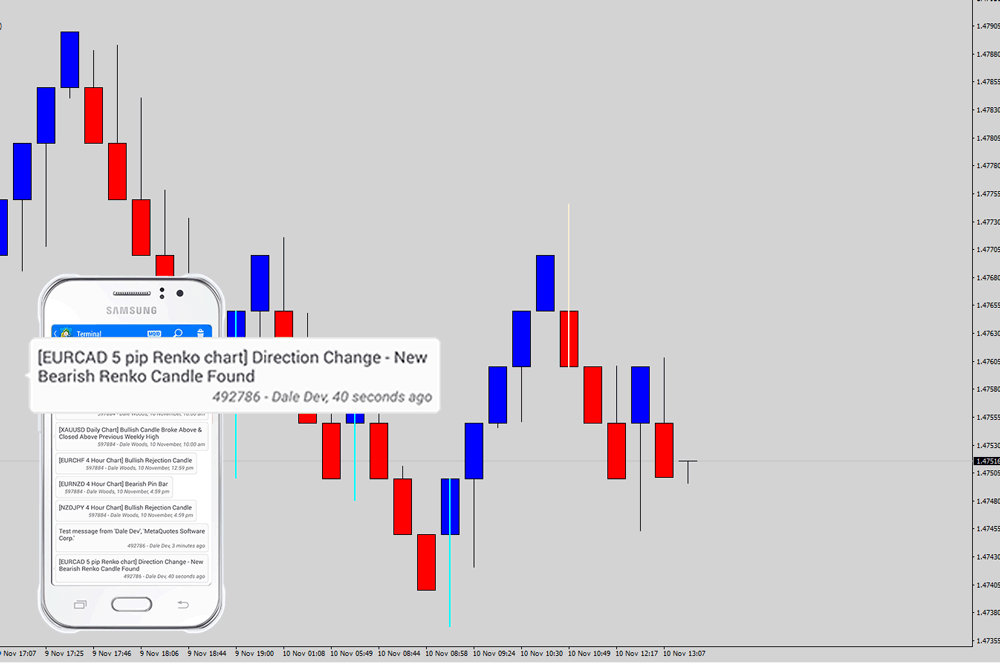 Renko Direction Change Notifications
One of the advanced Renko notification options is a 'only notify on direction change'.
When enabled, the Battle Station won't notify you about every single new Renko candle that forms, but rather only let you know when a Renko candle forms that signals a potential direction candle. For example;
Last Renko candle was bullish, and a bearish Renko candle forms

the last Renko candle was bearish, and a bullish Renko candle forms.
Feature

Consolidation Breakout Candle Detection

Simply draw out consolidation on the chart, and the battle station will fire off a message when a breakout occurs...
Box Consolidation Breakout Alerts
Step 1: Highlight Box Consolidation with the Rectangle Tool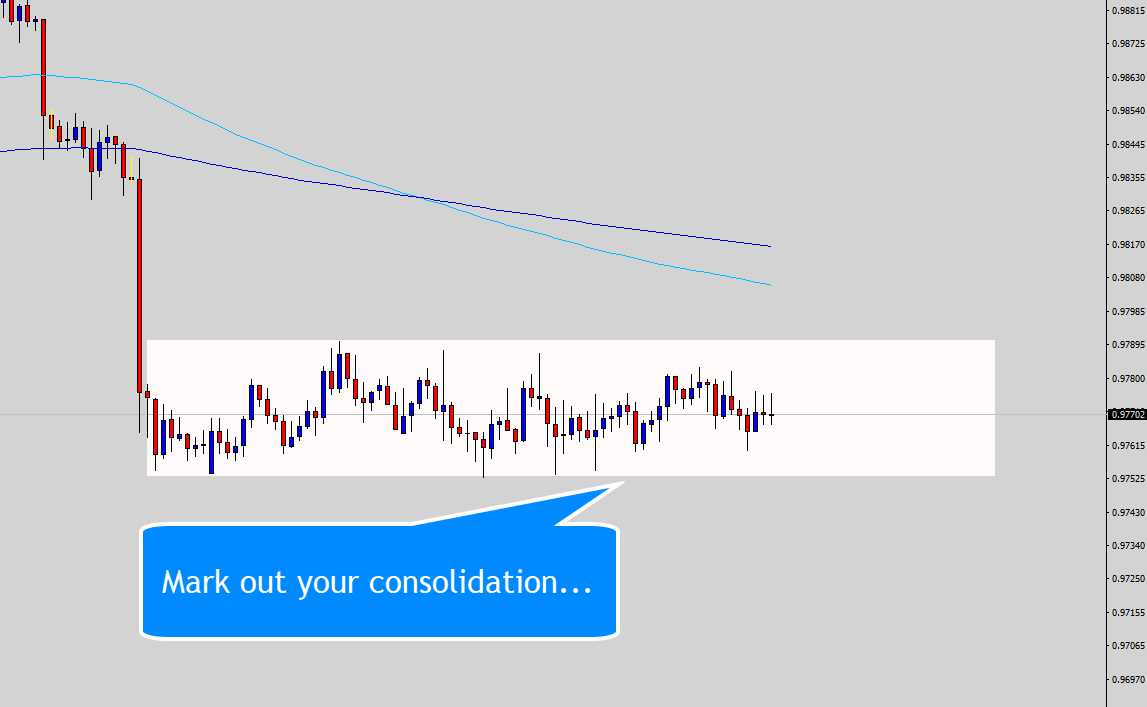 Step 2: Wait for Breakout Candle Messages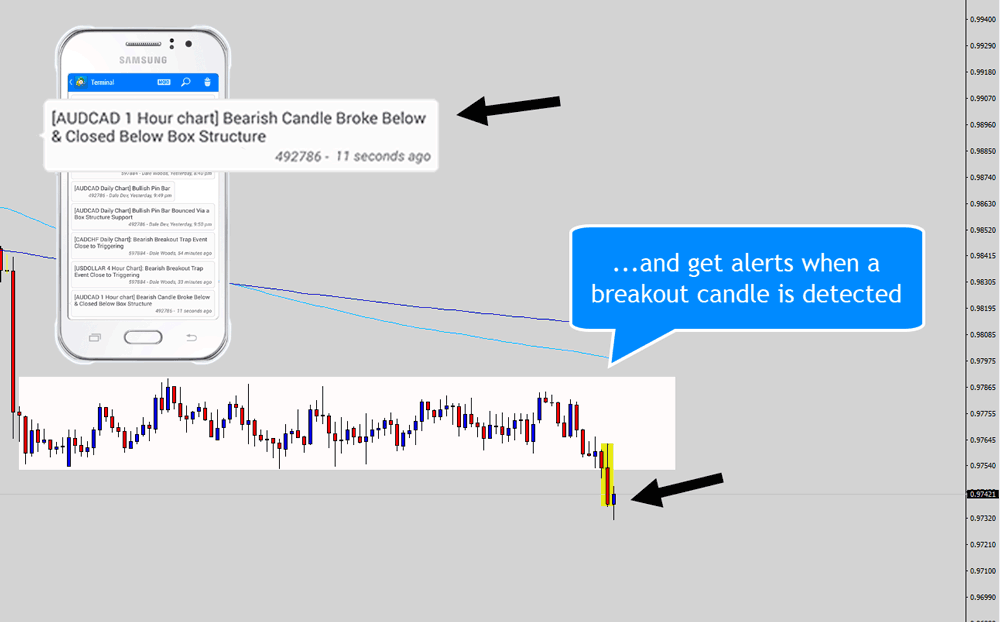 Triangle Squeeze Consolidation Breakout Alerts
Trendline Breakout Notifications
BONUS

Compatible with Custom Charts Made by My Chart Builder
Another of my other crazy inventions is a tool which allows you to build your own customized price action!
It's' called the 'Chart Builder', and it will allow you to generate charts that no one else has access to...
When I was creating the Battle Station, I spent the extra time to make it compatible with the custom charts you can output from the MT4 chart builder.
Whenever you attach the Battle Station onto one of the custom charts, the notifications sent to your smart phone are custom tailored to give you specific information about the custom chart where signal alert is coming from.
To get an idea of what I mean, take a look at some of the examples below...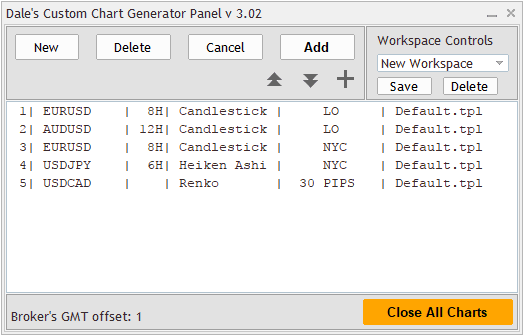 Heiken Ashi 6 Hour Chart - Trend Line Breakout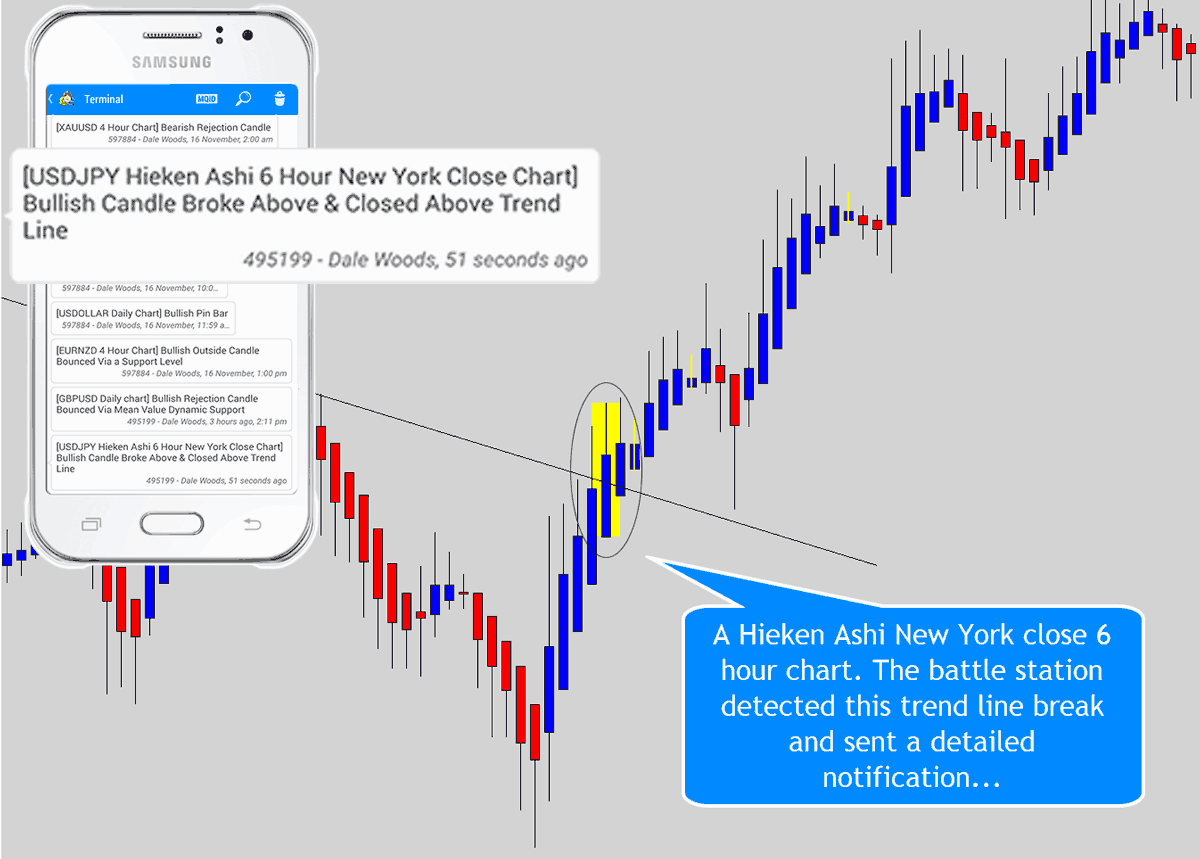 12 hour London Open Chart Breakout Signal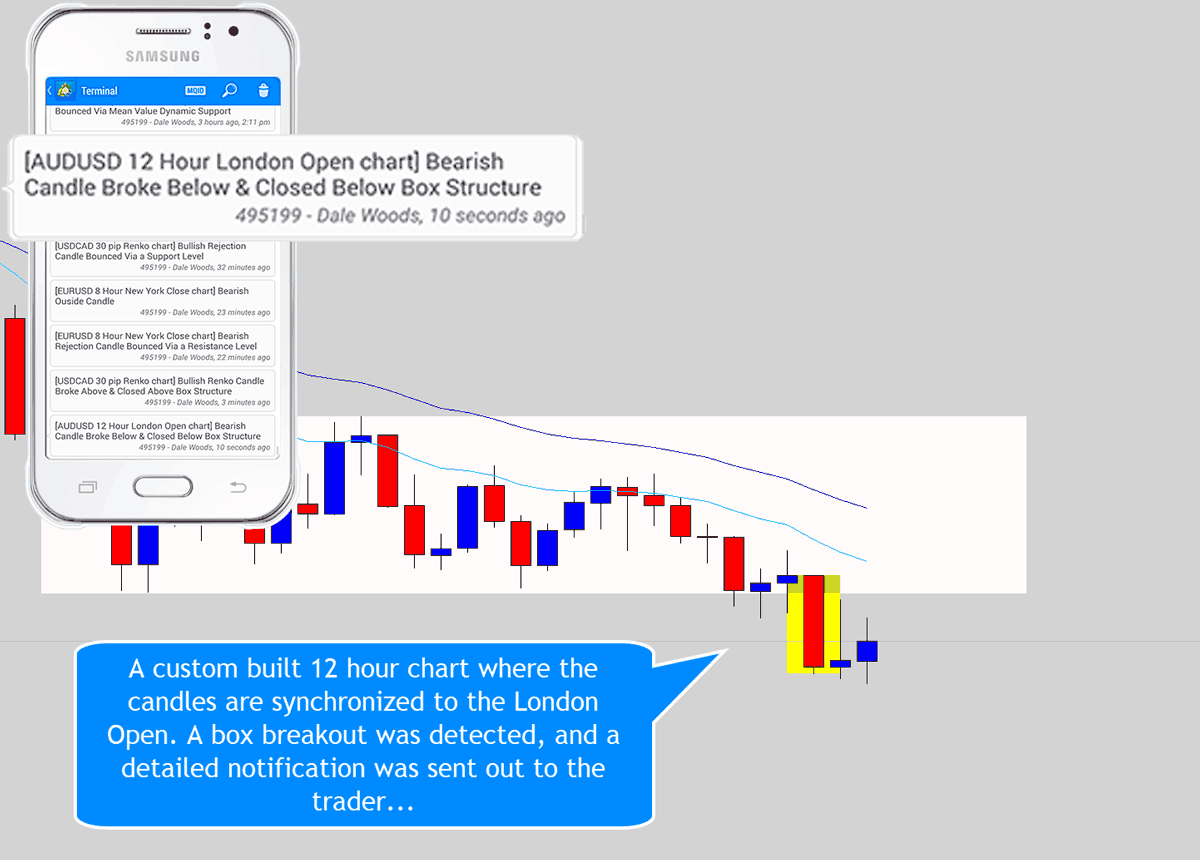 30 Pip Renko Chart - Rejection Signal Via Support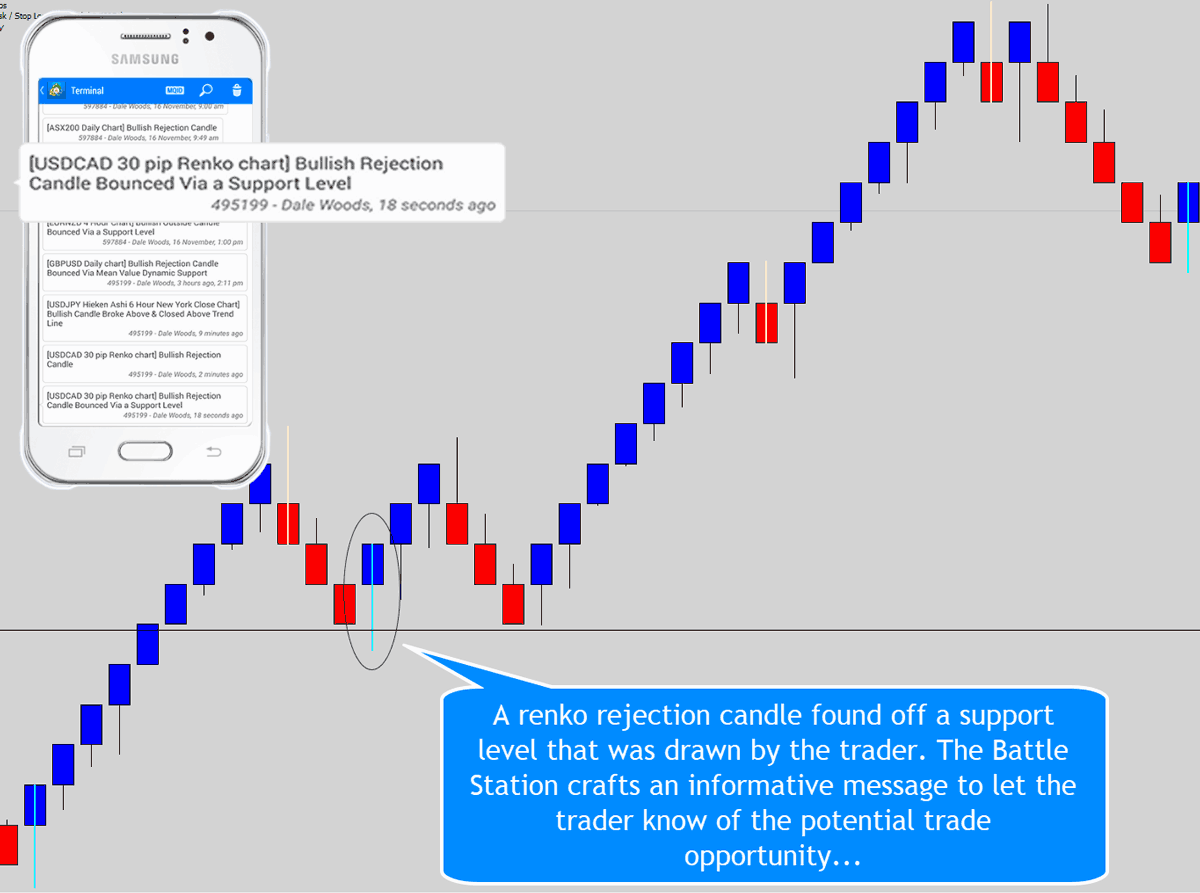 So You Want the Battle Station?
I don't offer the Battle Station, The Chart Builder, or any of my other software as individual items.
All my tools are available to War Room traders only...
If you're interested in checking out what the War Room membership is all about, visit the war room information / sign up page below.
Take me to the War Room Sign Up Page