Learn Forex Strategies & Money Management Blueprints that Will Change Your Trading Forever...
Comprehensive Forex Education Providing All the
Knowledge, Secrets & Strategies

You Need to Start Making Money with Forex Trading
*** Main Benefits of Becoming A War Room Trader ***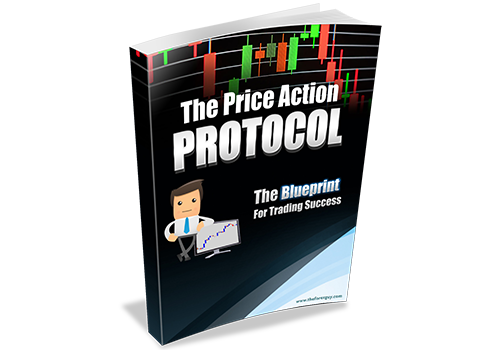 Price Action Protocol
The 2018 Edition of this 5 Star rated price action course will teach you all the real secrets to becoming a "master chart reader". Learn to read naked price charts fluently and asses risk to identify low risk, high probability, high reward Forex trade set-ups without the use of indicators.
#1 Price Action Course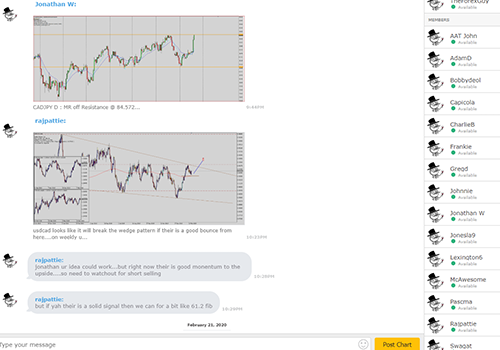 The War Room Chat Room
Become part of an active group of traders that support and help one another in a mutual goal to become successful. There are always other traders to bounce ideas off. Talk with me, or other experienced traders in our 24/7 War Room chat room.
Compatible with MT4 & MT5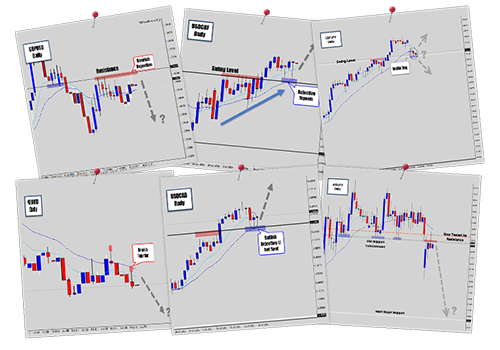 Chart of the Day Post
he Chart of the Day trading opportunity will provide trading suggestions and tips to help you understand how to apply our trading strategy to live markets. This feature has really helped War Room traders accelerate their chart reading ability as they learn how to interpret, and approach the current markets - on a day to day basis.
Daily Analysis & Trade Ideas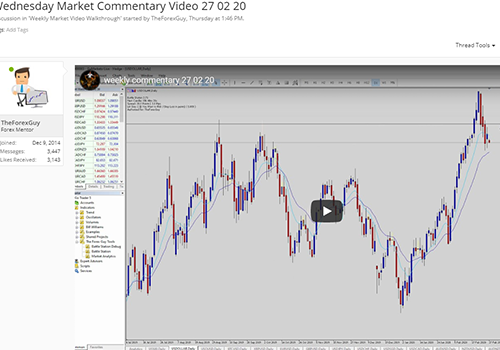 Weekly Video Commentary
This is more visual type of commentary where we look at all the active markets. Understand how to read the market by watching our weekly video analysis, where we point out potential opportunities or identifying promising trading opportunities to watch for in the coming days so you can learn to start anticipating and planning trades.
Watch and Learn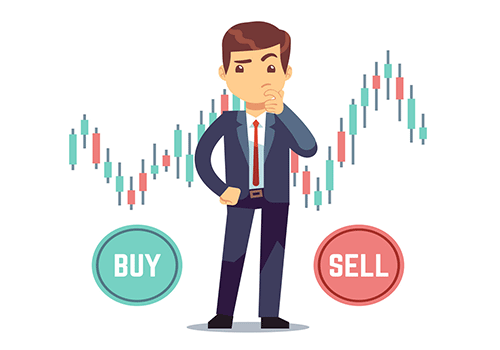 Interactive Trading Plan
* Under Construction * An older, very popular app I started - which I have picked up again due to the high amount of positive feedback recieved from the existing version. Currenly I have the beta version available for use. This is currently being extended.
Qualify Your Trades...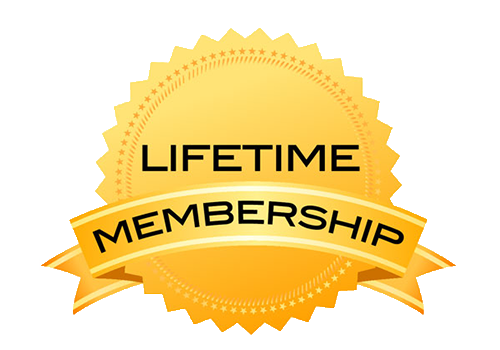 Lifetime Updates
If you take my current offer, you will become a War Room Lifetime Member. As a lifetime member you will get free access to all War Room features, any private content released, and courses / Forex strategies that are released in the future.
Limited time offer - Ending Soon...
*** Comprehensive Forex Trading Course ***
The Price Action Protocol - 2018 Edition
Your War Room membership will open up the door to the most comprehensive on-line advanced Forex price action trading course for the serious, passionate, and dedicated trader. The Price Action Protocol has already put thousands of thousands of war room members on the path to becoming consistent, confident, and profitable traders.
You will also discover powerful money management blueprints that are not seen anywhere else, and can be applied to any trading strategy. Many Forex traders are now calling the Price Action Protocol their new 'trading bible'.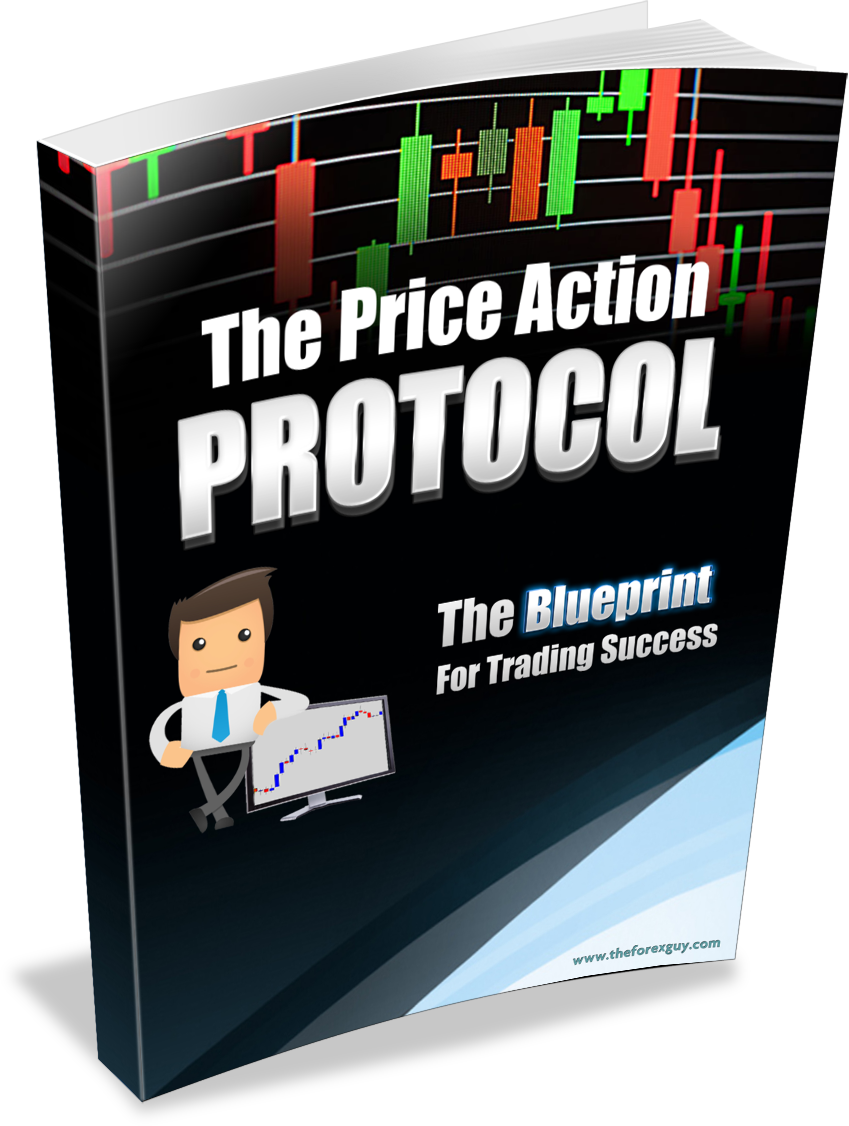 "Trade what you see" Forex Trading Strategy
Learn the skill of 'naked chart reading' and make simple, logical trading decisions, without the need for indicators.
The Price Action Protocol is a trading methodology that will teach you how to make trading decisions based off real price movements. No need to worry about complicated indicators, complex mathematical models or 'magic tools' any more - "Trade what you see".
Powerful Price Action Trade Set-ups
The Price Action Protocol will teach you the easy to learn low risk - high probability Price Action trade signals.
These signals will allow you to anticipate price movements before they actually happen and point you in the same direction as the smart money, so you can ride the big trends to squeeze every last pip from the market.
Smart Money Management Blueprints
The course contains 3 highly effective money management blueprints that can be applied to any Forex trading strategy.
These management models will keep you in profit, even if you're losing more than 50% of your trades. Included are risk mitigation and profit multiplication techniques that are not shown anywhere else.
Pyramid Money Management Model
I will take you by the hand, and show you step by step, how I turned a $300 trade into a massive $19,000 winner, and how you can apply the same process to your trades.
Would you believe me if I told you that I achieved this with almost zero risk to my capital? Sounds crazy right? It's true! However, opportunities to use this pyramid model don't come everyday, please be realistic and only expect to use the pyramid money management model in moderation.
Understand and Have Confidence In Your Trades
Sick of placing buy and sell orders without knowing the real fundamental reason why you're placing them in the first place?
The Price Action Protocol will teach you how to read price action behaviour so when you place a trade you know exactly what you're doing so you become that confident trader you've always wanted to be.
*** What You Can Expect to Learn in The War Room ***
Rejection Candle Trading Strategy
2 Candle Rejection strategy & entry methods
Long Tailed Rejection Candle entry tweaks
'Thick Bodied' Rejection Candle Strategies
Outside Candle advanced entry methods
Breakout Trap and Reverse price event Forex reversal signal
Inside Candle consolidation breakout methods
Indecision Candle breakout entry methods
Double Inside Day combo breakout trade opportunities
Indecision Candle market reversal tactics
The Power Candle momentum entry strategy
How to correctly map out the right support & resistance levels
Identifying good/bad market conditions for price action trading
Trading with different market dynamics
Mean reversion counter-trend trading strategy
Advanced trend following methods
Identifying different kinds of trends
Optimized Trend Entry Points
Timing your trade entries
Price Action strategies to suit long term or medium traders
Price Action Signal retracement entry points
Mapping the trend mean value with the 10/20 EMA
Correlation between the mean value and price value
Using the mean as dynamic support and resistance
Working with trend swing levels
How to correctly identify and time breakouts
When and where to engage in counter trend setups
How to capitalize on failed breakouts
Identifying market 'hot spots'
Correct utilization of stop losses
How to establish a market bias
Aggressive stop loss placement tactics for high reward trades
Positive risk reward money management plans
Profit multiplication pyramid money management model
Low risk split money management model

(Very Popular)

Identifying the key support and resistance levels on your chart
'Red flag' early trade exit warning signals
How to exit your trades correctly
Example trading plans for various risk appetites
The importance of trading/investing psychology in the Forex market
Check Out Some Live Trade Example From Strategies Right Out of The Price Action Protocol Course...
This trade demonstrates the true power of trading raw price action...
Watch me Make $7000 with a price acton trade :)
More Price Action Trade Examples Are Available on My Youtube Channel...
The Price Action Protocol Course Is Rated As One of the Best Forex Courses
⭐⭐⭐⭐⭐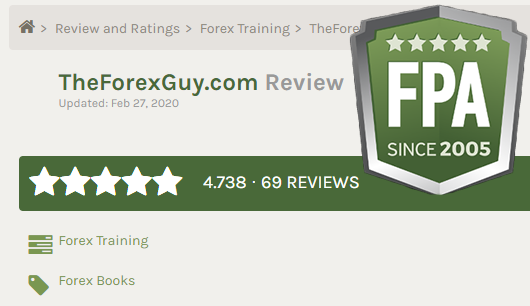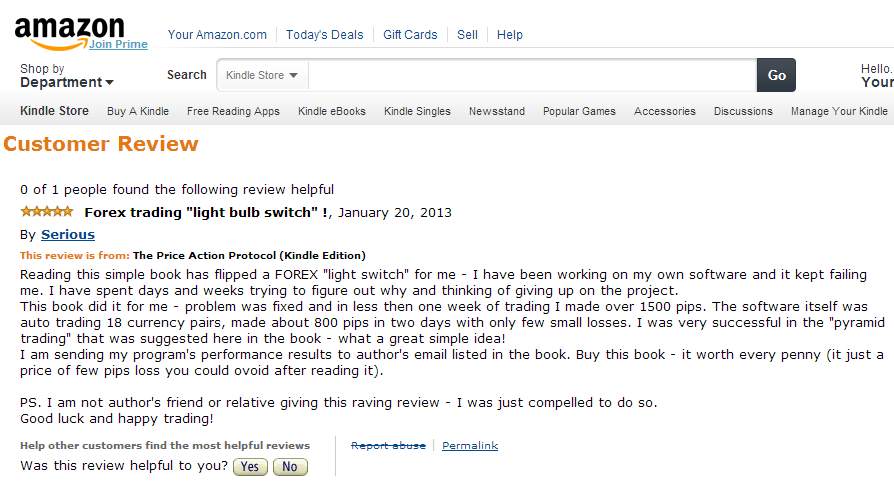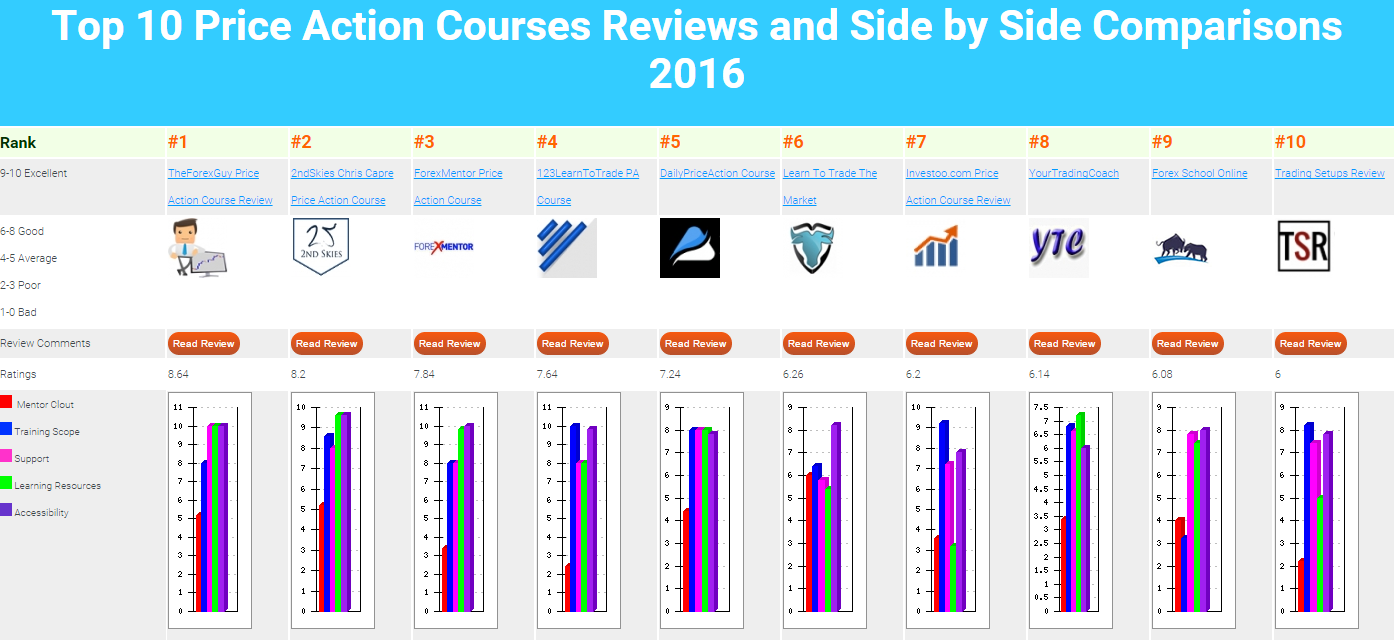 What Existing War Room Traders Have to Say...
Congrats to War Room Trader: Sandroc!
*** Frequently Asked Questions ***
Trading Support
The most common complaint I receive about other Forex membership sites is that the trader was 'left for dead' once they signed up. Even after paying for the service, occasionally traders are even asked to pay extra fees to receive help from the site owner.
I am an active Forex trader, and am very active in the War Room. Whether is it me, or other war room traders, you will get the help you need.
I will not ask you for an extra hidden fees. The War Room sign up fee is there to filter out the 'tire-kickers' or the time wasters and to help the developed, and expansion of the War Room.
Most Comprehensive Forex Course
I believe the Price Action Protocol is the most comprehensive Forex trading course available on line - once you read it, I am confident you will think the same.
I've been trading with Price Action strategies for ~12 years. However, I'm an opened minded person and have tried many other systems, experimented with many other Forex trading strategies, and even have coded many Forex trading robots - gaining in-depth knowledge into Forex indicators and other charting tools.
The Price Action Protocol course teaches you everything to need to know, to be able to 'read' a price chart and make confident trading decisions. It also contains extremely effect money management strategies which are easy to understand and implement.
The War Room, and the Price Action Protocol trading course is all my knowledge and experience packed into one neat little package. Nothing is left out.
On Going Improvements
The War Room is an on-going project for me. I have many projects lined up that will help make the Forex War Room an even better place.
If you decide to become part of the War Room, you will be part of the family for life - any future trading strategies, or improvement/extensions will be readily available to you at no extra charge.
The War Room is an on-line membership area. The Forex course material is displayed like a normal web page. There is also embedded video content.
The Chat Room, Forum and Commentary are also viewed through your web browser or mobile device. Note: My indicators / expert advisors / panels etc are not included with the War Room package, they can now be purchased separately.
The War Room is accessible 24/7 - it never closes. This will allow you to go through the content at your own pace.
The War Room community is generally most active after London open, and most quiet on the weekends when the market is closed.
Use the 'add to cart' buttons on the top and bottom of this page to add the War Room membership to your cart.
Once you complete the checkout successfully, you will be sent a welcome email which will give you instructions on how to log in.
Please make sure your browser is update and you use a reputable browser like Google Chrome or Mozilla Firefox. Please... DO NOT use Internet Explorer, as my web apps utilize the latest technology.
At the moment we are running a limited lifetime membership sign up deal - for the discounted price you can have access to the War Room FOREVER. We reserve the right to end this deal at any time, so take advantage while I am feeling generous :)
Cheers to your trading future, see you on the other side.
Please Acknowledge
All my MT4/MT5 tools are no longer bundled with the War Room membership - which is why the War Room membership pricing has been put on special.
By popular request - you can now purchase my tools individually on The Forex Guy store
The War Room's purpose is for those who want to master the charts, trade what they see - not what they think, minimize risk while maximizing rewards and pursuing a passion for price action trading strategies.
Ready to Gain an Edge in the Markets with a Simple, Logical & Profitable Trading Strategy?
Gain Clarity & Learn to Trade Stress Free - Become the Professional Trader you Deserve to Be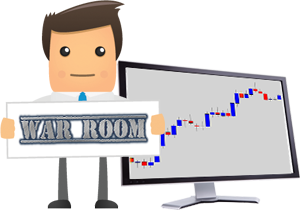 WAR ROOM LIFETIME MEMBERSHIP
START YOUR SIGN UP HERE
It's your lucky day, yes, we're still offering the lifetime membership special...
** As you can see in the testimonials... Many War Room Trader's make their lifetime membership fee back in one single trade - plus change **
No hidden costs, fees or fine print.
Important: Take advantage of the 15th Jul special to SAVE 38% off the normal sign up price of $299 AUD, because this wont continue forever and it may not return!
Best of luck with your trading and I look forward to meeting you inside The War Room!