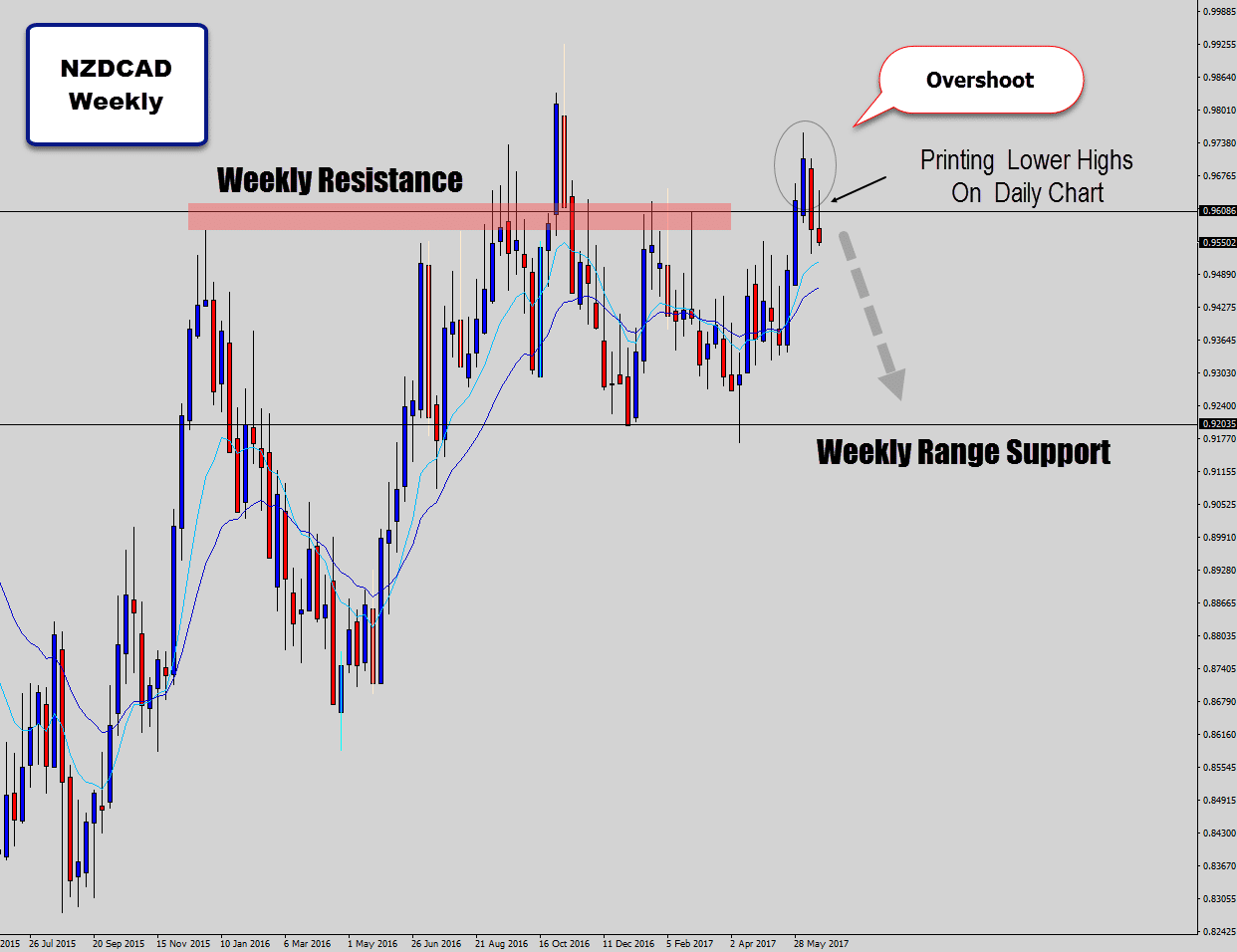 Got a nice bearish play on the NZDCAD market today – a pair I don't trade very often, but this swing trade is very hard to refuse.
To build value into this trade idea, I start from the weekly chart to begin my top-down analysis.
I posted my weekly chart above, here I get the scope of the bigger picture, and where the market is likely to move on the medium to longer term.
Keeping things simple, the weekly chart is in a range. Price did manage to break out of the range top, but could not maintain the breakout.
As a result, the market collapsed back below the weekly level very quickly. This failure to break out of the range is a big sign of weakness, and suggests there is no strength left in the market.
As long as price remains on the bottom of the weekly level, I maintain a bearish bias.
Now we drill down to the daily chart to complete the trade idea…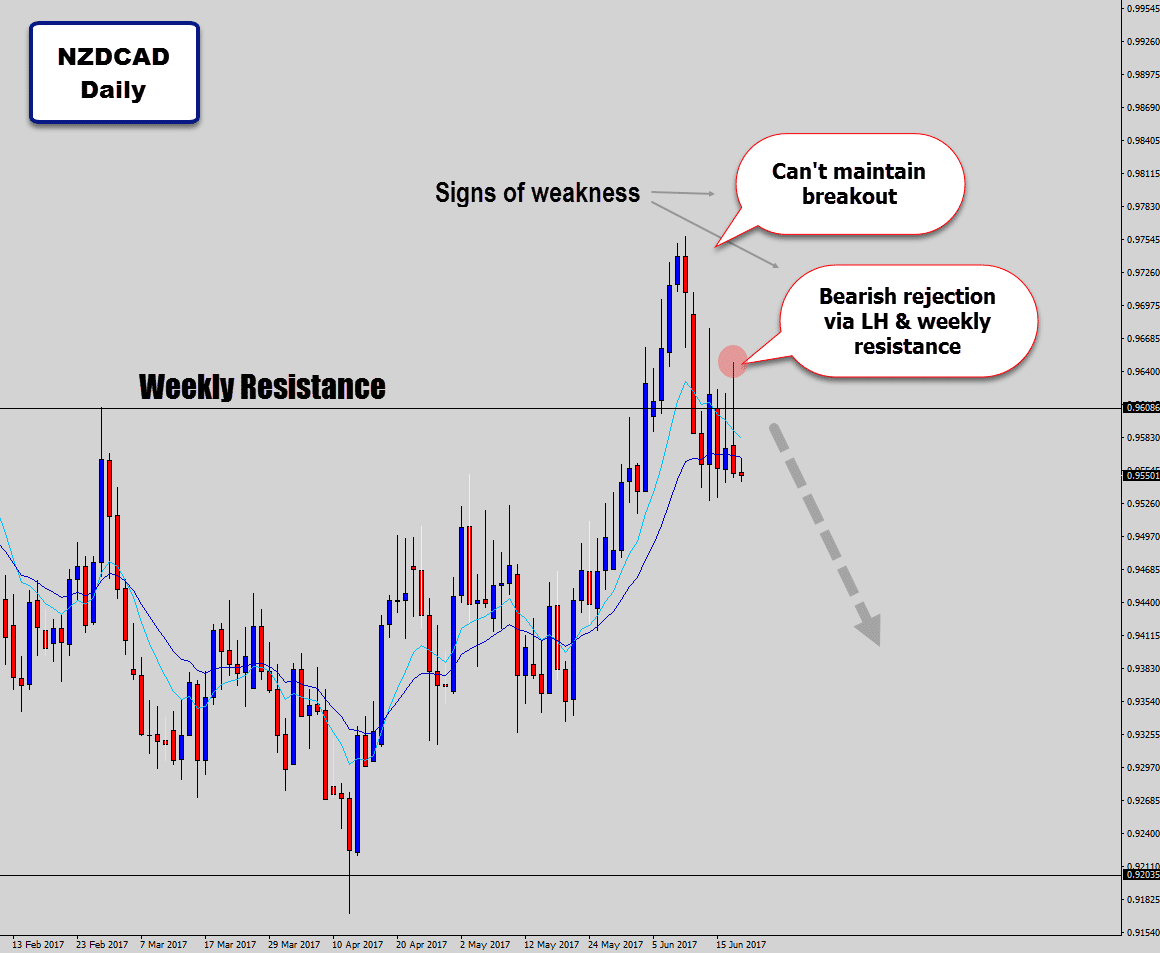 With the bearish bias in mind from the weekly chart, I drop down to the daily chart and watch for sell opportunities.
There is a nice bearish rejection candle which we can now build a lot of value into.
We know that the market failed to breakout of the weekly range, we can see the more exaggerated price action from that event on the daily chart. But, the daily chart is giving us even more insight, as we can see lower highs are now being printed – another sign of weakness.
The rejection candle anatomy looks healthy also, the close price is way below the open price – giving it a nice thick bearish body.
To conclude, we have bearish rejection signal coming off lower highs AND a weekly resistance level, following on after the weekly range breakout failure.
Looking to grab a pull-back entry with a limit order. Looking left, it does seem like most trading days do offer corrections up the previous candle's range.
Best of luck on the charts.
Trade Idea Blown Up By NZD Interest Rate Volatility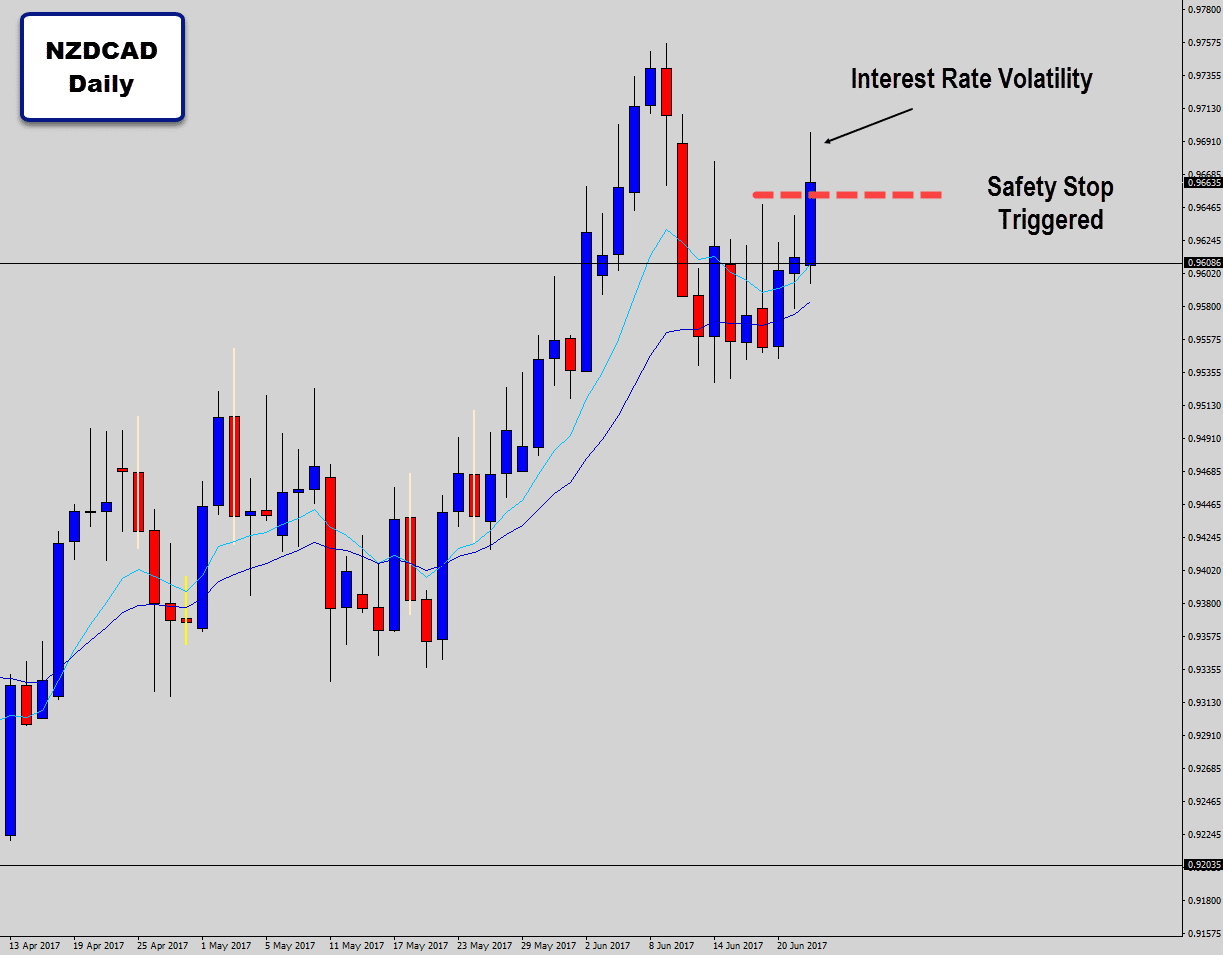 Unfortunately, this trade was on the wrong side of the NZD interest rate volatility as the RBNZ made a statement.
These are the type of things we can't control in the market. Technically the setup was good, but these news events can either destroy your trade, or drive it into rapid profits.
My plan was to let the trade do it's thing, and I already pre-defined my risk in that trade, so I know if I got stopped out, I know how much I lose.
This is why I always use a stop loss, in case of scenarios like this when you get a burst of volatility that is against you.
Nothing more to be said, the trade idea was good, it just didn't work out – welcome to the fun world of Forex trading.
Now I sit and wait for the next high reward potential setup 🙂