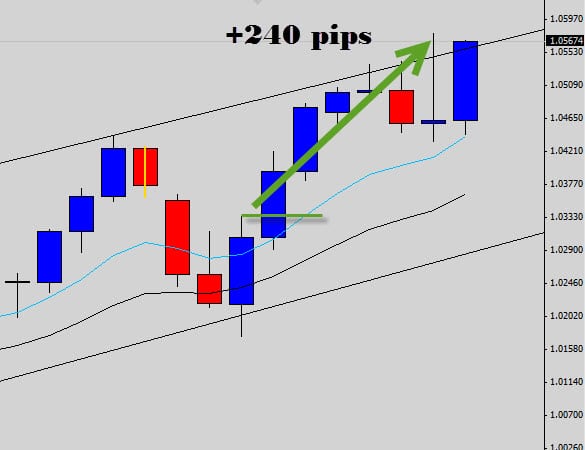 We are taking a look back at the Outside Bar Signal on AUDUSD that we previously discussed, the old post is shown below.
The Outside bar setup formed when weak traders were trapped into an initial bearish breakout of the previous day lows, then the market shot straight back upwards and triggered us into a long trade when price breached the outside bar highs.
The bullish momentum continues and pushes our trade straight into profits, a few days after we decided to take the profits we had earned, due to the fact that price had reached the upper end of the channel on the daily chart and a bearish counter trend signal formed.
Some traders are still holding the trade despite what's happened on the chart, because the trend momentum usually will overcome any obstacles on the chart. So far this trade has hit a potential of +240 pips and continuing to rise.
This is just another case that proves just how effective trading Price Action signals are with trending markets actually is. If you want to take control of your trading and be the master of the five price action signals, check out our Price Action Protocol Page. Start applying Price Action to your trading and you will wonder how you ever traded without it!
Previous Post: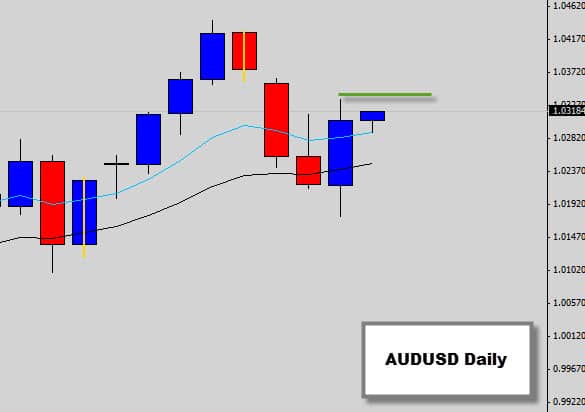 We are focusing on the AUDUSD daily chart today as it is in a clear uptrend at the moment. It's always to put the trending markets on the top of your watch list as this is where the money is.
The AUDUSD has corrected it's over extended prices and found support at the mean value area of the trend. Last session produced an Outside Candles signal. Outside Candles form when price moves one way and breaches an end of the previous day, the initial move is rejected by the market and price shoots back in the opposite directions breaking the opposite high of the previous candle.
We are looking for breaks higher of the outside candle for opportunities to jump in long and join the uptrend momentum.
If you would like to learn more about trading outside bars, advanced entries and stops level placements, check out the Price Action Protocol. Master the Outside Bar and the rest of the 5 Price Action Signals that we apply to the markets every day. You will discover how profitable trading really can be without the use of any indicators on your chart.