Battle Station on Renko Charts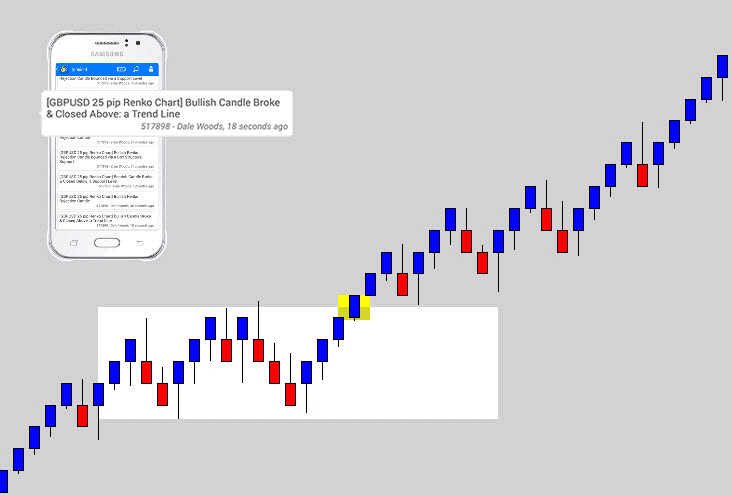 The Battle Station supports renko charts, which are a personal favorite of mine.
Renko charts are basically a chart that doesn't worry about time, but instead creates new candles based off price movement goals instead.
If you want to understand more about renko charts: Check out my guide on How renko Charts Work.
If you're a renko trader, the Battle Station is going to be like a Swiss army knife when it comes to functionality. You're not going to be able to find a better renko price action indicator out there.
Loading the Renko Battle Station
The renko Battle Station is built in as part of the original. You only need to load the same indicator file on your renko chart.
The Battle Station should automatically be able to detect whether it has been loaded onto a renko chart or not, and load into the correct environment.
To confirm it has detected the renko environment correctly – check the loader message in the experts tab.
There will be log statement letting you know what mode the Battle Station is running in.

If you load the Battle Station onto a renko chart, but it doesn't say it is running in renko mode, then you most likely have bad renko charts.
You should also be able to see the renko chart information in the top left corner.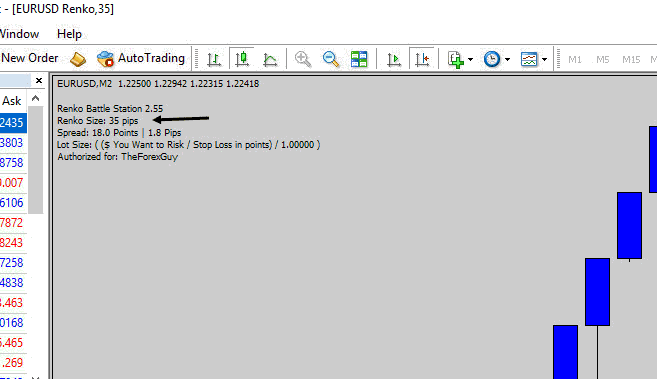 The Battle Station should work with renko charts from any decent MT4 renko chart generator plugin – but if the coder used bad code, or it generates invalid renko candles – then the Battle Station might not be able detect it is a renko chart.
Use my MT4 Chart Builder for clean, compatible renko charts for MT4.
New Renko Candle Notifications
One of the biggest issues with renko candles, is that you do not know when a new renko candle is going to form.
That's because new candles are printed based off of price movement, not time – so unless you can see into the future, you don't know when the market is going to move enough to make a new renko candle.
You also don't want to be stuck staring at the charts waiting for a new renko candle either!
The Battle Station addresses this by giving you the option to send notifications when a new renko candle is printed.
To turn this feature on, go to the renko section of the input options and flip this switch: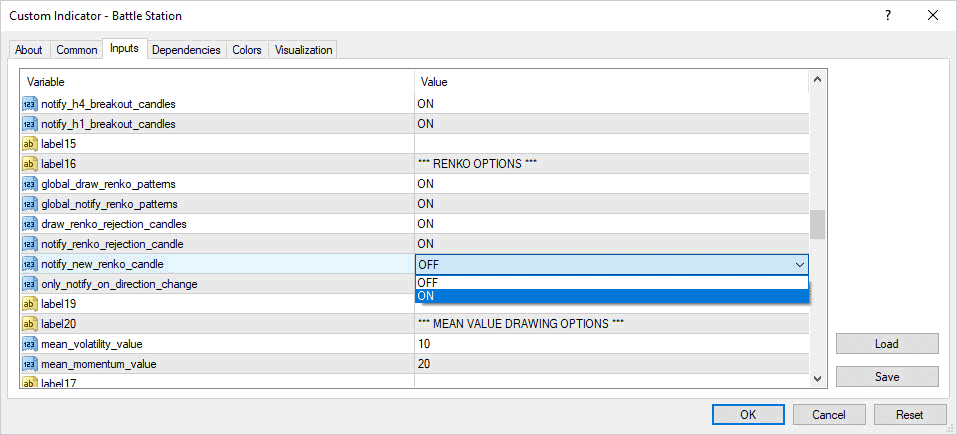 Now when a new renko candle is printed, you won't miss it…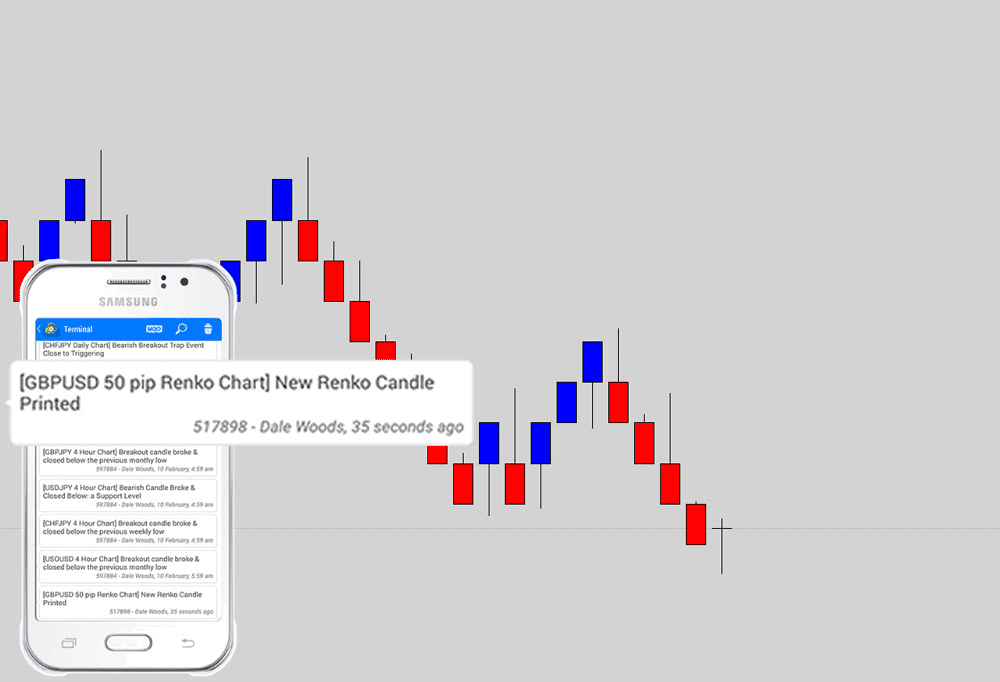 There is also an extended option to the new candle alert notification. We can tell the Battle Station to only notify us if a new renko candle if the new candle is in a different direction.
You can turn this option on here:
You might want to be notified of a direction change if you're short, and want to be alerted if a bullish direction change occurred.
For example, a bullish renko candle prints after a bearish candle.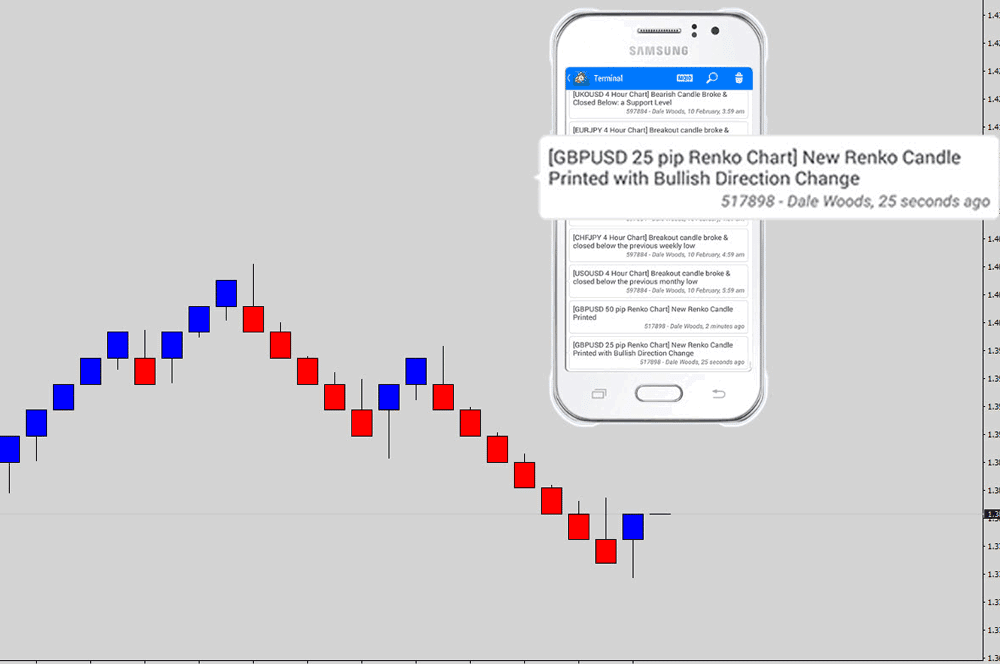 For any renko trader, this alerts will be an extremely useful aid.
But that's just the beginning! there are a few more renko features to talk about…
Renko Candlestick Pattern Notifications
The only candlestick pattern for renko charts right now is the renko Rejection Candle. This is an experimental candle at the moment, but does signal a reversal is likely to occur on the charts.
If a renko rejection candle forms you will get an alert like this…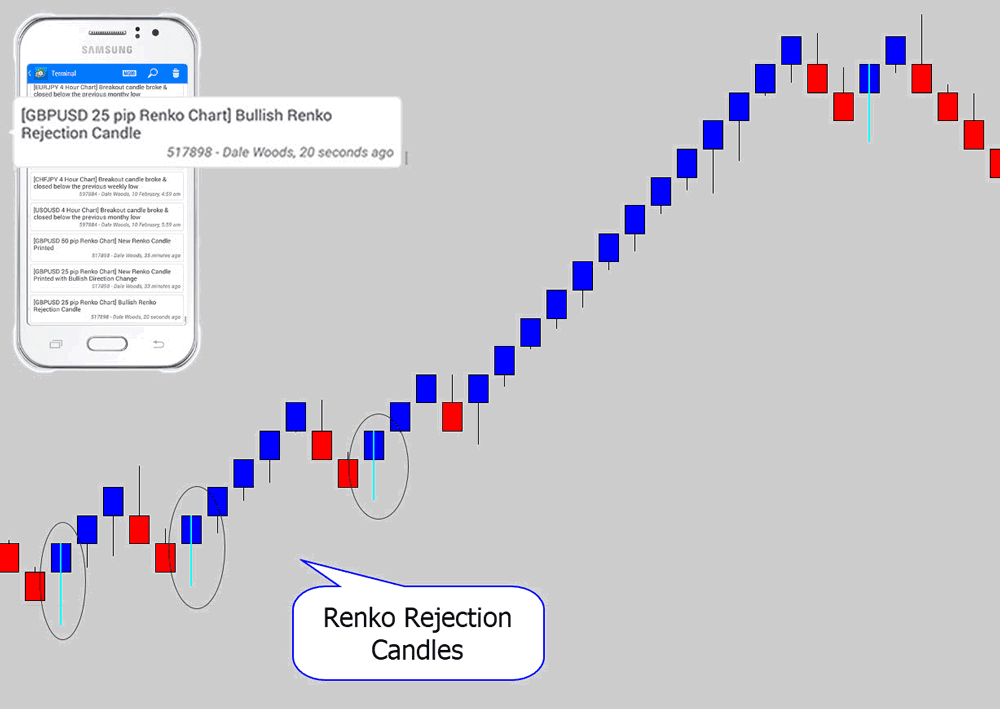 Note: If a renko rejection candle does form, it will override the new renko candle alert. But you will know a new renko candle has formed if you get the renko Rejection signal alert.
Renko Trend Filter
Not Available Yet
The current trend filter isn't compatible with renko charts. Battle Station users will be notified when a renko chart trend filter has been implemented in future updates, and this space will be updated.
Moving Average Filter on Renko Charts
The moving average filter works great as a simple trend filter for the renko charts.
Turn it on by switching on the regular moving average filter switch, in the quality control options…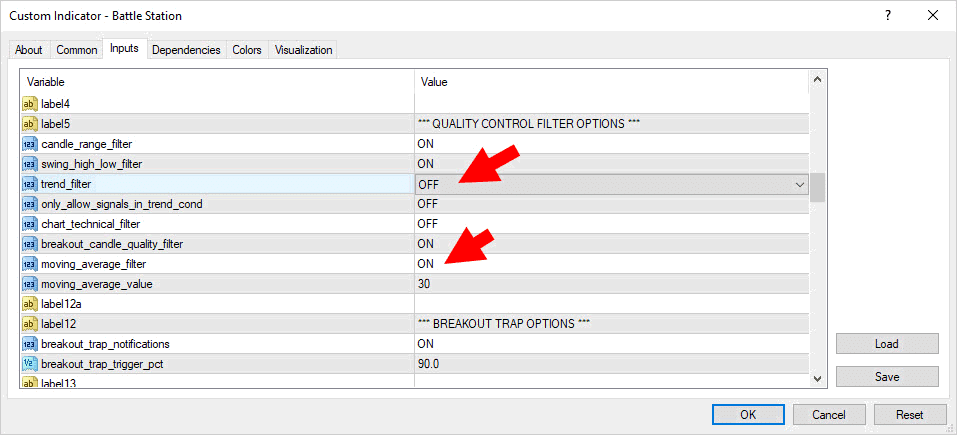 Don't forget to turn off the standard trend filter, and remember – you're free to change the value of the moving average for the filter.
It actually eliminates a lot of noisy signals. Look at the unfiltered renko chart below, take note of the excessive signals.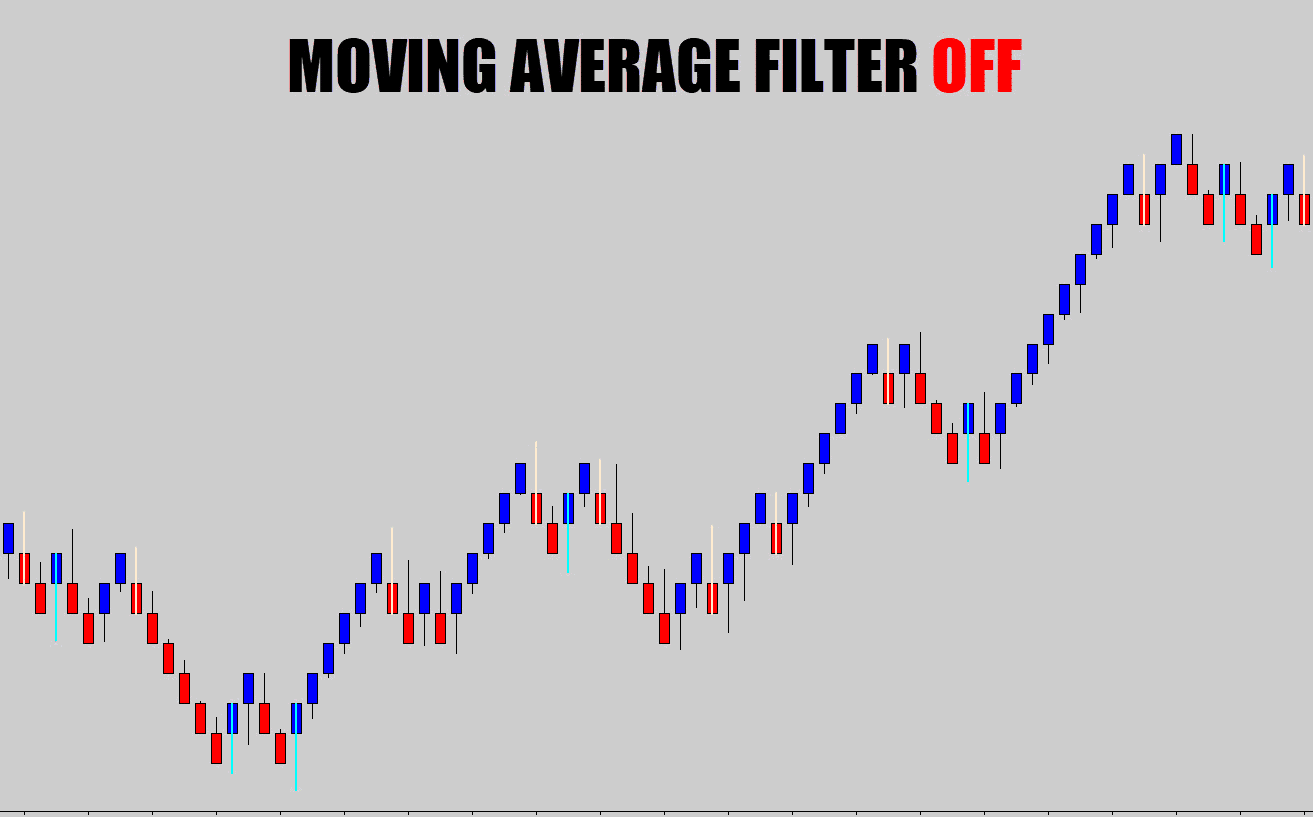 Now we turn on the moving average filter with the default value of 30…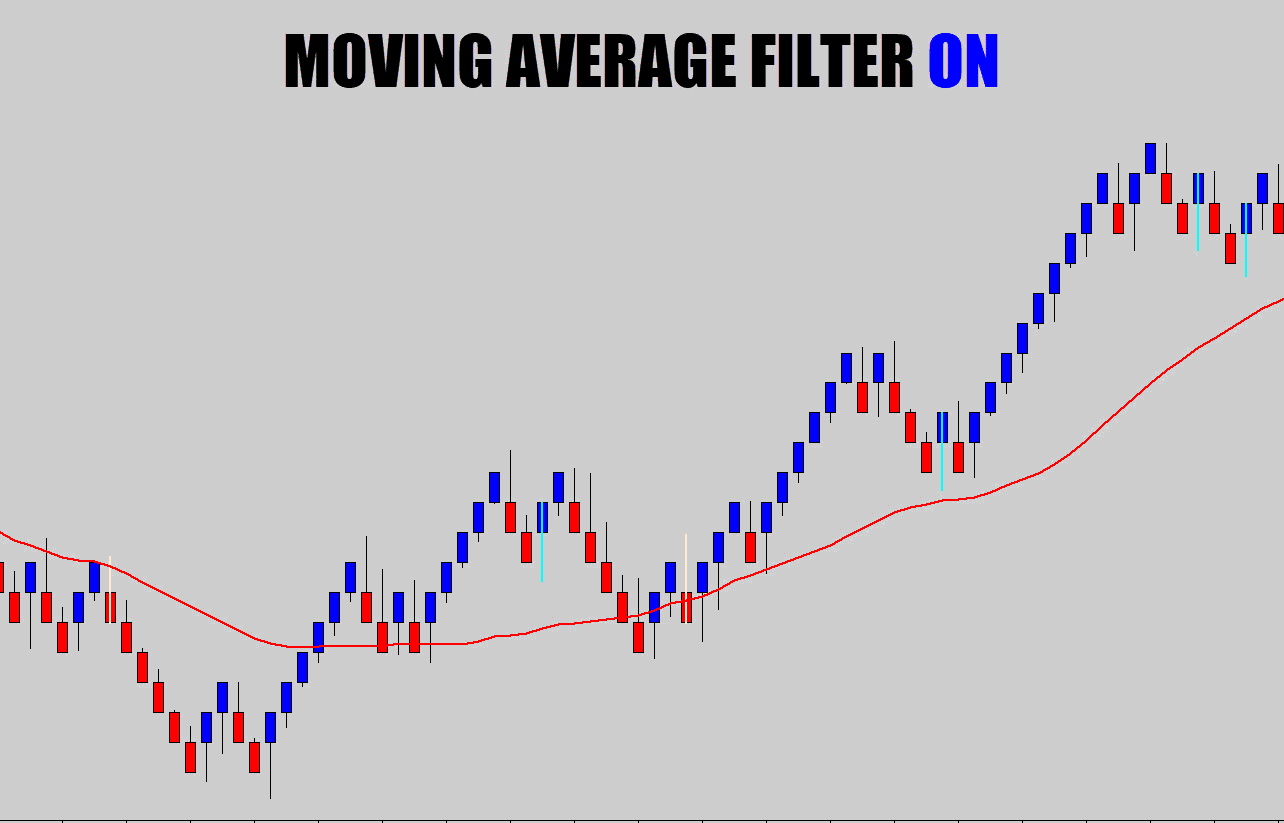 A lot of noisy, low quality signals are eliminated.
Only bullish signals are allowed above the moving average, and bearish signals only below the moving average.
This is a simple, but an effect tool for renko junkies!
Renko Technical Analysis Filter
The technical chart filter works exactly the same for renko charts as it does for regular candlestick charts.
It only allows renko signals to pass through if they react with any of the following technical objects on your chart:
Horizontal levels (support and resistance)
Trend lines
Rectangle objects
Triangle objects
This filter may be used by more renko traders, as technical levels like support and resistance are much clearer on a renko chart.
If a trader only wants to trade signals off his/her levels – then you can use the technical filter to make sure you only get renko signal notifications which are important to you (the ones off your chart technicals)
For example, take a look at the chart below…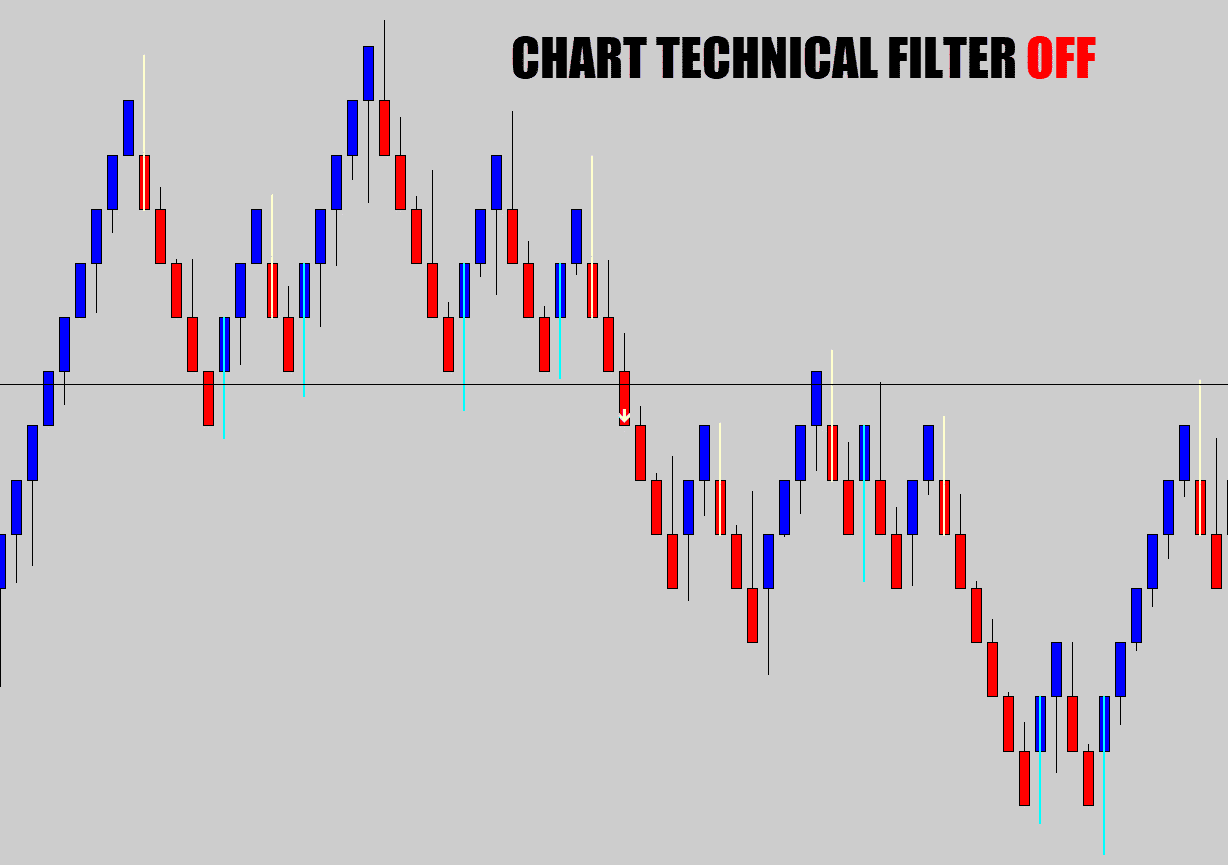 If a trader was looking to only catch signals off this horizontal level, they could turn on the chart technical filter: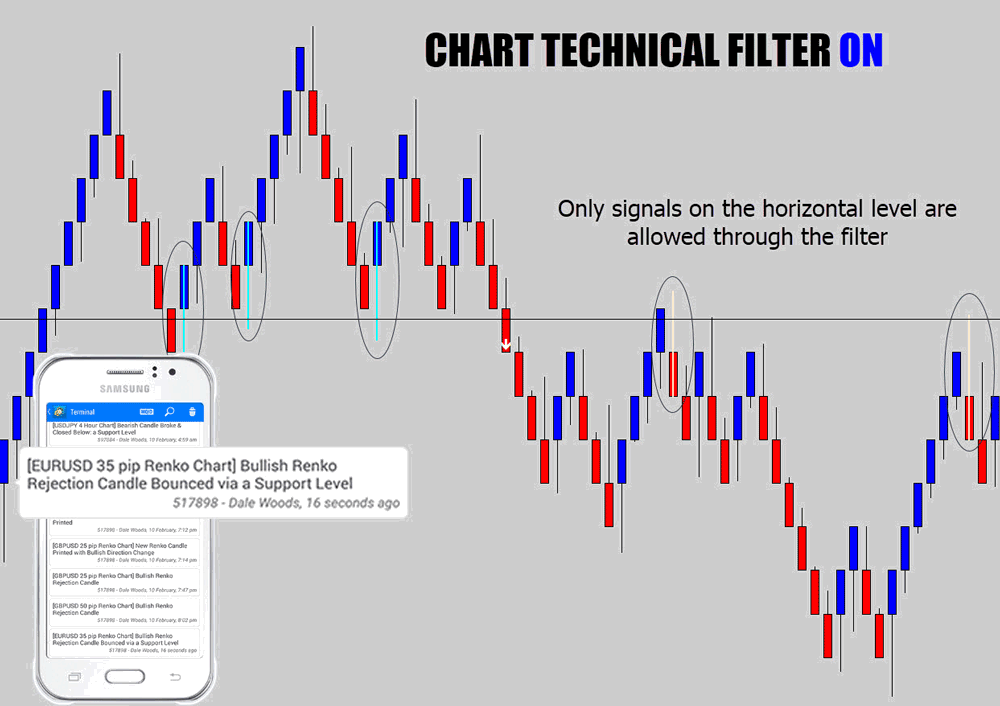 You also get more information in the notifications about technical features the signals reacted with. You will get the extra information regardless if the chart technical filter is turned off or on.
A renko signal off a trend line: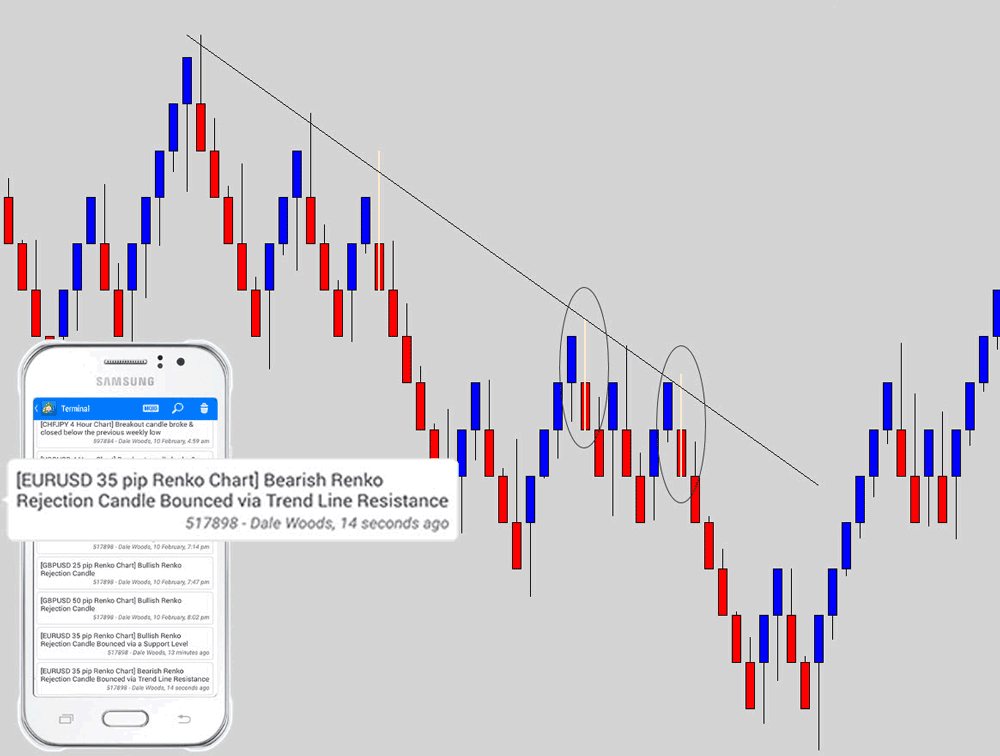 A renko signal rebounding off a box structure: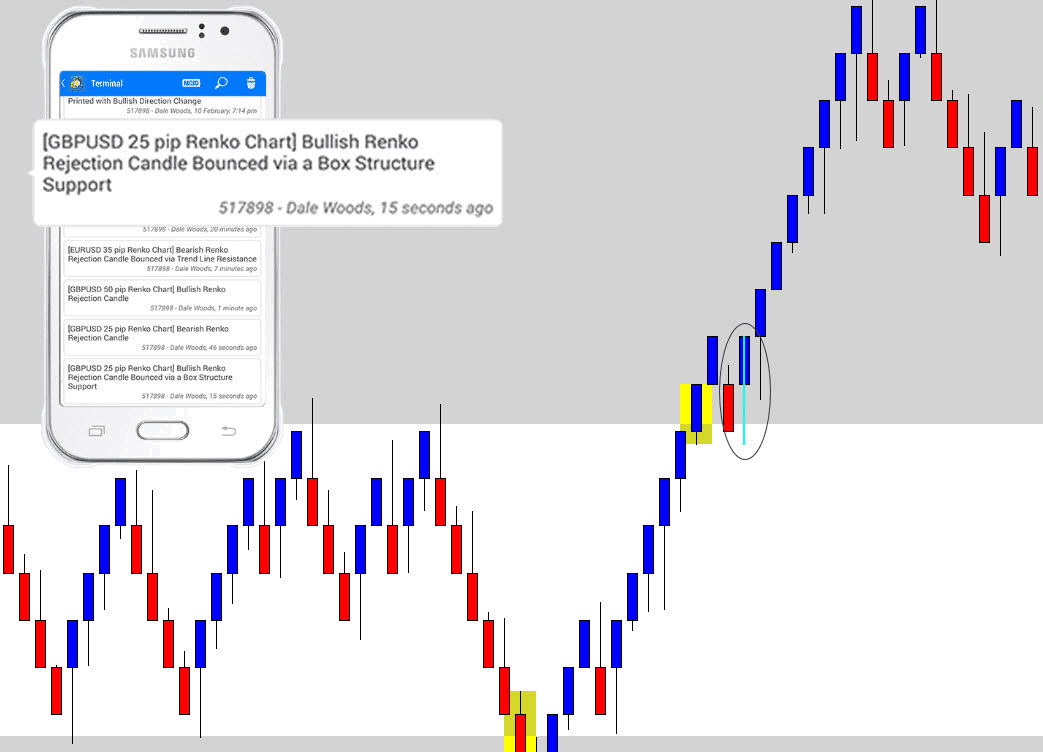 Triangle markers are also compatible with renko charts, but they rarely form on renko charts though.
These are just some examples of how the technical chart filter might be useful to you with renko price action.
Renko Breakout Notifications
The Battle Station has got your back if you're also tracking breakouts on renko charts.
All the standard breakout trackers work with renko price action too.
You can set all your renko breakout notifications in the same place as you would a candlestick chart: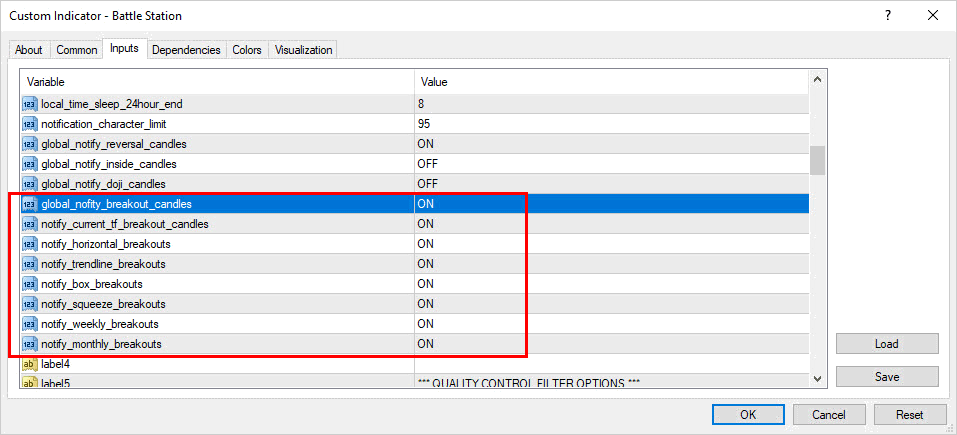 Here are some examples of renko breakout alerts…
Horizontal level break: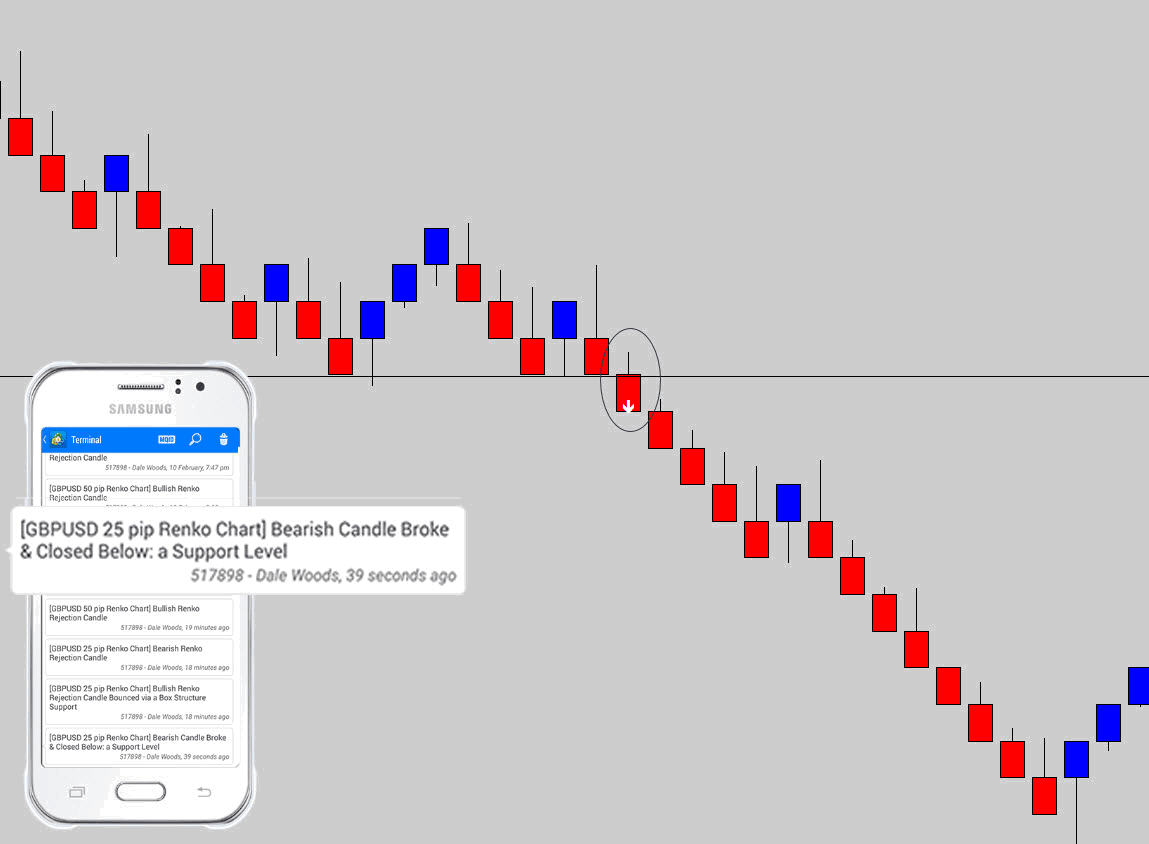 A trend line breakout: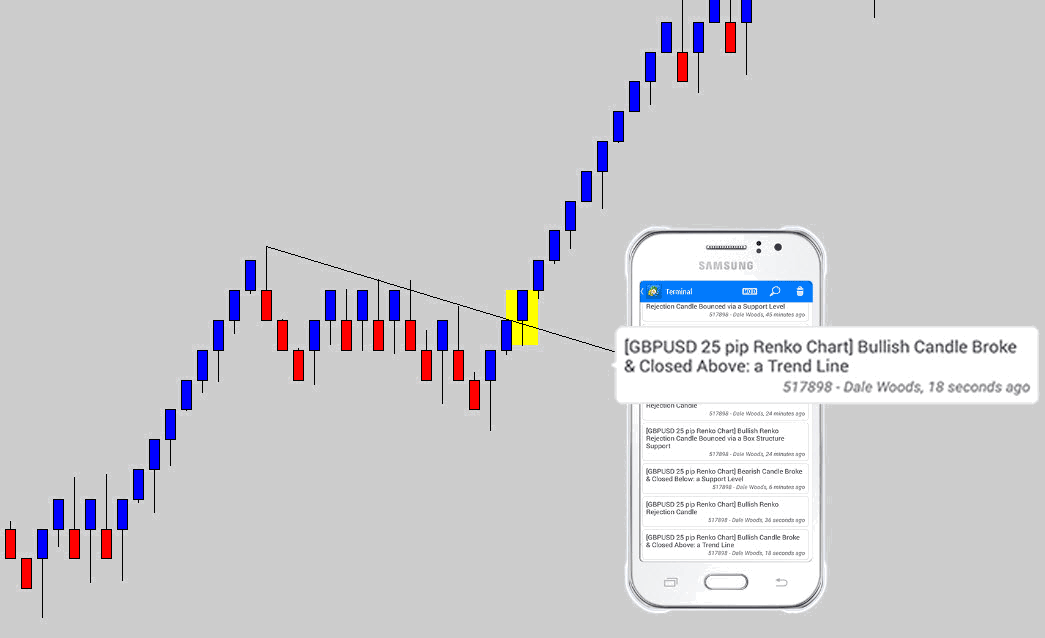 A box consolidation breakout on a renko chart: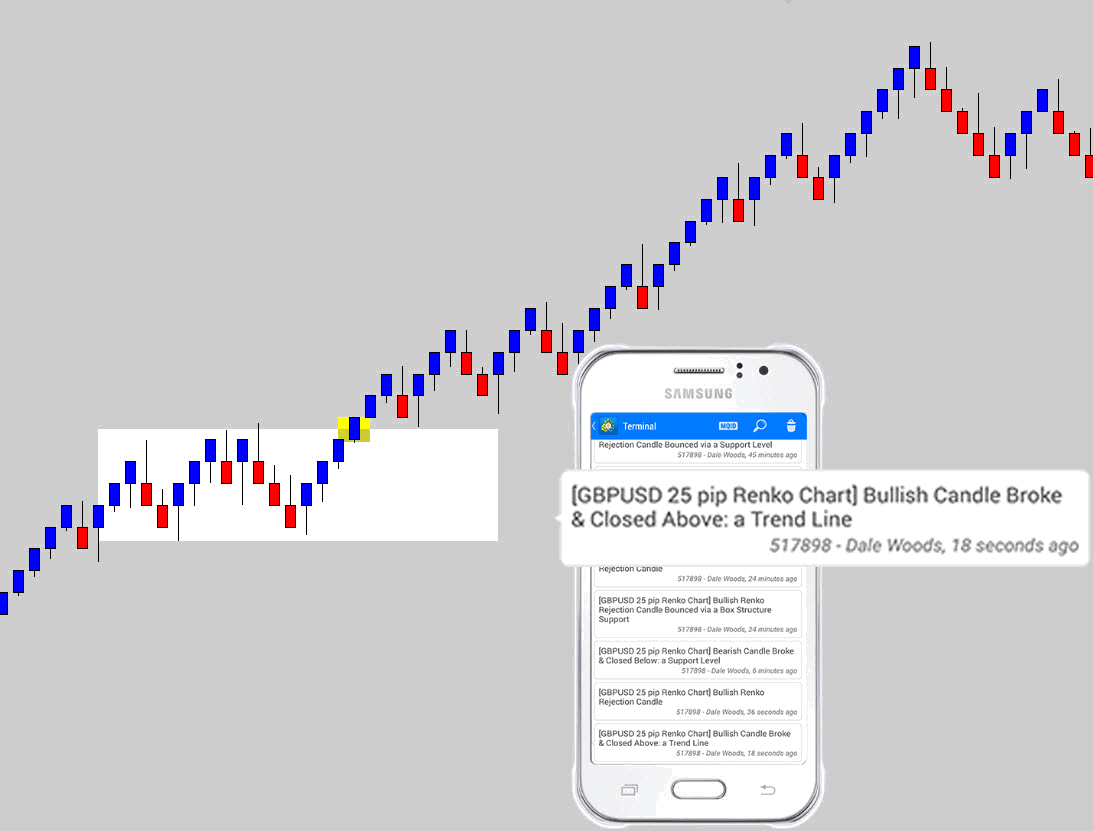 Of course squeeze pattern breakouts are available also if you really need to have those.
Enjoy!
That should bring you up to speed with how the Battle Station works with a renko environment.
I think renko traders will appreciate the seamless integration of the Battle Station into renko charts!
I hope you enjoy the tool, and may it bring you many pips.
Best of luck on the charts!
Want to Try My MT4/5 Tools ? Download Here...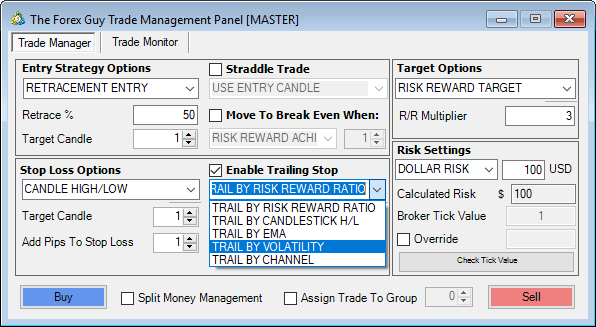 Trade Panel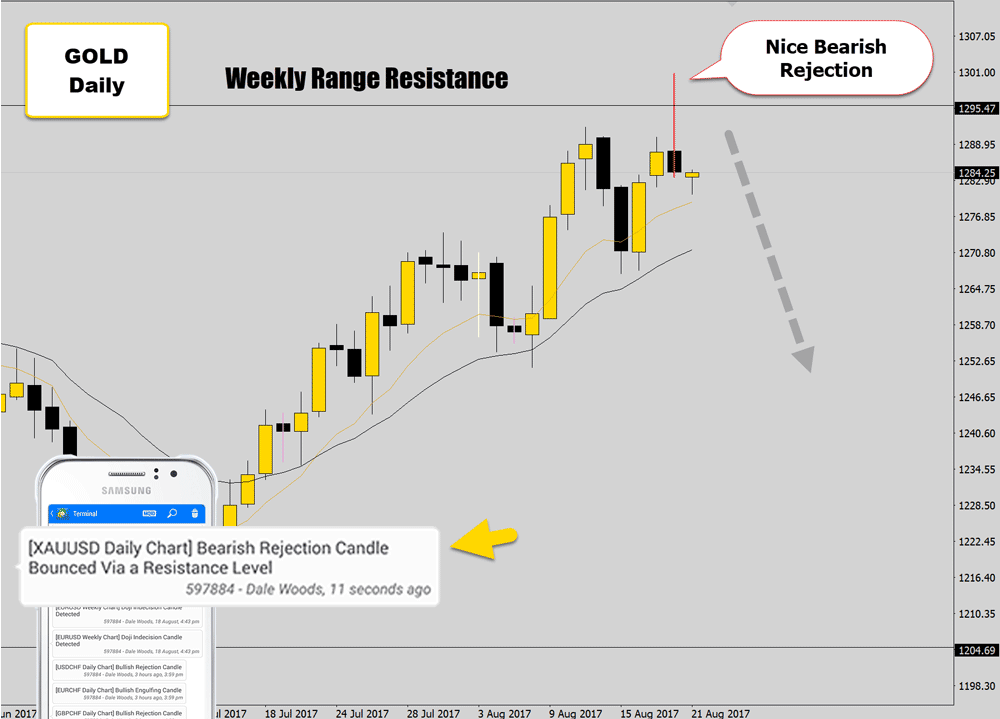 Battle Station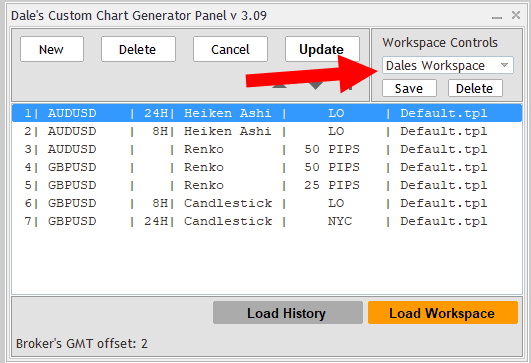 Chart Builder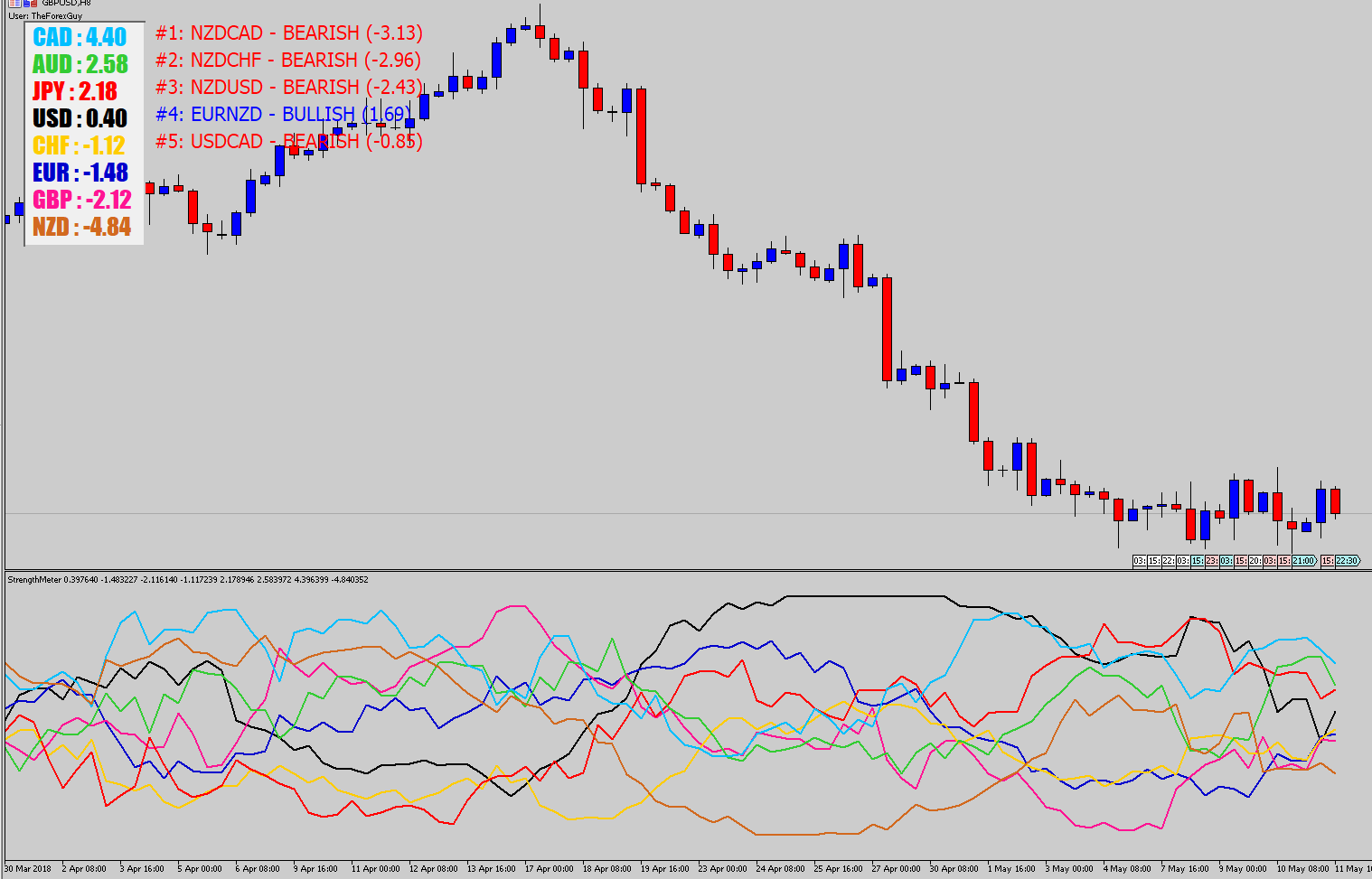 Market Analytics
Howdy traders,
By popular request, I've release trial versions of all my custom MT4/5 tools myself and the War Room traders are using in our day to day trading.
Follow the download button below if you would like to try them out :).
Download