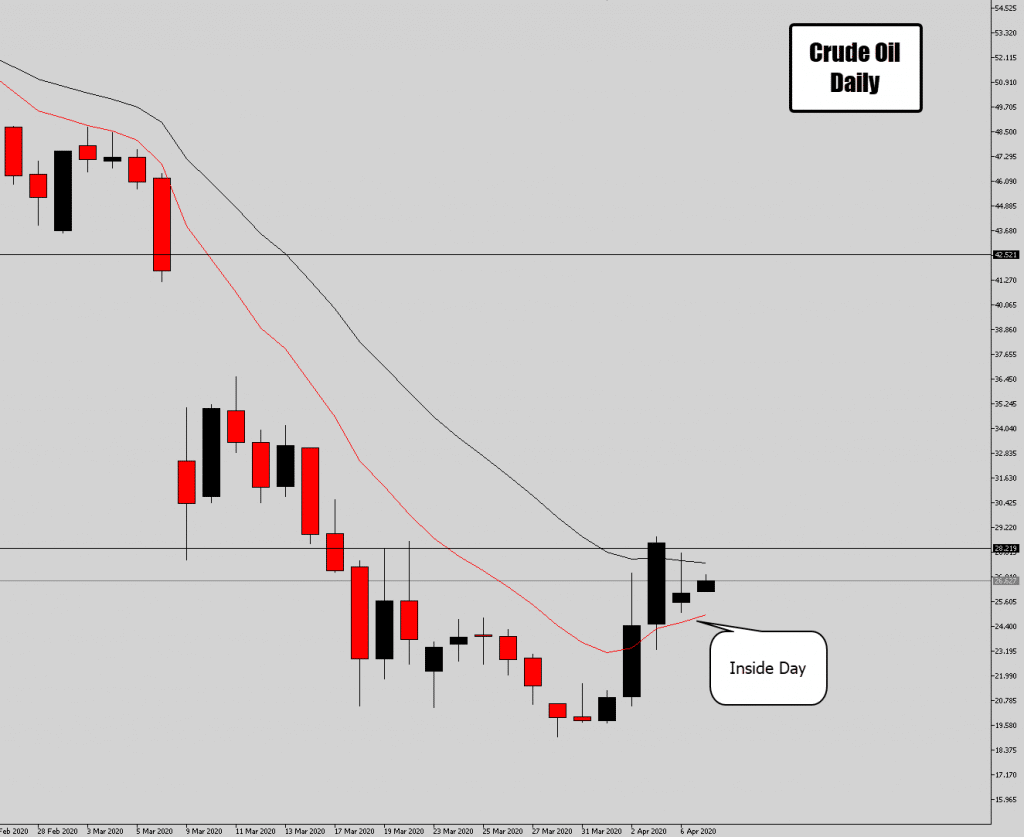 Looking through the charts there is still quite a bit of heavy chop going on.
Was tempted to post AUDUSD coming off a higher low, still looks like nice structure – however, it's already starting to break highs. Still a decent trade idea if you want to check that out.
Crude oil printed an inside day yesterday… When I look at this chart I see potential for an upside breakout.
Inside day under resistance, no bearish presence at all at this area at the moment, so if the market does pop higher we could get a respectable move.
Because oil has been very bearish recently, we just need to watch these kind of breakouts don't turn into fake outs.
If price fails to hold above that level, or if you se any serious 'wicking' above that level, this breakout is likely to go pear shaped really quick.
No Breakout – Bearish Activity Returns with Rejection Signal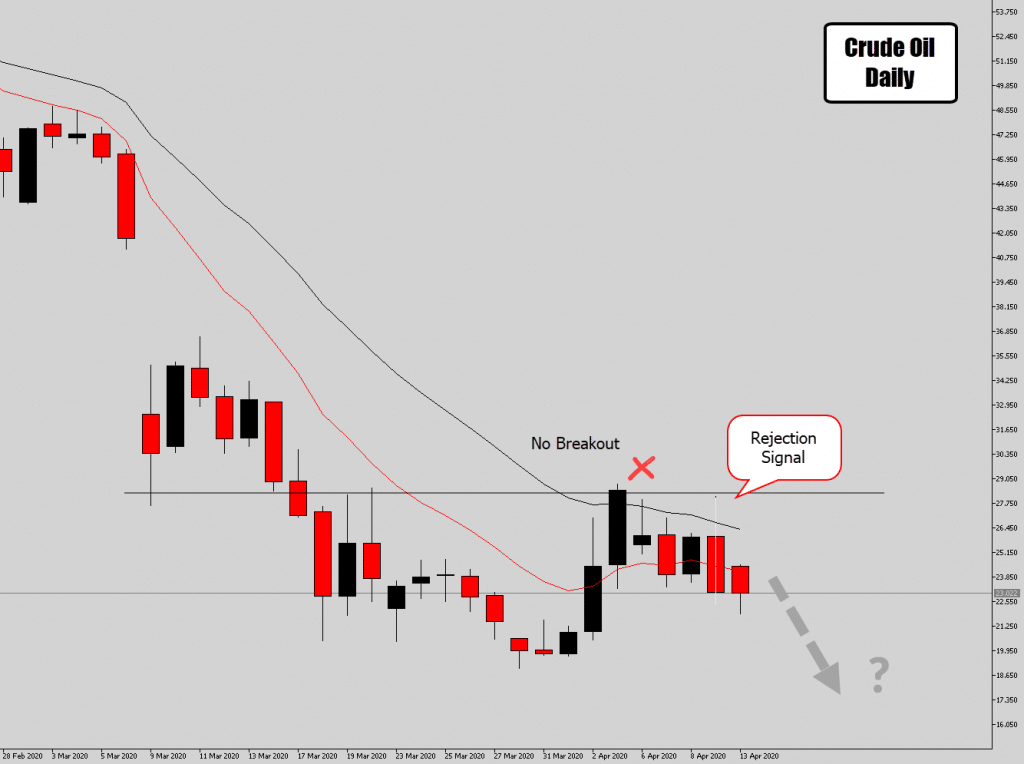 Looking for that bullish breakout from the inside day, we got nothing but sideways.
This area is perfect for a 'break or bounce' moment. Since there was no break, we get the bounce instead with oil printing a large bearish rejection candle.
This scene is looking very bearish again with weakness being very dominant.
We're already seeing oil start to drop below the lows, so a retracement entry might not be up for grabs.
For breakout style entries, I prefer to wait for the US session to open before making breakout decisions on oil.
How low can oil go here though? It's already tanked hard – but hey, expect the unexpected in Forex.
Best of luck on the charts oil traders 🙂
Oil Gets Punished Again – Bearish Waterfall!
OK… oil did something no one would have expected. It crashed, in a big way.
What we trade is the "spot" or "cash" market, real futures contracts went to -$40… yep minus. Meaning the manufacturers of crude has to pay people to take it because no one wanted it.
I think the guys drilling can't just flick an off switch, so the oil kept coming out of the ground buy all the reserves were full.
It's crazy, even spot is stalling at $8/barrel. Looking forward to cheaper gas/petrol.
What amazes me is that it was a simple price action signal that appeared just before the move!
Any traders who jumped on this one would be buying something nice this weekend.
If you would like to learn more about these price action signals, or how to look at a chart and do simple technical analysis to find opportunities like this – check out the War Room for traders.
Until next time, best of luck on the charts and enjoy the drop in fuel prices.