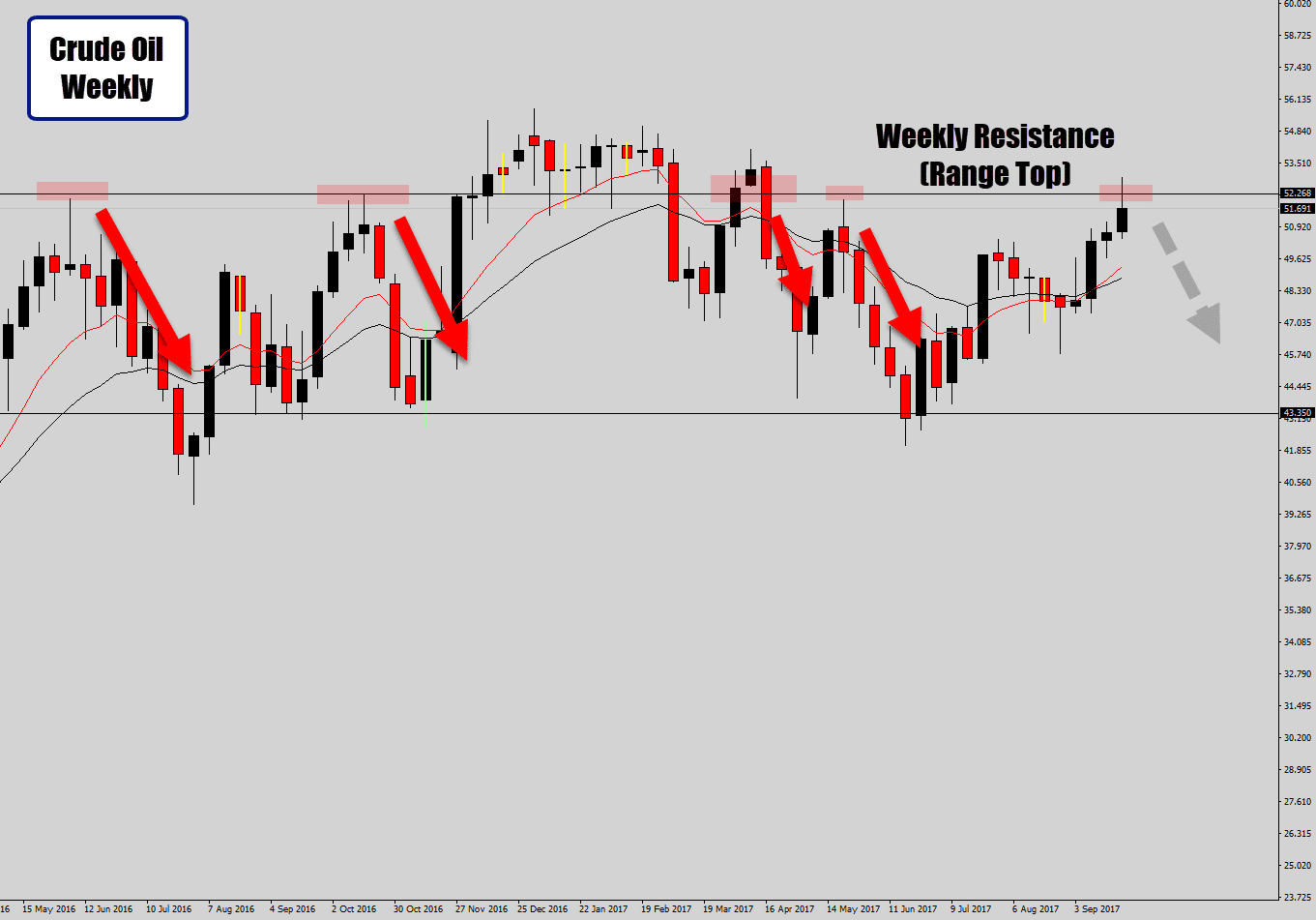 Looking at a bearish setup today on the US crude oil markets (WTI) .
First I will draw your attention to the weekly chart – staring the top-down analysis.
It's can be seen quickly that we have a major level at work here. Look to the left and we can see a resistance level  which has been acting as a range top, apart from the overshot we got there for a few weeks.
Take in what information you can at what the history history has to offer…
This level has been a big time producer of bearish moves, so we can only expect this will likely occur again. Keeping that in mind we move down to the time frame the bearish signal occurred on – the daily chart.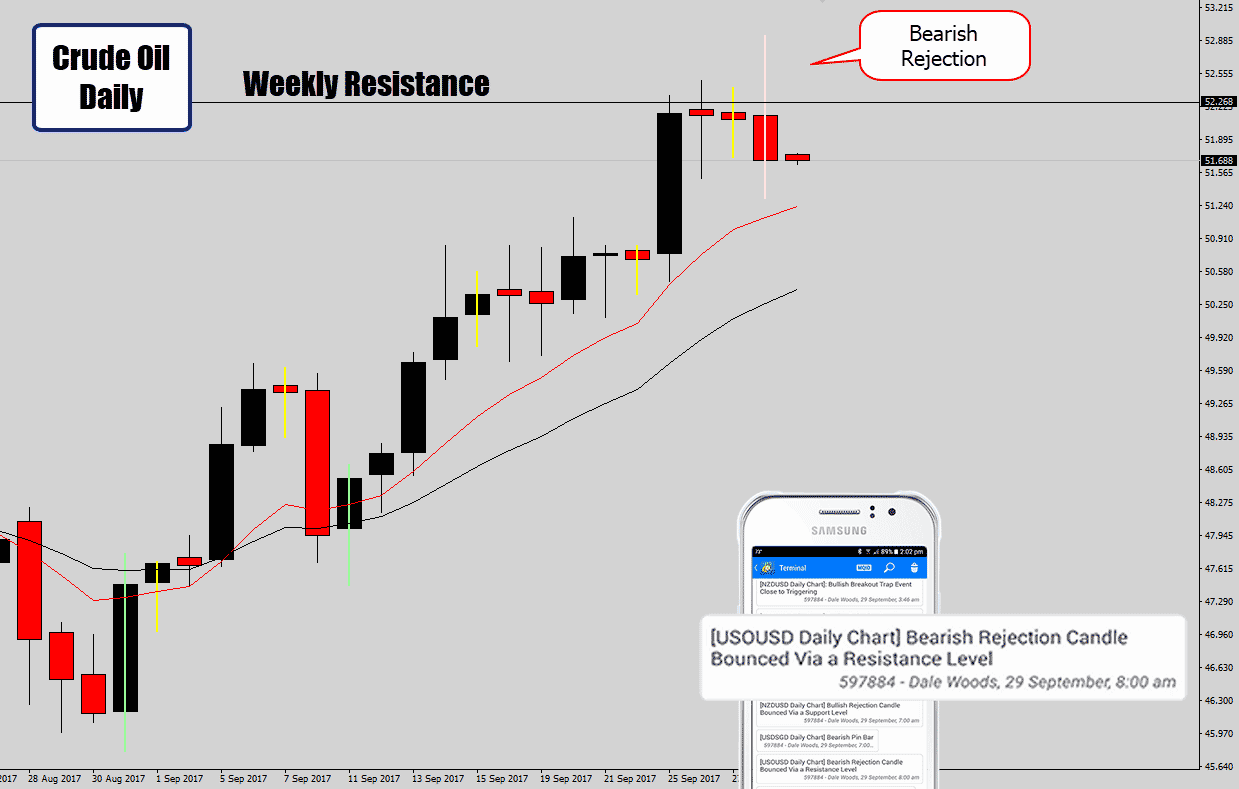 We've got a nice bearish rejection candle, which is a reversal signal, waiting for us on the daily time frame.
The candle pattern basically communicates rejection of higher prices, and the potential start of a bearish reversal.
I've also put on the chart from my chart scanner tool, the price action battle station (available as part of the war room) if you're interested in checking that out.
Bringing down the analysis from the weekly time frame, and combings that with the bearish rejection candle, we've got a good case to sell against the trend – anticipating a major reversal.
Counter trend trading is harder, but if you get into a counter trend move – they are very profitable.
Also trying to catch a retracement entry, but crude oil can be a tricky beast, so getting an entry will be the first challenge – a breakout option might be the only available entry here. If so we should look for breakouts that occur after the London session has opened.
Let's see what happens, best of luck on the charts everybody 🙂
Rejection Signal Sees Prices Drop To Next Support In Profit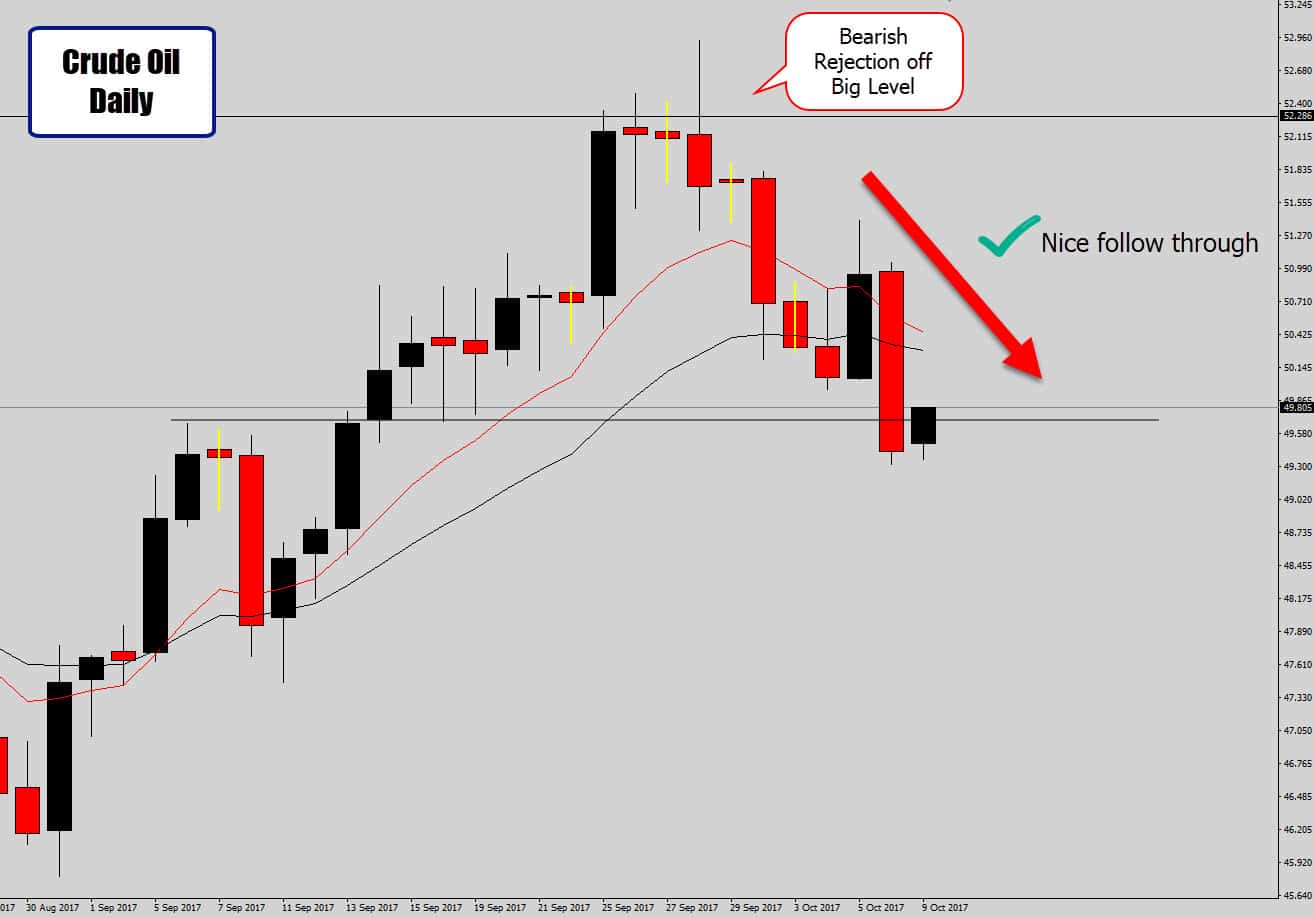 Crude oil tanked as anticipated via the rejection candle off the support level.
There was no pull-back for a correctional retracement entry on the signal, but the market did follow through to the downside very well after the signal lows were broken – so breakout entry configurations would have worked very nicely here.
I hope you all caught some pips here.
If you would like to like more about price action analysis and trading like I've demonstrated here – or the tools I create for price action trades, feel free to check out my War Room for Traders.
See you at the next interesting price action event.