The US markets come back to life after deadly consolidation over the Trump win. We got a 'Trump rally' into all time highs on the US markets.
But where are we now? Well the situation is this – the market has basically stalled at new market highs here. The price action is showing boxing consolidation which I've highlighted with the square.
When this consolidation structures occur, we basically sit and watch for a breakout. Generally a thick bodied, solid breakout candle is the best signal.
Although we're in a clear uptrend, it could still break either way, hence why we wait for the chart to demonstrate to us which way the market has decided to breakout of.
Right now there is a similar setup on the EURJPY where we have a bearish breakout of a box consolidation structure, and I've been short a few days on a bearish box break on GBPNZD.
These setups seem to be popping up everywhere, they are definitely worth watching as consolidation structure breakouts can generate big moves.
Lets wait and see what happens here with the DOW.
Breakout Fakeout Then Breakout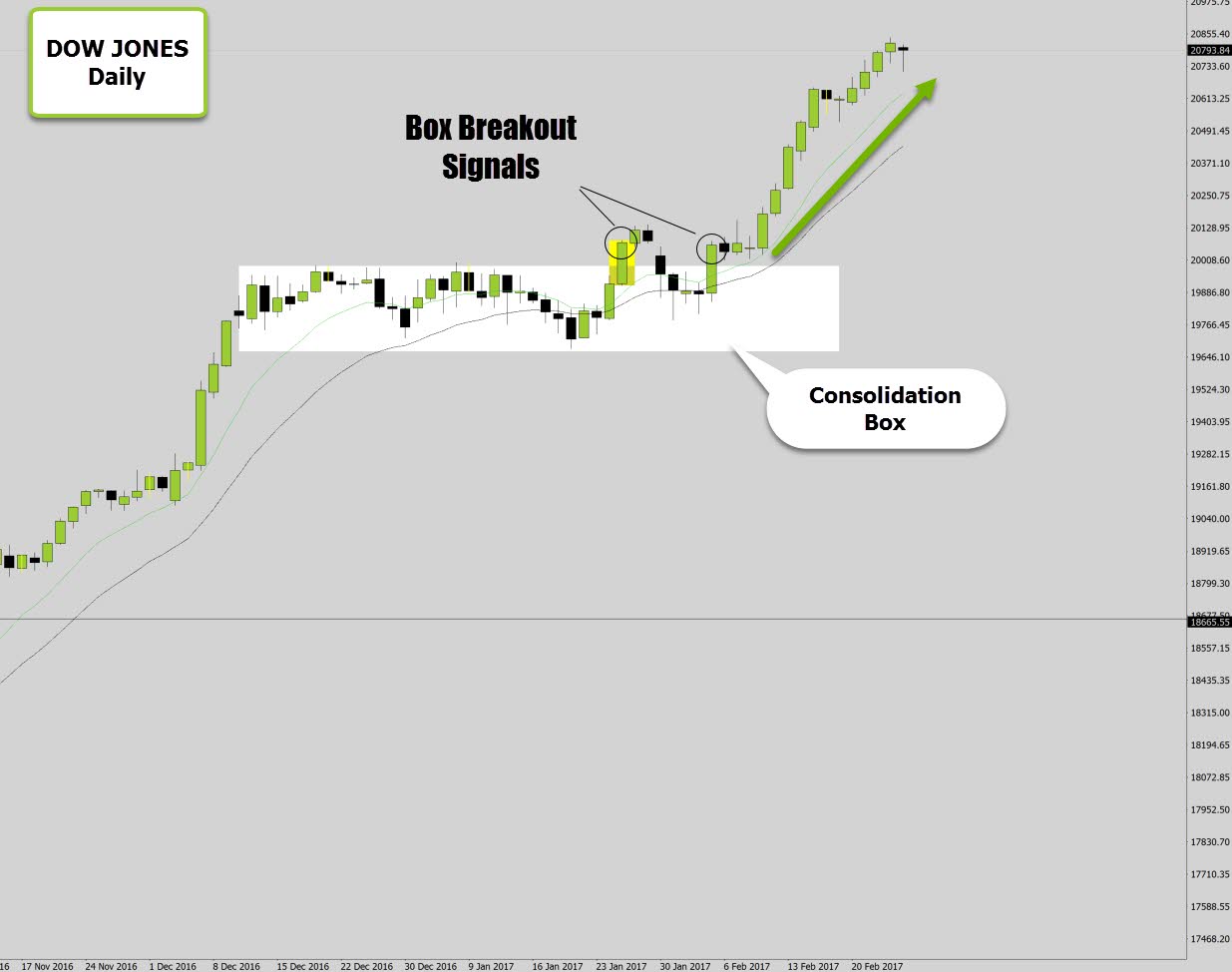 Well this setup really screwed us around.
We got a nice bullish breakout signal from the box structure, and then the market decided to sink back into the consolidation, only to pick back up strength again and get a second wind, breaking the box… again and dropping another bullish breakout signal.
This usually doesn't happen – generally the box will breakout and the market will rally to the stratosphere. But as we know, nothing is certain in the market, and every trade will play out in a unique way.
Depending how you structured your stop loss, the first trade would most likely have been a wipe. But the second breakout trade signal was a ripper, and is still pushing into fresh highs.
Congrats to anyone who caught this move.
If you would like to learn more about structure pattern breakouts, check out the war room membership – it contains the price action protocol course which goes into more detail about how we approach these breakout events.
Best of luck on the charts guys, see on at the next chart.