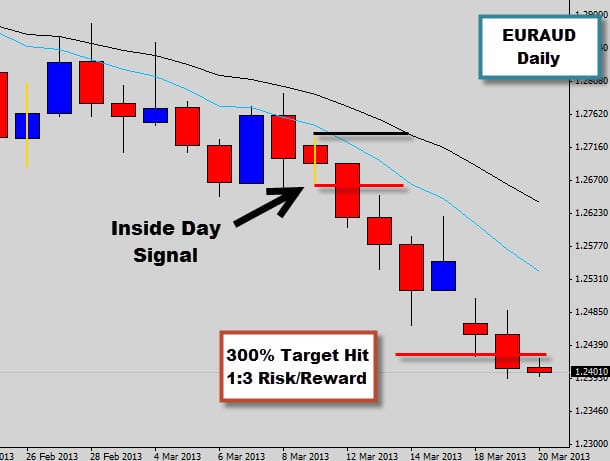 Following up on the Inside Day price action signal that we discussed here a few days ago, this trade setup has played out as expected. When the market breached the Inside day low, the bearish trend pressure pushed price down to hit our 300% minimum risk/reward target.
We also had the large weekend gap due to the Cyprus Bank incident which helped our trade along nicely.
Most of the traders in the War Room have decided to take profit on this one and are waiting now to sell any bearish PA signals after bullish rallies that form, because we always sell on strength in downward moving markets.
Previous Post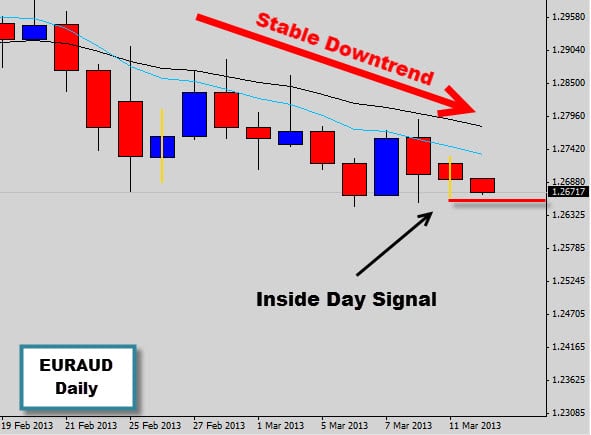 To kick off the trading week we're looking at a bearish price action signal that has formed on the EURAUD which has been disused already in our new Price Action War Room.
An Inside Day is basically a full trading session's worth of market consolidation/indecision. During the entire session price traded 'inside' the boundaries of it's previous trading session.
Considering the trend is clearly down, we are only looking to short this market. The Inside Day formed close to the mean value and had a nice bearish tone to the close of the day. If price can breach the Inside Day low then we could see the next wave of bearish movement down in this downtrend.
Inside Days are very powerful price action tools to use in breakout trading strategies, that's why we use the Inside day as one of our primary breakout signals. Inside Day breakouts can easily return 6 times your risk which really gives you that edge in the markets.