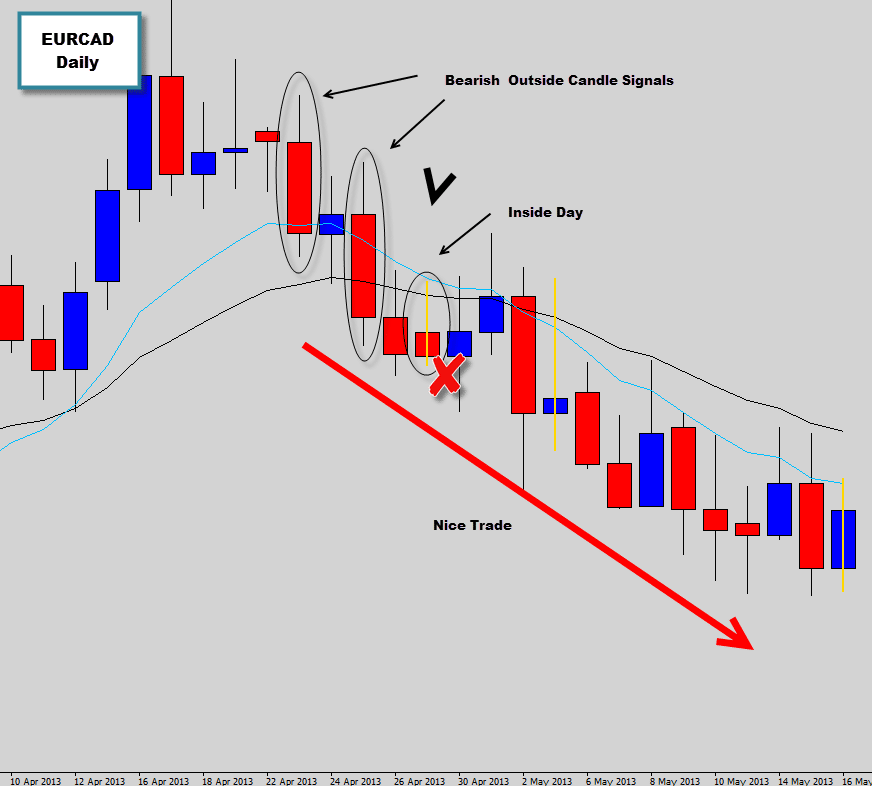 In the previous discussion on the EURCAD daily chart we were talking about a bearish Outside Day signal that was triggered after a bullish indecision candle setup failed. Generally signals that fail often create outside candle signals in the opposite direction
This Outside candle setup did see plenty of bearish follow through as the market dropped significantly lower, the members chat room lit up with conversation about this trade and many War Room members raked in some nice profits on this one
We did also discuss the possibility of a second chance entry into this move when an Inside Day signal formed. We said if price broke lower, the event could be the catalyst for another stretch lower. Unfortunately the Inside Day setup didn't work out when it was wiped out by a market retracement.
Our money management plan gives us strong confidence in the market because we know if we follow it and don't deviate it's possible to lose 3/4 of our trades and still break even. The money mangement system has the flexibility to stretch them odds out further in the traders favour, this is called positive money management and it ensures capital protection which should be the first priority of any good trader.
Previous Chart Discussion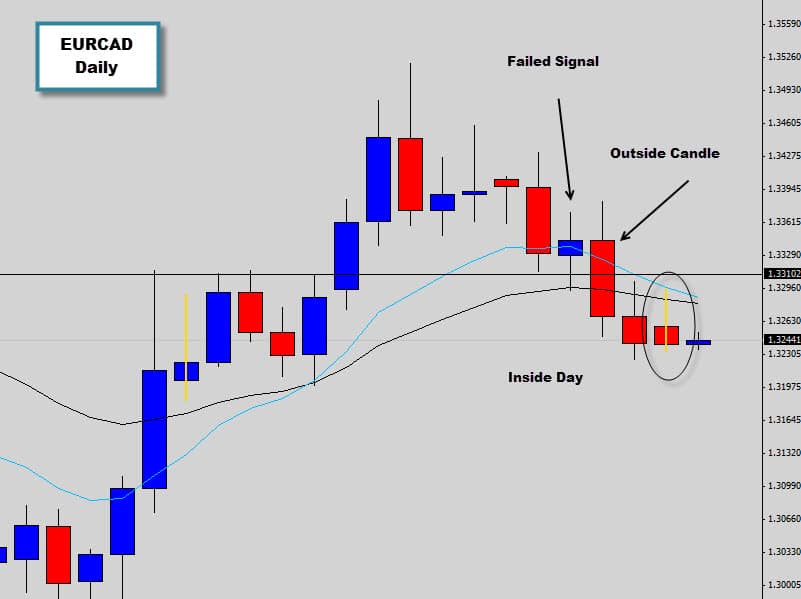 To kick off the trading week we are looking at an Outside Candle signal that has formed as a result of a previous Indecision Candle signal not working out and support level failing. The Outside day closed below the previous candle low and closed aggressively below the daily support level marked on the chart, communicating its bearish heavy tone.
Although the Outside Candle trade was triggered when the lows were broken, last session an Inside Day signal formed as the market churned away. Considering the chart dynamics are bearish at the present time, and a daily support level was just recently broken, we could have a potential second chance entry into this downward movement using this Inside Day consolidation flag. If the Inside day low is breached we could see price start making its way lower. Inside Day trades timed right can result in high risk/reward returns.