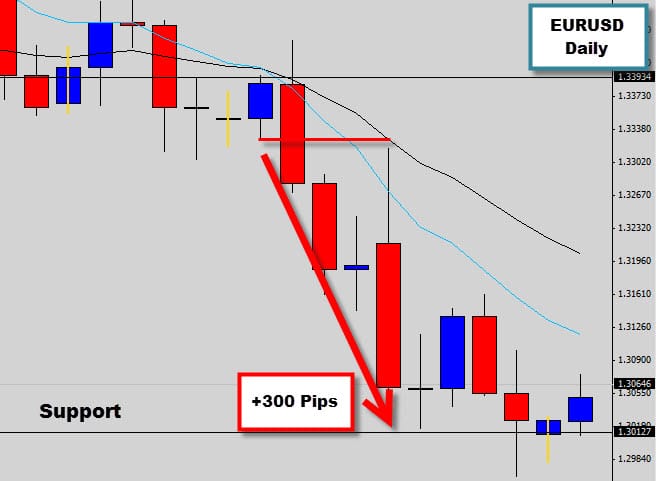 Recently we had been watching the events unfold from a failed Asian session bull trap breakout. What got our initial attention is during Asia the bulls broke out of the previous day high, shortly after price collapsed back down triggered a short trade as price breached the previous day low.
Asian bull and bear trap breakouts can be the catalyst for huge moves in the market and it's something we keep a close watch for, as you can see this trade sold off to the next major support level producing 300 pips. This just goes to show that you don't need indicators to make money, in face they only get in your way, do yourself a favor and get rid of indicators if you're still using them.
Previous Posts on this trade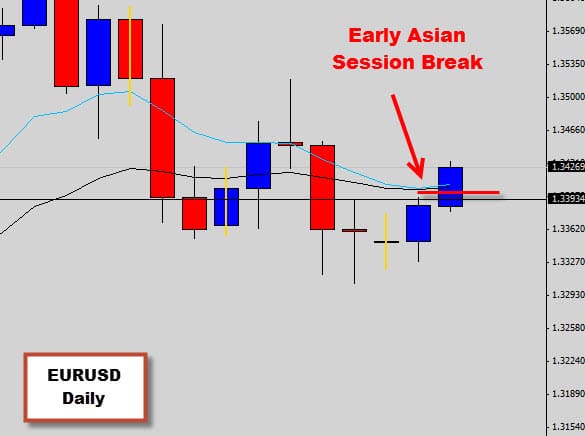 Today we would like to share with a Price Action trade that was triggered on the EURUSD market during the last Forex Session. In the chart above you can see price has broken out of the previous day highs during the early Asian trading period, against the trend. Anyone who has studied the Price Action Protocol will know that this can present a high probability trading opportunity.
Asian breakouts are usually traps, in this case we called that this looked like a typical bull trap breakout, and waited for the move to be faded as the London and New York trading session came into play.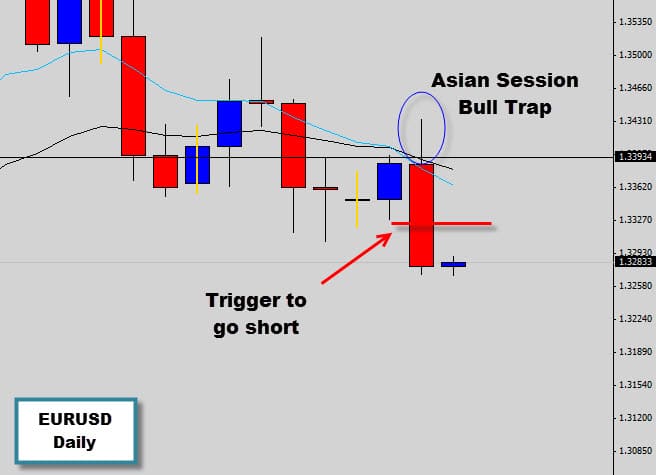 As the session unfolded, the suckers that were caught in the bullish breakout were suddenly finding them selves in a losing position as the bigger market players drove the market back down with the trend.
We used the break of the previous day low to trigger us into a short trade with the bearish momentum and the trend momentum. The Candle has now closed as an outside bar signal and may offer a 2nd chance opportunity to get in on this one.
If you would like to learn how to trade bull and bear trap breakouts check out the Price Action Protocol, price action trading like this really is the most powerful, profitable and EASY way to make money in the markets.