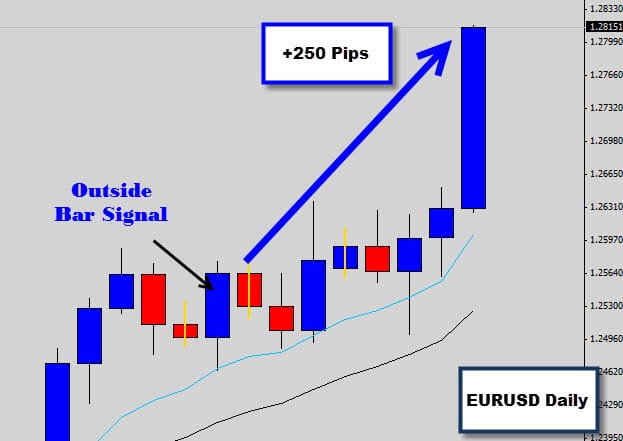 We recently talked about a Bullish Outside Bar Price Action signal shown in the post below. This signal was with the trend and the Price Action Protocol showed us this was a great area to look for long trades because of a point on the chart known as a 'hot spot'.
The setup was triggered when the highs of the Outside Candle were broken. The market initially stalled after the trade was triggered but quickly found it's footing again, now this trade setup has pushed rapidly into some nice profit.
For a second chance entry there was a bullish rejection candle setup in the more recent price action that traders could have used to jump in with this bullish momentum
Previous Post On This Setup
EURUSD has been a very bad choppy market for the last few months but has now sprung into life, breaking out upwards. Price has been steadily pushing upwards and respecting the trend mean value on the daily chart which indicates to the technical trader good trend stability.
The last session printed a Bullish Outside bar which bounced off the upper trend mean area. Notice how there was a breakout downward during the early hours of the Asian part of the Forex session?
The Price Action Protocol warns price action traders to avoid getting caught in Asian session breakouts as they have a high failure rate. This is actually the stages of a breakout trap and reverse trade setup where advanced Price action traders can use these failed breakouts as trading signals within themselves.
We are now watching for a break higher of the outside day signal to confirm the bullish momentum and trigger us into a long position.