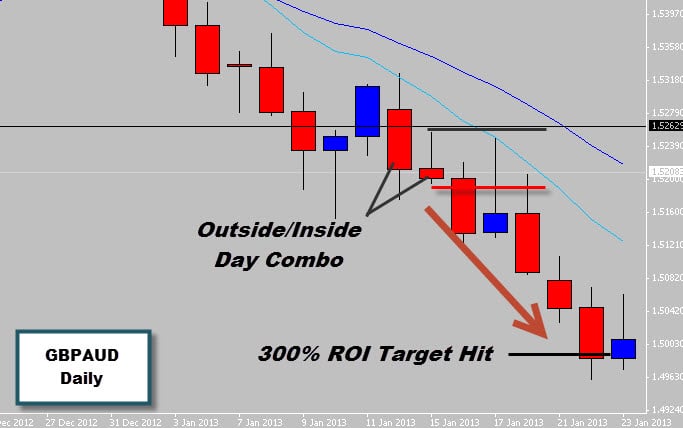 Recently we discussed a Price Action combo setup that formed on the GBPAUD cross pair market. The combo pointed out was an Outside/Inside Day combo (you can scroll down to see the original post), the combination of two or more Price Action signals can really prime up the market to crate nice profitable moves.
This combo setup formed in an already established downward momentum, which lined up really well with this bearish setup. When price breached the lows of the Inside day that was a trigger go short with the stop above the high, aiming for our min target of 300%, which was hit shortly after.
This just goes to show how raw candlestick price action trading can be easy, simple, straight forward and very profitable. To learn more about candlestick price action trading techniques check out the Price Action Protocol.
Previous Post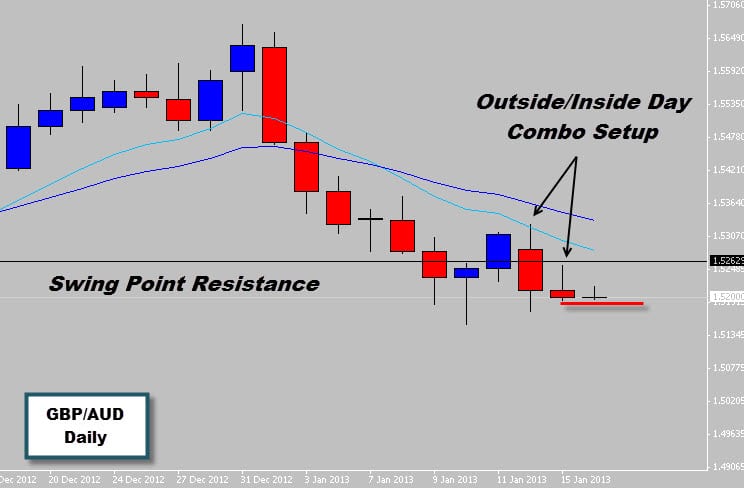 When scanning the charts today I noticed the Australian dollar was showing signs of strength and the British Pound was displaying weakness, so I checked out the GBPAUD cross pair daily chart and found a bearish price action setup there.
A combination of an outside day and inside day, plus the downward momentum already established on this chart makes a high probability setup. Trading off the inside bar and following the rules of the Price Action Protocol, we are looking for price to break the inside bar low to trigger us into any short trades. A breakdown lower could see prices move significantly lower in the trading days to come.