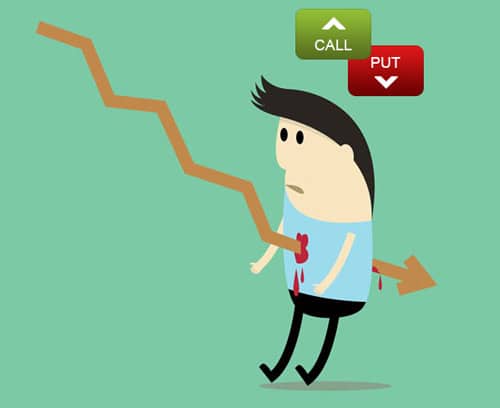 Forex Binary Options… the latest trend in the financial industry – a completely new way to make money from currency movements.
Binary options are not to be mistaken for normal options contracts, which are a completely different thing. We're specifically talking about binaries only.
As a Forex trader, you probably visit many Forex websites and therefore see a lot of mentions about binary options, especially in the form of advertisements or those annoying 'get rich quick with binary options' emails.
They are promoted as being: easy, low risk, and give huge ROI in a small amount of time – as quick as 60 seconds!
Every corner you turn, there is something screaming in your face "BINARY OPTIONS", almost to the point where you're being brain-washed with subliminal messages just to get you to create an account and start trading ASAP.
When you actually pull back the curtain, you will discover that it's mostly clever marketing and a play on words to get you to spend money.
In this article I am going tell you why binary options are not a good opportunity, and in fact this trading method is nearly guaranteed to waste your money.
Its A Shame – Binary Contracts Come in interesting Formats
There are a few different types of formats you can use to setup a binary options contract. They are actually a very clever and a very interesting way to speculate on the market – I even like some of the formats available.
With binary options, time is basically your trade 'exit' point. You can have contracts that last as short as 60 seconds, right up to ones that last for a day.
You 'win' when your contract expires 'in the money', implying the condition on your contact is true when the expiry time ticks over.
Here's the part I like…
The conditions you can 'opt in' for are very innovative; you could come up with some cool strategies with these kind of configurations at your disposal.
Put (bearish) & Calls (bullish): Basically if price is above or below a specific price level at the time of contract expiry
Touch Trade: If price touches a specific price level before the contract expires
Boundary: Price is between two levels (inside a range) at the contact expiry time
These are a very different approach in contrast to the classic SPOT Forex trading that we're all used to. This is about as awesome as binary contracts get, it's all downhill from here.
There are many 'red flag' issues with binary options that you might not be aware of. You really have put the system under the microscope and even listen to some of the horror stories of traders who have been put through the binary options meat grinder.
Checkpoint
Binary options are a very unique way to speculate on the market and invite interesting, unique trading strategies. Instead of holding currency positions, you hold 'contracts' instead which is a bet between you and your binary options broker.
The Returns are Terrible
If you're a regular reader of the site – you will know that I promote trading systems and money management that use positive geared risk reward ratios. The core logic behind this is positioning yourself inside a statistical advantage – you can lose more trades than you win and still make money.
I beat on a lot of scalping, high frequency trading systems mainly because they use negative geared risk reward money management. Your returns are less than what you risked – forcing the need for you to be right more times than you're wrong
Here comes the boom…
ALL Forex Binary Options are setup with negative risk reward ratios.
That's right, when you close a contract 'in the money', you win less than you risked. If you open a $100 binary contract, the best you will probably ever earn is $85. That's a 1:0.85 risk reward ratio … it sucks!
Some binary options brokers may advertise they do a 1:1 ratio, so if you a win a $100 binary, you get your $100 back plus $100 in winnings. But the kicker is, they apply an admin charge for setting up the deal, which they will take from your earnings – forcing the setup back into the negative risk reward danger zone.
The harsh reality here is you are statistically going to lose your money with binary options.
Checkpoint
All binary option contracts are geared to make sure the broker wins everytime. They never offer an ROI over 100%, meaning you always must risk more than what you can potentially earn back. You must keep your win rate high otherwise the losses overpower the winnings.
It's not Really trading – It's Classic Gambling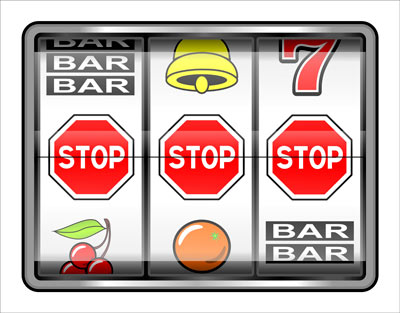 There are a lot of articles out there titled something like, 'Are binary options gambling?' Most of these articles are written by the binary brokers themselves who word things cleverly in their favor, basically describing how trading binaries is classic investing and it's what smart people do, there is strategy involved, and a whole other bunch of B.S. Don't fall for it.
When we trade the SPOT market, we actually are physically getting involved by owning and converting global currencies. As tiny as our trades may be in the larger scheme of the overall Forex market – our trades will still have some sort of effect on the currency price.
We are actually a market participant and our actions are one small variable that determines where price will move.
Binary option contracts are really just pieces of paper, metaphorically speaking. You don't actually purchase any of the asset, it's just a 'gentlemens agreement' between you and your broker.
You're playing blackjack with your broker, and they are the one dealing the cards.
Binary options have payout ratios, just like betting on the horses – but at least the horses regularly payout many times more than the money you put down.
If you really want to get technical and look up the dictionary definition of gambling, you will find Forex trading is technically classified as gambling…
To stake or risk money, or anything of value, on the outcome of something involving chance
So if classic Forex investing and trading is categorized as gambling, Forex binary options definitely get no pass.
Don't let these binary options businesses represent themselves as a smart man's investment opportunity! Don't kid yourself – the writing is on the wall, these are gambling sites, pure and simple.
Checkpoint
Using binary options is pure gambling – you're actually making 'bets' against your broker, not actually trading anything. Your binary contract will not contribute to market movement what so ever. It's an 'out of market' transaction.
Most Binary Brokers Are Notoriously Untrustworthy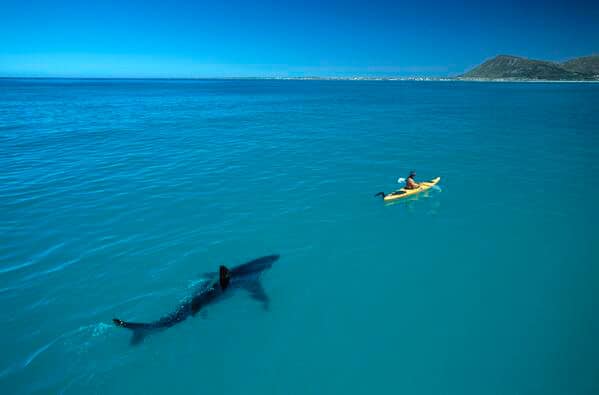 Why are there so many Binary options brokers around, why the sudden surge? Because it is an extremely lucrative business that's why!
Many companies are taking advantage of this 'cash grab' before regulators come in to crash the party.
It's a brilliant business model for them because the odds of earning money are highly stacked in their favor – just like the casino. The house always wins.
Spot Forex trading can be compared to poker, where players compete with one another. The 'house' or casino takes a small commission from the kitty as a fee for hosting the event. This is just like the spread brokers charge, it's their fee for connecting your trade to another participant.
Forex brokers (well the good ones) and the Casino hosting a poker event will encourage more trading, or try to extend the poker game for as long as possible. The longer the players or traders remains active, the more commission the broker/casino earns.
Binary options can be compared to blackjack. Like the casino, the binary options broker wants you to lose. The objective for them is to take all of your capital. We all know blackjack is very lucrative for casinos, and binary options are very lucrative for these brokers.
The binary options market is a highly unregulated one. As a result, there are a ton of bad brokers out there, but it can be hard to spot them out if you don't know what you're looking for. They will list all their regulatory licenses and even have a nice flashy looking website to appear as legit as possible.
When you look deeper and check out their license, you find most are actually regulated by some small island off the coast of Africa – It's called the 'Republic of Mauritius'. Check it out for yourself.
The whole point of having a regulating body is so you know a trusted government has your back if something goes wrong. Just like the fall of Aplari UK – the FCA is making sure everyone gets their funds back.
I am not sure about you, but I don't trust the Republic of Mauritius to help me out, or have much power to do so if these binary options brokers decide to screw me over. It's happening already if you check out other peoples experiences…
I didn't look too hard just to find these frustrated reviews, and these were actually from some of the most well known options brokers. The other sad thing is, there were only 1-2 star reviews, no one had anything positive to say.
It looks like no one had a pleasant experience even with the most popular binary sites.
Binary Option companies will make it really really easy for you to deposit money into their system, but they make it as difficult, and as inconvenient as possible for their clients to withdraw money back out, sometimes refusing withdraw requests all together.
Who is going to save you, an African island, the Cyprus government? If you are going to trade binary options, you better do some extensive research and make sure the broker is regulated by someone like the FCA, ASIC, or NFA.
Checkpoint
The binary options scene is highly unregulated, allowing shady brokers to breed out of control. They hide behind regulation numbers that don't hold any value, and won't protect your money. Forex binary brokers are notorious for making it as hard as possible to withdraw funds – sometimes just out right refusing to do it. No one is coming to your rescue when you want your money back.
Binary Brokers Have a Few More Tricks Up Their Sleeve to Steal Your Money
It gets better and better, these binary scammers know how to shake the remaining coins out of your pockets.
I've made a few contacts in the Forex industry who have been around a long time and are in high positions. My contacts pass information onto me in confidence and want to remain anonymous, but it doesn't take long to confirm these tip offs with the customer reviews out there.
If you're a broker that isn't being monitored by a serious regulator, you can pretty much do whatever you want and get away with it. These guys know that, they are in the business ultimately to get your money and keep it, one way or another.
Here are a few black hat techniques these guys use to shake you out.
Slowing the Clocks
Just like most Forex traders – binary options traders are attracted to the adrenaline fulled action of the very speedy expiry contacts, flocking to contracts that turn over in as fast as 60 seconds.
This is a very volatile and high risk way to trade in any manner, but just in case a trader was doing well with it, a broker can 'slow down' the clock just to give the contract a better chance to expire 'out of money'.
They will basically speed up or slow down the 'master clock' on their feed which ever way suits them. You try getting your money back with the argument 'your clock was not right'.
Manipulate Price Feeds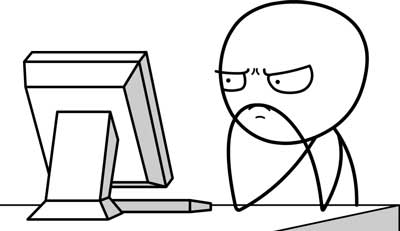 It might sound like I am putting on the tin foil hat and getting conspiracy paranoia on you – but manipulated price feeds are all too common with binary options traders.
If a regulated spot Forex broker was busted doing this, they would be hit with huge fines, or even be closed down – but no one is watching these binary guys to make sure they are doing the right thing, and who is going to punish them if they are manipulating the feed?
If a contract is about to expire in the money, only just by a few points – the broker can manipulate the feed so price appears to close out of money. They try to do this subtlety, but the people are smarter than these brokers think, we get suspicious quickly and started doing checks.
Unsurprisingly, traders discovered they were getting screwed over.
Custom Feeds 'Optimized' For You
Because the binary broker is the one who actually writes the contracts – it is going to be in their best interest to write contacts that are most likely to work out in their favor.
There is actually some complex math which many refer to as 'the Greeks', referencing the Greek math symbols used in the equations. But keeping on point here – the broker knows how to set contracts up that work for them statistically.
Lets say you sign up and are doing well. Your account will be flagged and be given special treatment – you're losing the company money something needs to be done.
The system will start to give you worse price feeds and contracts with less payouts. It makes it harder and harder for you to win.
The more you win the more you're restricted.
Once you lose a lot of money the broker will then start to give you back the normal price feeds and higher payout contracts to play psychological games with you and bait you into spending more money.
Checkpoint
Because of the unregulated nature of these brokers, they are free to manipulate your price feed without consequence. If you're doing well, they might 'tweak' your price feed so you suffer artificially created losses. It's common talk that no two binary options data feeds ever display the same price. You're at risk of being played.
Don't Be Fooled By The Clever Marketing That Baits You In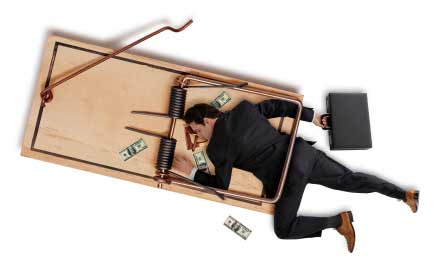 The Forex binary options scene is more of an internet marketing campaign rather than a legitimate venture. I've seen some really cleverly worded ad banners and sales pages.
These guys will word things in a way which presses all the right buttons with you and removes the feeling of risk. You can't be sucked into these clever sales pitches.
Most of them are just throwing around buzz words like: 'high percentage payouts', 'low risk', 'zero spreads'. It's all just a play on words to get your mind off the real dangers.
Forex binary options is promoted very heavily on the internet because the binary brokers offer good commission for anyone who refers clients/victims to them. So most of the people promoting it are just site owners looking to make a quick buck off your misfortune.
I've had my say, I've done the right thing and warned others.
If you're going to get involved with binary options be extremely picky with who you choose as your broker. Check their license numbers with the regulator – don't assume they are licensed just because they display a license number, I just found one binary broker who was displaying a fake license number and was not regulated at all.
If you really want to be serious about trading, it's best just to stick with the SPOT market. It's regulated better, your money is pretty safe and there is much better opportunity to earn high return on your trade risk.
SPOT Forex brokers are just much more trustworthy, especially if they are regulated with someone like the FCA. If you're looking for a good Forex broker, check out my brokers spread deal.
Keep away from the binary sharks!
Good luck on the charts.