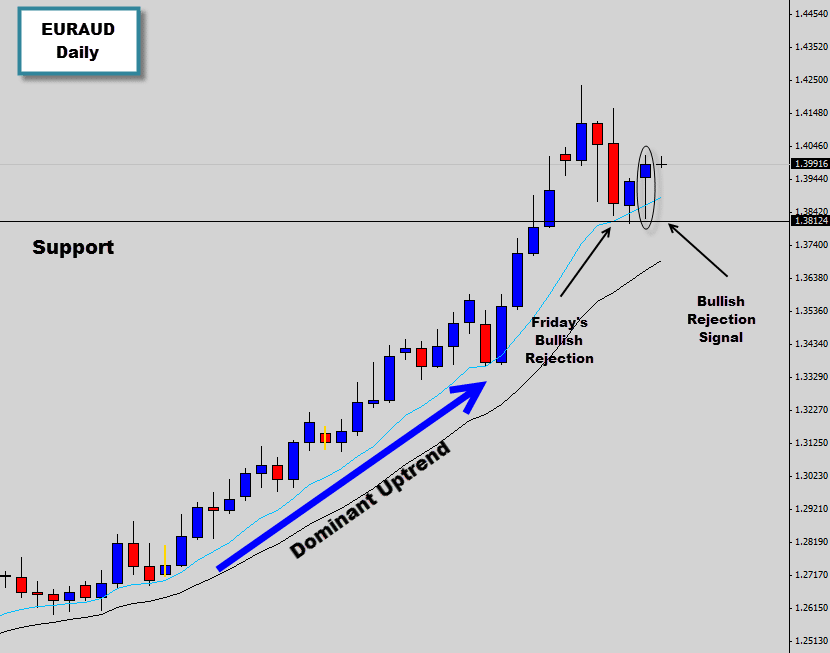 Hey Traders, hope everyone enjoyed the weekend break. Should be an exciting week with the huge lineup of hot news events that will keep the marking on it's feet.
To kick off the trading week we didn't really see much price action, which is typical for Monday's movements anyway. This is most likely due to the face the market is waiting for these news events to unfold before taking decisive action.
However one currency still showed some activity, the short trade we discussed in the Weekly War Room Commentary Video was triggered last session as price broke the signal lows. The high bearish activity was seen during the New York trading hours of last session, and it looks like the bearish momentum is getting an early start this week.
The chart we are focusing on today is the EURAUD where the AUD weakness has printing a bullish price action rejection signal on the daily chart.
Due to the fact this market is pushing into fresh highs, we had to zoom out on the chart to identify that support level. Traders in the War Room will be using the retracement entry methods to tighten up their stop here. If you are unfamiliar with the Price Action Protocol Trading System, then you could watch for bullish breaks of the signal highs to consider long positions.