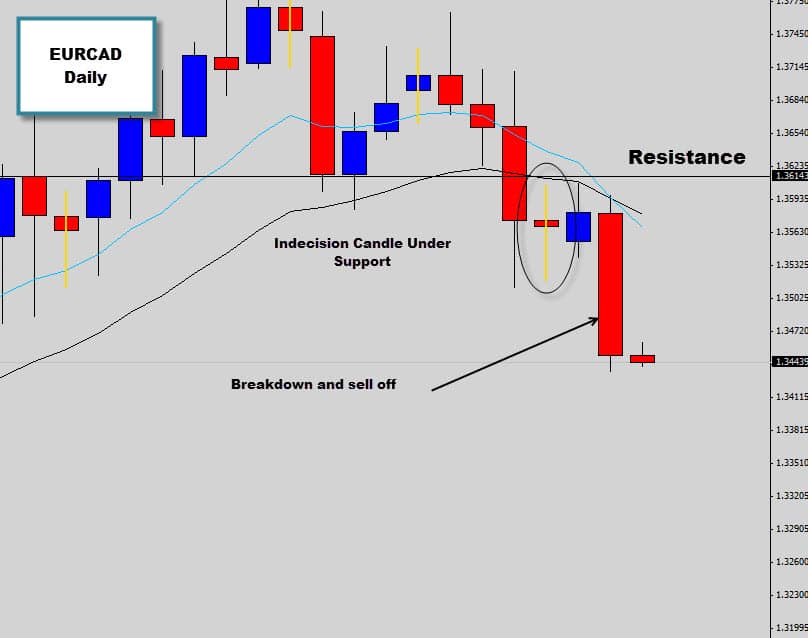 At the start of the week we identified an Indecision Candle signal on the EURCAD daily chart. This Indecision Candle formed when the market churned away under a recently broken support level and closed relatively neutral for the day, these type of formations are also known as Doji candles.
Initially the market retraced up the entire range of the Indecision period and retested the highs, which did hold as intra day resistance.
Last session the market finally shook out the bulls and we seen an nice sell off, triggering short trades as the Indecision low was broken. We are anticipating further lower prices due to the aggressive close of the last session.
The last daily candle actually closed as a Power Candle, which is a new price action signal that was introduced to the War Room Community last month. War room members have been benefiting from the rapid high returns Power Candle signals can generate for the relatively low risk.
Previous Discussion on this Setup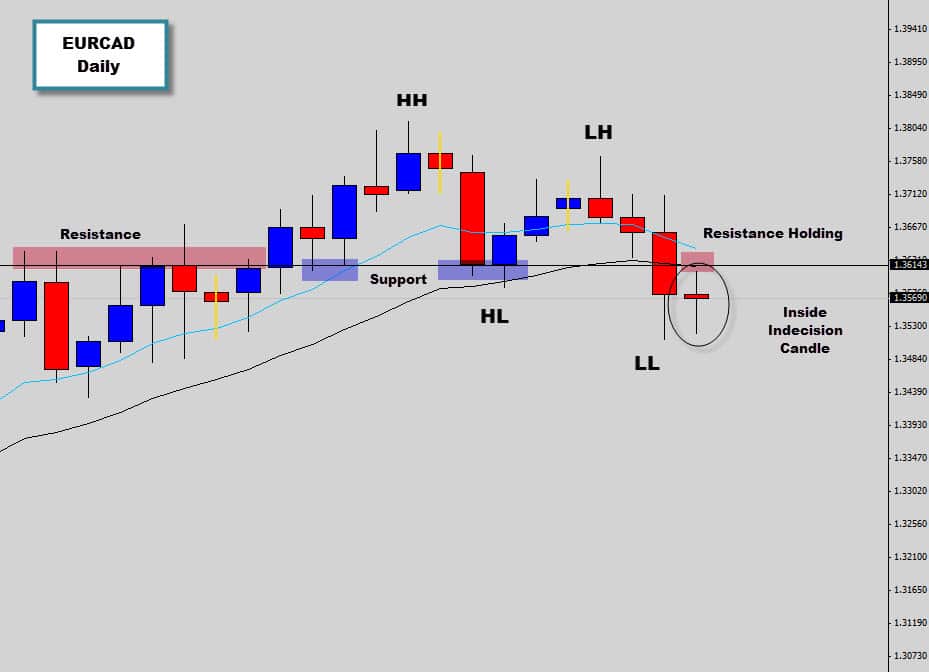 Getting ready to fire off next week's trading, we've looked over the charts and observed how the markets closed last week. Lots of weakness being displayed in the Australian Dollar, but the chart that caught our attention what the EURCAD daily chart.
On the daily chart this market looks like it's about to roll over and transition into a bearish trend. The cues here are the lower high and lower lower swing patterns that are starting to appear on the chart. The key level which failed to hold as support and is now holding as resistance and the fact that price is now printing on the bearish side of the mean value.
An Inside/Indecision day signal has formed under this level as price churned away heavily after the NFP release on Friday, so next week we will be watching for breaks of the candle low to consider short positions. We will be cautious of any Asian breakouts, timing breakouts is one of the topics covered in our Price Action Protocol trading system.