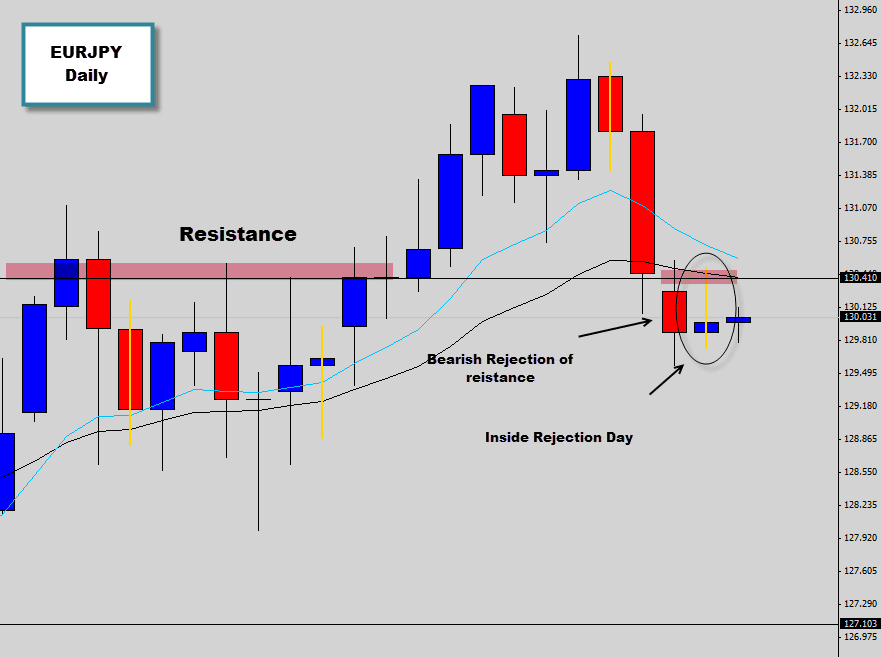 Taking a look over at the EURJPY daily chart today we've seen some aggressive bearish price action come into play after the market tried to move high and produced a double top type pattern at the highs shown on the chart above.
There is no trend here, this market has been swinging up and down for quite a few weeks now, usually this type of side way movement is a tip off that a breakout is pending.
What's actually happened here is the aggressive bearish price action has stormed downward last week and smashed through previous resistance level, which did not put up much of a display as support. So the market crashed straight through it like a hot knife through butter. A the start of the wee we seen the level retested and hold as resistance again as a bearish rejection day was printed. Then last session again the level was retested as resistance, the bears rejected it again and created a bearish rejection candle.
Last session also traded within the previous candles range, creating an Inside-Rejection combo signal. Traders can look to trade this as a rejection candle or use it as a catalyst for an Inside Day breakout trade. Either way if prices break the lows here we could see a substantial move downward take place.