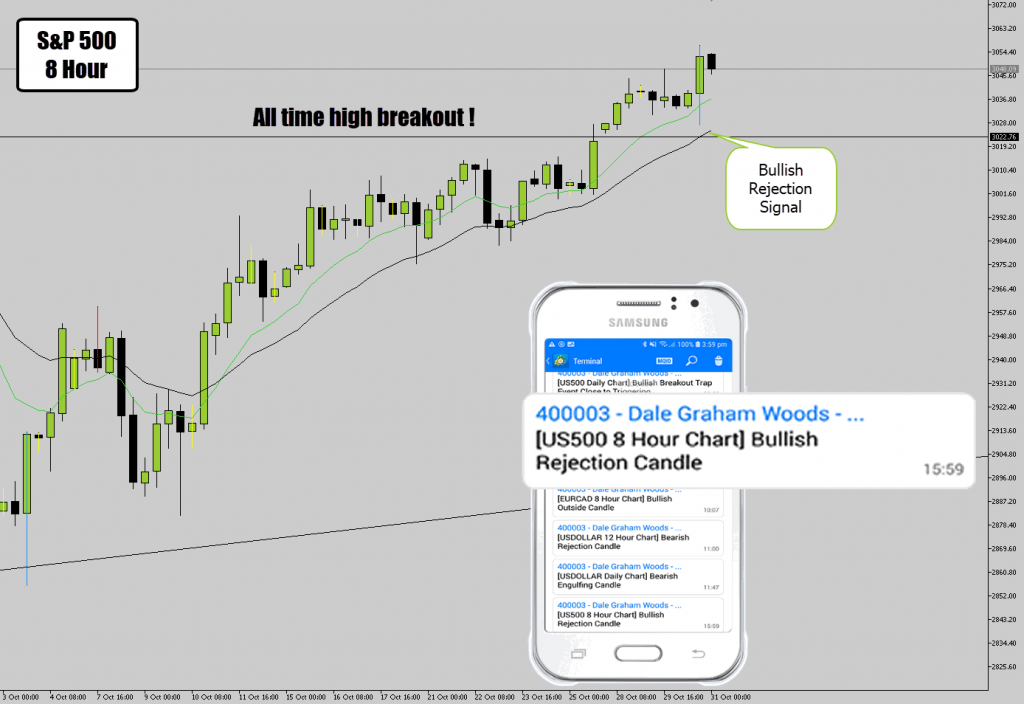 Checking the charts earlier this week, I was surprised to see the S&P had broken higher past all time highs.
These all time high breakouts are usually a big deal for indicies like the S&P and Dow Jones.
I said to the traders in the War Room that we need to watch for one of two things.
A fake out event, where the market collapses after poking higher – which would be a very bearish signal
Signs of strength above the level, where we can see evidence that this is a sustained breakout and likely to see follow-through
I got a Battle Station alert about a bullish signal on the S&P 8 hour chart this morning. Checked it out and here we are.
A nice bullish rejection candle above the breakout level.
This is strong evidence that this breakout is true, and the S&P wants to keep on going with with upward momentum.
It is also nice to see the rejection signal testing the prev all time highs as a new support level, showing that characteristic swinging motion we like to see in trending conditions.
There is good upside potential here, even more if a retracement entry is hit this session.
Best of luck on the charts guys.
Major Rally Follows – After One More Pullback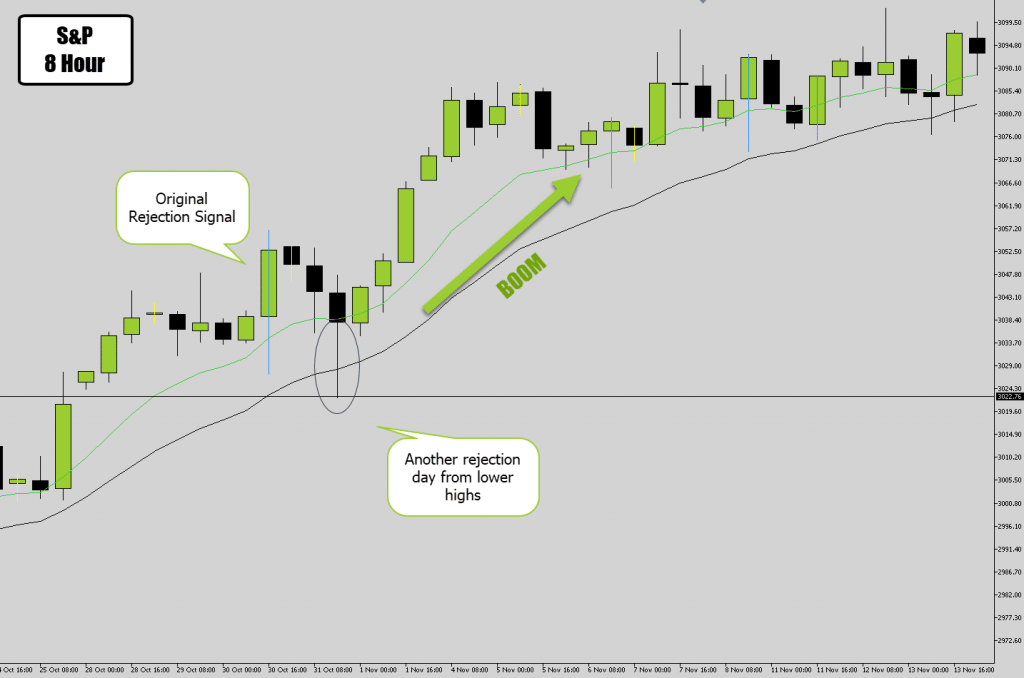 While this trade idea was supported strongly by many factors, the market did take another small dip down before moving up.
This dip down may have triggered some stops, but another rejection day did form, keeping the overall trade idea valid.
It is just a shame that price just didn't respond to the original signal, but that's the market for you. After the second rejection day pushed up off a higher low, we seen a bullish outbreak on the S&P.
Timing corrections can be tricky on the S&P sometimes because in really bullish conditions it just wants to go up and only correcting with with very shallow pull backs.
I hope you guys caught this move, it was a great price action trade, the technicals screamed this market wanted to move up.
If you would like to learn more about "reading a price chart" to anticipate moves like this – check out the War Room which contains my price action course that details all the secrets of doing awesome price action analysis.
Until next time, best of luck on the charts – trade smart!