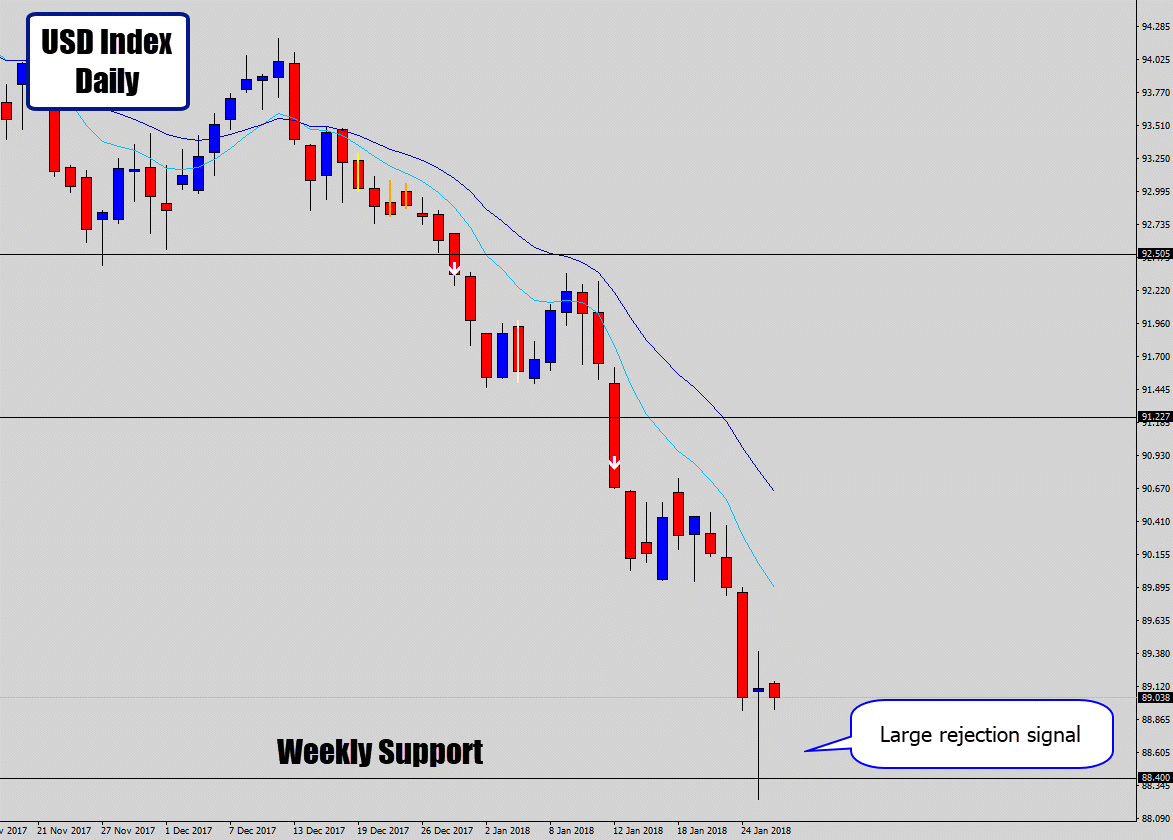 The USD has been been in a steady downfall the last few months (the Trump dump?)
The market has fallen quite aggressively dropping through some support levels on the way.
However, last session a weekly support level was tested, and the price action gave a strong bullish response.
To see the level you need to zoom out a bit and look back at the 2008-2010 period, that is our closest reference point for finding market structure, but it's there.
The long lower wick signal bullish rejection off that level as buying pressure comes in.
We're also extended away from the daily mean due to all the recent selling.
A weekly level, some over extension, and a strong price action signal is a good recipe for a counter trend trade.
Looking for a retracement price here to tighten up the stop loss.
Update (Trade Closed)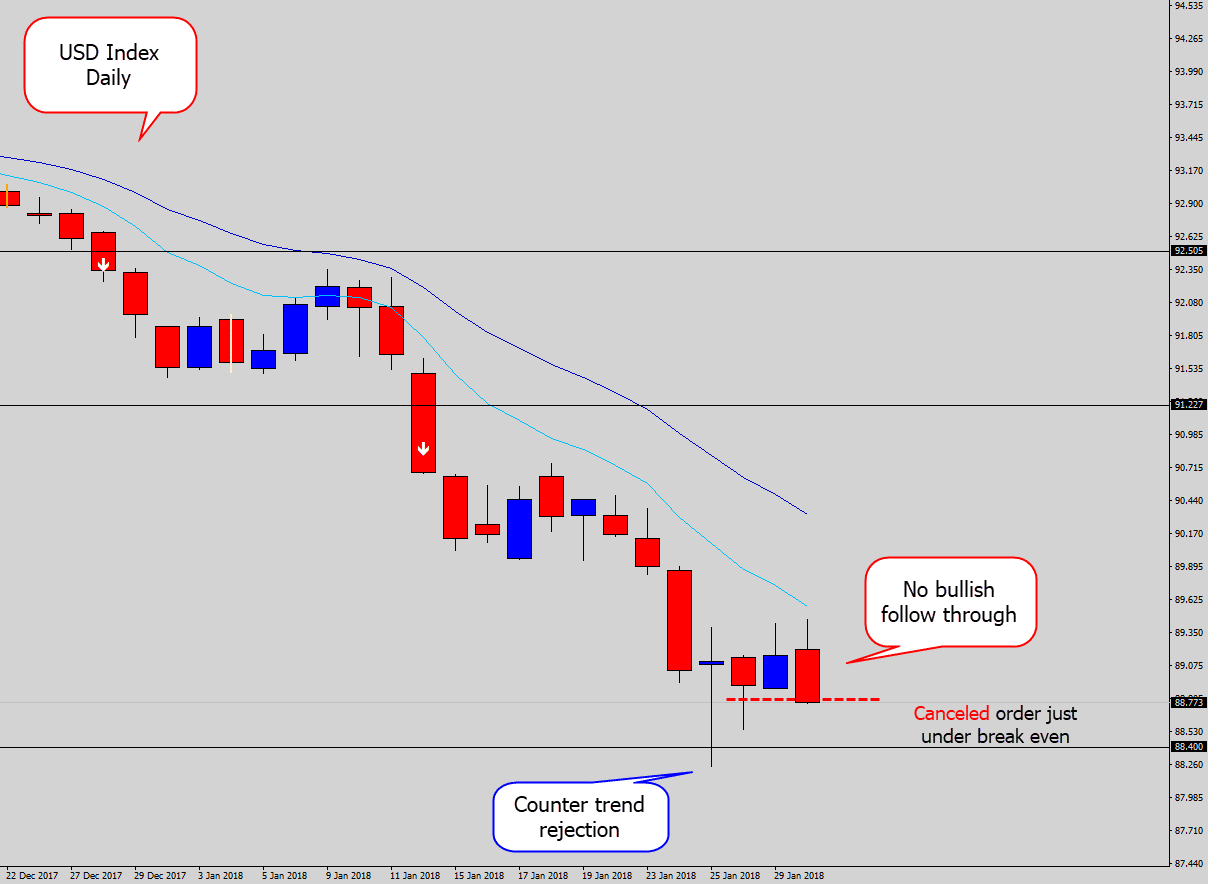 I managed to get the pull-back entry on this counter trend setup, and was optimistic that the price action would follow through as it bounces off the weekly level.
There was some bullish reaction, but unfortunately, the bearish pressure has come back into the market, and now the setup isn't looking so healthy.
After some weak attempts to move to higher in the last 2 days, the bearish power has overwhelmed the situation and is pressing lower… hard.
Due to the lack of follow-through, I decided to exit just under break even.
The weekly level is still there – so if it is going to hold, there will probably be some kind of double bottom form where Ill be watching for another buy signal to get back in.
Otherwise, if the level breaks to the downside – I'll be looking for sell signals on that breakout and re-test fashion, on the bottom of the weekly level.
I Should Have Been More Patient With This Trade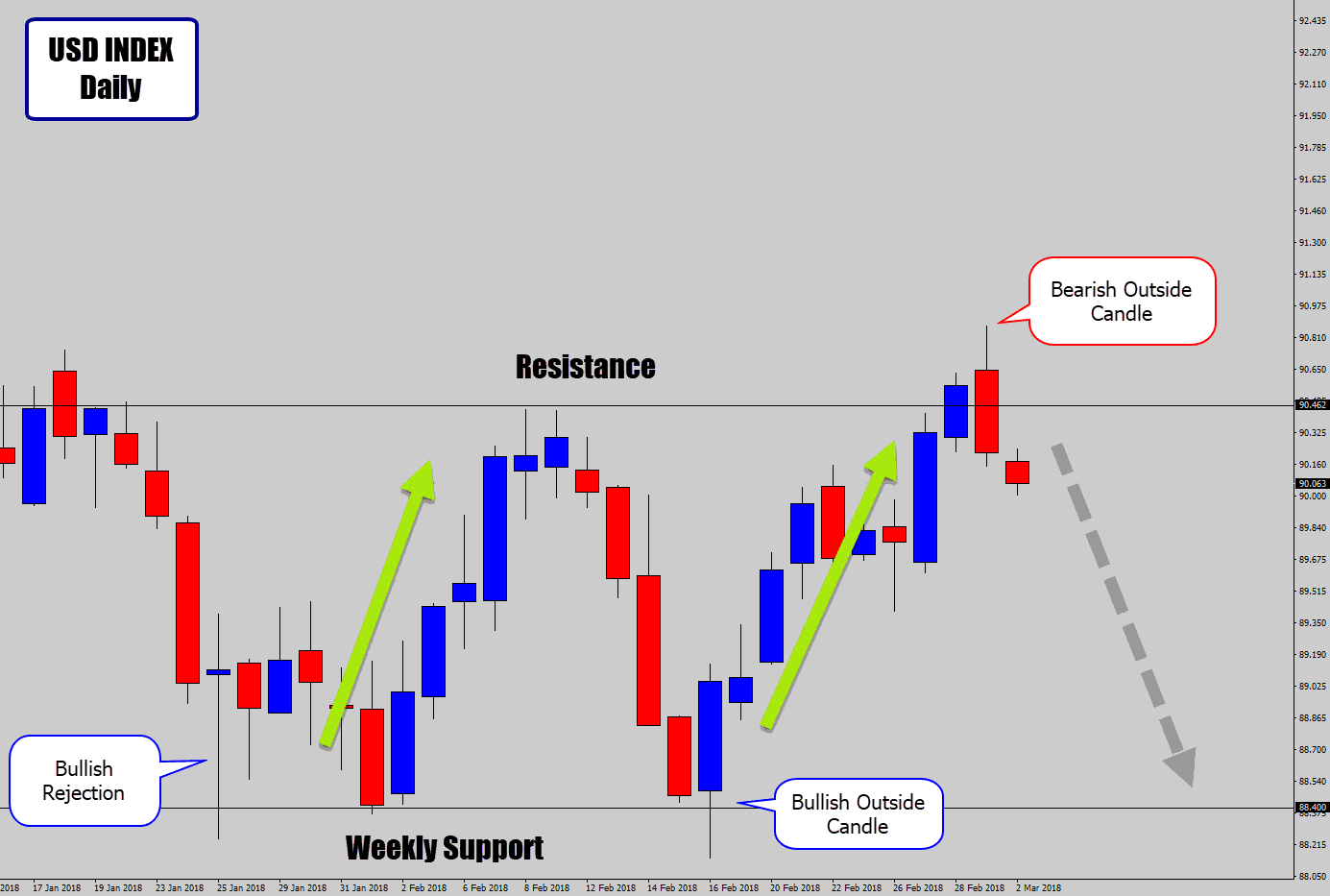 This time I backed out after I didn't see any follow though on the trade, which now I can see what a sad mistake.
Shortly after I decided to pull the plug, the trade did finally come to life and rally off the weekly support level.
These major weekly levels sometimes have a bit of 'lag time' to get a response from the market, but when the trades get moving, they can be big ones – you're essentially using the weekly levels to pick tops and bottoms, so reward potential is very high.
The USD Index shortly fell into range-bound conditions, and we seen the market fall off resistance a re-test this weekly support a second time.
On the second test, a very large bullish outside candle reversal signal was printed. It seen really strong and immediate upside follow-through – so that would have been a very satisfying trade.
The range top is now being tested again, and there is a bearish outside candle signal sitting right at this turning point.
We know this level has been producing bearish moves, so the fact we have a bearish reversal candle here at a level which we've seen strong selling price action off in the recent past, is a nice combo.
Any downside follow through of this signal will likely lead to another range cycle, and a re-test of the weekly support!
Best of luck if you're going short here!