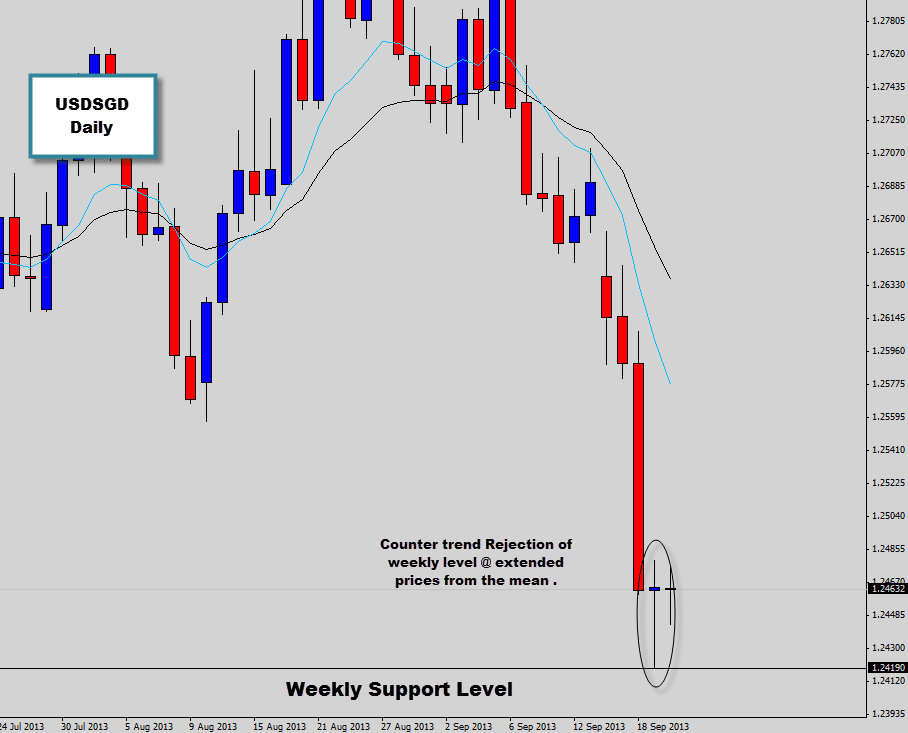 Today we're looking at a market we don't normally get involved with too often, the USDSGD, which is the Singapore Dollar major pair. This setup was pointed out by War Room trader heatonfan, so a big shout out to you and thanks for posting this trade.
The market has recently just crash landed into a major weekly support level, the support level has maintained its integrity as support and held off the aggressive selling. Remember major weekly levels generally act as strong turning points in the markets and can often create 'tops' and 'bottoms' on the chart.
Last session the chart produced a bullish Rejection Candle which demonstrates bearish moves into the weekly support was rejected as bullish activity increased. Counter trend signals have a high failure rate, that's why we only like to trade them from strong weekly levels to increase our edge.
The market is also hyper extended away from the mean, leaving a gap between the mean value and price. Price generally can't maintain itself at these extreme prices, and considering the weekly support level is there, I don't think the bears have what it takes to push the market lower.
We will be looking for bullish momentum breaks of the rejection candle high to consider long positions.