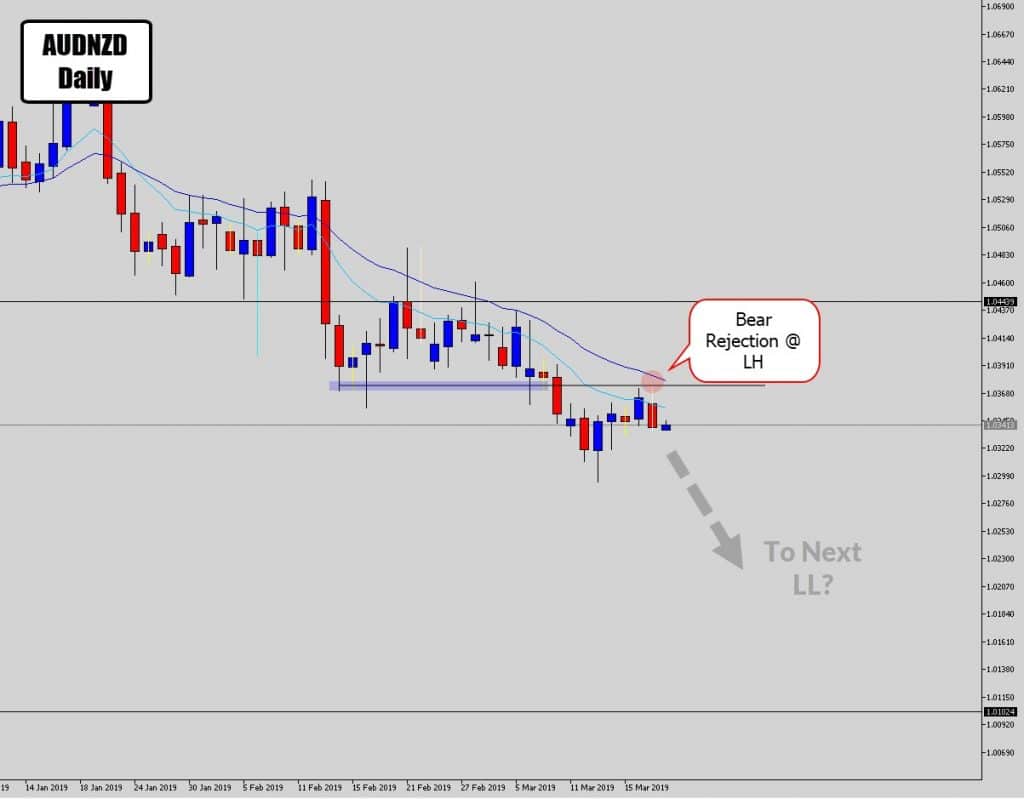 The AUDNZD has been a slow but steady "trender".
The price action recently was very congested and sideways, and grouped above a support level.
We recently seen a break of that into lower low's, setting the trend momentum into gear again.
No AUDNZD has retraced up and retested the previous support and is now holding as new resistance (a swing level is born).
AUDNZD demonstrated how it is using the level as resistance now by printing a bearish rejection candle – a sign of weakness.
My Battle Station Indicator also flagged this as a bearish rejection candle and sent out an alert to war room member's smart phones.
This bearish rejection is at the "hot spot" within the trend for selling opportunities, as it formed on a lower high, off the swing level and around the mean value area.
This has been a slow moving market so hanging around in a position here could be frustrating, a simple 3x target would be good – ideally with a retracement entry on the signal candle to tighten stop loss.
Best of luck on the charts.
AUDNZD Swing Trade Gives Reward With Push Into LL
A nice follow through with AUDNZD after staggering for two days.
The retracment entry was on offer, but would have put some of you guys on edge because it was a deep retracement that started to flirt with stop loss areas.
The tighter retracement entry + that 1 big sell off day was enough to push this trade into a staple 3x target.
Although the rejection candle did not have a overly large bearish presence on the charts, the other technical factors here lined up well to support this bearish trade idea.
The existing down trend, and the swing level were major quality factors here.
We can see today is quite bullish – we may get some more follow through for traders who are holding for longer targets – but AUDNZD only trends to give up short bursts at the moment.
If you would like to learn more about swing trading, and how to quality control to pick out good trades – my War Room for price action traders might be of interest to you.
You can also download the battle station indicator as part of my tool pack trial in the widget below if you want to see how that goes for you.
Until next time, best of luck on the charts.